Spring Track & Field 2022
---
CHSAA Catholic State Champs [Team Results]
Madison Erb 3rd Place 400 hurdles
Mark Anthony Scott 3rd Place 100 meter
Boys 4x100 3rd Place running fastest time of the season
Emily Hammel 4th Place 3000 meter
[Video of 4x100 Finals]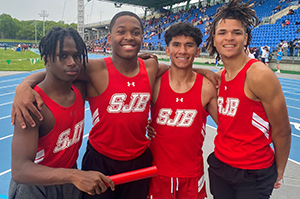 THANK YOU ALL FOR A GREAT SEASON
---
Saturday 5/21/2022: NSCHSAA League Championships at St. Anthony's HS
[Team Results] [Boys Seed List] [Girls Seed List]
Emily Hamel is the LEAGUE CHAMPION IN THE 3000M
Gianessa Franco-Sierra Sets the SJB Soph Discus School Record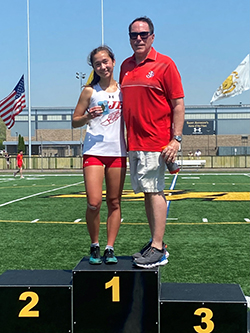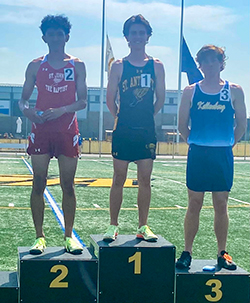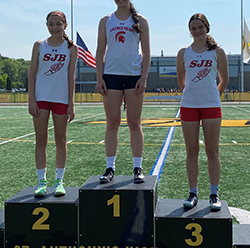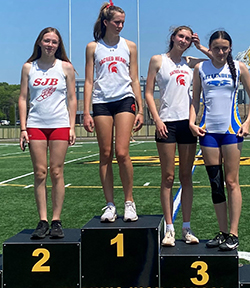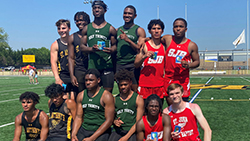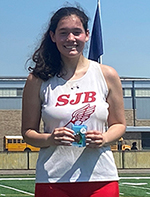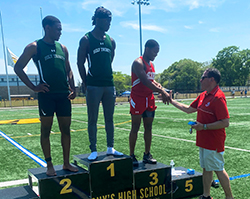 ---
Friday 5/20: Track & Field Senior Day



Thank you for your support and loyalty these past 4 years
---
SJB JV Award Winners
Track MVP Boys: Simmons Girls: Erb
Field MVP Boys: Shotter Girls: Franco-Sierra
Coaches Boys: Seifort Girls: Ryan
Most Improved Boys: DeVito Girls: Slattery
Trainer Joe Sportsmanship Boys: Fazzini Girls: Espinal
Walter Lace 6th Man: Boys: Legagneur Girls: Hamel
Congratulations to all for a great season
---
Saturday 5/14/2022: CHSAA Freahmen and Sophomore Championships:
[Team Results] [Heat Sheets] [Updated Time Schedule]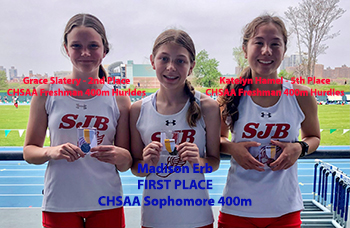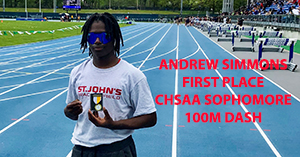 ---
Friday 5/13/2022: Masssapequa Under the Lights Inv:
[Team Results]
Strange night but still some great PR's
---
Friday 5/6/22+Saturday 5/7/22: The St. Anthony's Inv.
[Team Results]
SATURDAY IS CANCELLED
Friday's cold and wet 4x400 Results are Posted
Boys come in 2nd Place
I will make a decision about tomorrow by 10am and send it out on Google Classroom
---
Wednesday 5/4/2022: NSCHSAA Girls Frosh/Soph League Championships
[Team Results]
OUR MEDAL WINNERS ARE THE FOLLOWING:
FIRST PLACE - LEAGUE CHAMPIONS:
GIANESSA FRANCO-SIERRA IN THE DISCUS
ELIZABETH RYAN in the Steeplechase
MADISON ERB in the 400 Hurdles
Second Place:
Grace Slattery in the 400 Hurdles
Madison Erb in the High Jump
---
Tuesday 5/3/2022: NSCHSAA Freshmen and Sophomre League Championships
[Team Results]
OUR MEDAL WINNERS ARE THE FOLLOWING:
FIRST PLACE - LEAGUE CHAMPION:
JAMES SHOTTER IN THE DISCUS
Second Place:
Andrew Simmons in the 100m+200m
Nick Fazzini in the Shot Put + Discus
Johnny Seifort in the Shot Put + Discus
Richard Waskewicz in the 400m
Third Place:
Russell DeVito in the 1600m
---
Friday 4/29/2022 + Saturday 4/30/2022: The Penn Relays
[Team Results]
Good start on Friday with the Boys running 44.06 in the 4x100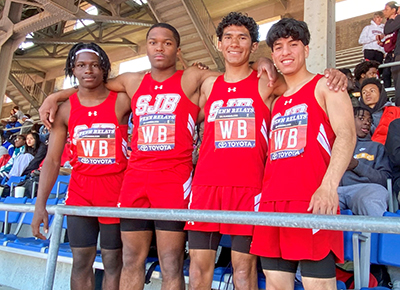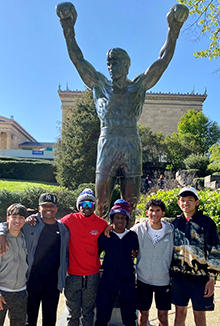 ---
Friday 4/22/22 + Saturday 4/23/22 Girls Joe Brandi Relays
Saturday 4/23/22 Boys Suffolk Coaches Inv.
[Girls Results] [Boys Results]
Scott (10.96) and Simmons (11.18)come in 2nd Place in the 100m Dash and Simmons was 2nd in the 200 also
Danielle Wanerka runs 66 in the 400 + Lizzy Ryan runs 5:35 in 1500 and 2:35 in 800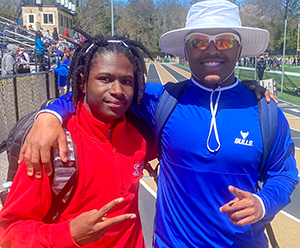 ---
Friday and Saturday Girls Joe Brandi Relays:
Ryan and Wanerka run PR's on an increadible windy day Friday!!
---
Wednesday 4/20: NSCHSAA Easter Classic [Team Results]
FIRST PLACE FINISHERS
Mark Anthony Scott in the 100m
Jehrard Aguilar in the 2000m Steeplechase
Brendan Casey in the Triple Jump
---
Wednesday 4/12: Girls Developmental meets at Holy Trinity
[Team results]

---
Tuesday 4/5 and Wednesday 4/6: Developmental meets at Kellenberg
[Boys team results] [Girls team results]
---
Saturday 4/2: Longwood Invitational - Boys in am and Girls im pm
[Boys Team Results] [Girls Team Results]
Another nice showing by both the boys and the girls
Madison Guerrera
Sets the SJB Frosh Girls Long Jump Record Jumping 16' 8.75"
and comes in 2nd place
Elizabeth Ryan comes in 4th Place in the Varsity 800m
Mark Anthony Scott comes in 2nd Place in the 200m
Brendan Casey 4th Place in Long Jump, Darin Roman 4th Place in 400 and 4x400 finishes in 4th Place
---
Saturday 3/26: CHSAA Season Opener
[Team Results] [Official Results]
Great way to start the season!!!
FIRST PLACE:
Mark Anthony Scott in the 100
SECOND PLACE:
Madison Erb in the 400 Hurdles
Andrew Simmons in the Sophomore 100m Dash
THIRD PLACE:
Elizabeth Ryan in the Freshman 1500m
Madison Guerrera in the 100m Hurdles
Grace Slattery in the Freshman 400
Bryce Robinson in the 400m
Brandon Casey in the Triple Jump
Madison Erb in the High Jump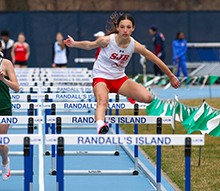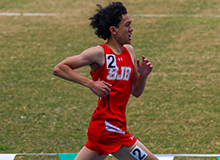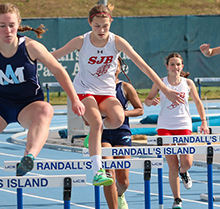 ---
SJB Boys Spring T&F Sports Fees:
$260 - If this is your first season, this school year, on an SJB sport
$235 - If you were on a fall and/or a winter sport this school year at SJB

Checks made out to St. John the Baptist
and turned into Coach Wood by the end of this week.
---
Winter Track & Field 2021-22
---
Friday 3/11/22 - Sunday 3/13/22: Nationals:
[Team Results]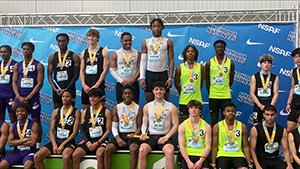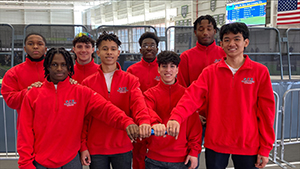 4x200m Relay Wins the Nike Nationals EE 4x200 and runs 1:30.81
Their fastst time of the year and #2 SJB missing the record by .30
What a GREAT way to end the season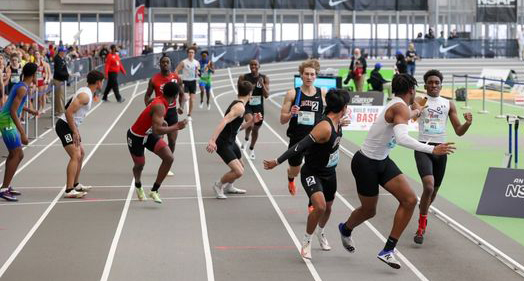 ---
4x200 at New Balance just before they raced to #25 in the USA

We were lucky to even finish with Bryce getting stepped on ending the day with a whole on the top of his spikes
I still so not know how he stayed on his feet with others around him crashing to the ground
2 More races to go on Sunday
---
Tuesday 3/1/22: The Eastern States Championships
[Team Results]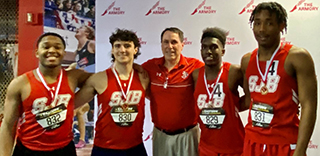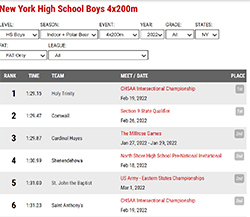 2nd Place Eastern State Champs - 5th Fastest New York State
2nd Fastest Long Island - Fastest Suffolk County
2nd Fastest SJB History 1:31.00
---
Saturday 2/26/2020: The Long Island Elite Championships
[Team Results]
4x400m Relay Team comes in 2nd Place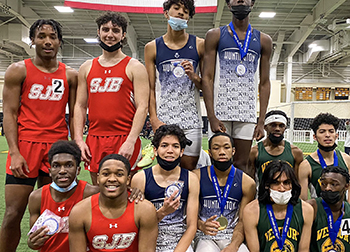 ---
Saturday 2/19/2022: CHSAA Catholic States [Team Results]
11 Boys and 9 Girls went to battle and produced 18 PR's and 3 SB when it counted the most
Highlights:
Both Boys and Girls make FINALS in 4x200
Girls ran a 4 second SB to make that Final
Gianessa Franco-Sierra sets an SJB Soph Class Record in the weight throw
Janet Battcher sets a SJB Varsity Record in the Weight Throw
Madison Erb clears 4'8 in the High Jump
Boys 4x400 went from 13th place to 7th place overall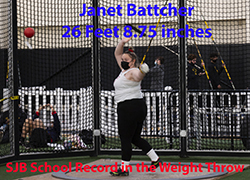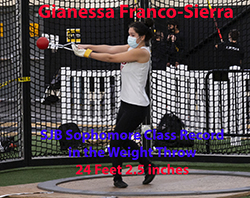 ---
Congratulations to our Frosh/Soph Award Winners
Track MVP: Joe Surozenski and Megan McGuinness
Field MVP: Dominick Coniglio and Madison Erb
Coaches Award: James Shotter and Evangeline Isnardi
Most Improved: Joseph Rivera and Molly Dale
Walter D. Lace 6th Man: Logan Byrnes and Abigail O'Hara
Trainer Joe Sportsmanship: Andrew Simmons IV and Gianessa Franco-Sierra
---
Saturday 2-12-22: CHSAA Frosh-Soph Champs and Varsity Races
[Team Results]
21 SJB Athletes Competed- 21 Personal Best (PR's)
Megan McGuinness (600m), Gianessa Franco-Sierra (SP) and Madison Erb (HJ)
all take 3rd Place in CHSAA Sophomore Champs
Logan Byrnes finished in FIRST PLACE in the Long Jump at the CHSAA Sophomore Champs
Varsity Girls 4x200m Relay Finish in 2nd Place running a season best time of 1:57.32
Boys 4x200m Relay B-Team and Sprint Medley B-Team
finish in 4th and 5th Place
Boys Sprint Medley Relay A-Team
finish in 2nd place and Qualify for Nationals
Boys 4x200m Relay A-Team
finish in 2nd place, run the 5th fastest time in NYS so far this season and Qualify for Nationals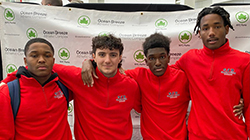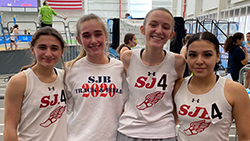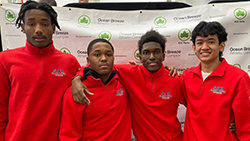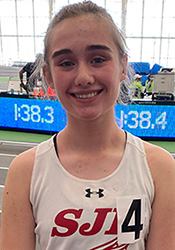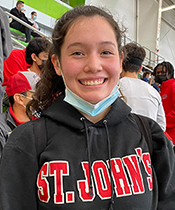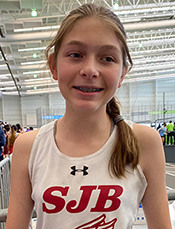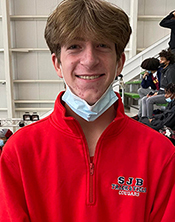 ---
Sunday 1/30/2022: NSCHSAA League Champs [Team Results]
Great Job By All
I told both teams at Friday's practice that SJB T&F has a history of showing up and perfoming at champs, and I asked them to keep the tradition alive
AND THEY DID!!!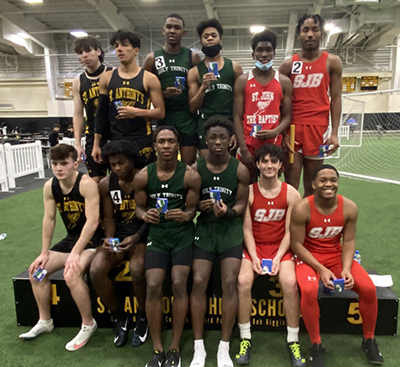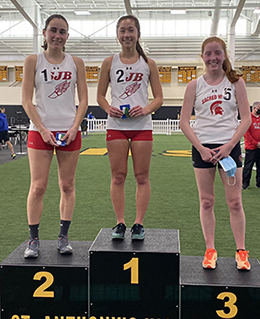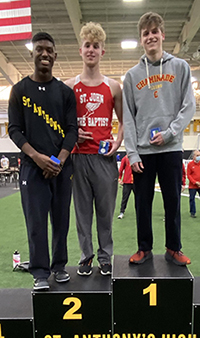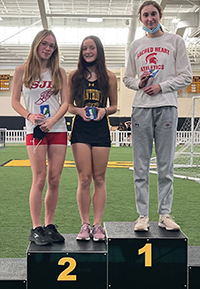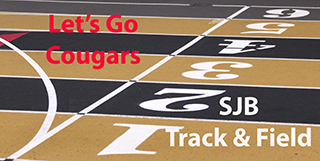 ---
Monday 1/17/2022: NSCHSAA Frosh-Soph Champs [Boys Team Results]
With only 9 Sophs and 7 Frosh to cover 15 events of which the top 5 score points
SJB Came in 3rd and 4th Place in the League!!!
LEAGUE CHAMPIONS
LOGAN BYRNES IN LJ AND DOMINICK CONIGLIO IN PV
League Runner ups:
Joe Surozenski in 600 and LJ, James Shotter in SP
and the 4x200m Relay Team of
Coniglio, Mirable, Port and Simmons
18 Personal Bests (PR's)
3 more earn Varsity Letters
---
Sunday 1/16/2022: The Molloy Stanner Games [Team Results]
Lots of PR's
Five 300m Runners run under 40
Oviedo-Torres wins non seeded 300 - 38.49
4x200m Relay comes in 3rd Place running 1:34.59 in a close race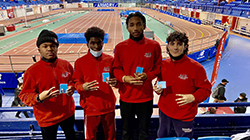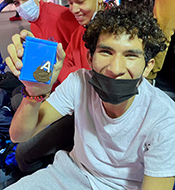 ---
Saturday 1/8/2022: Developmental Meet #3 at St. Anthony's
[Results]
It was nice to get the boys back to racing and competing
And many nice results

---
Out of an aboundance of caution we have decided not to travel for 1 1/2 hours in a full bus to Ocean Breeze on Tuesday and Sunday. Instead we will have practice from 10 to 11:30 at Belmont Lake State Park on Tuesday. Distance will go for a long run and speed will do sprints up and down a small hill
Practice on Wednesday and Thursday are still at SJB
---
We wish everyone a Very Merry Christmas
And we hope to see you Monday 12/27 at practice


---
Wednesday 12/22/21: NSCHSAA Christmas Classic [Team Results]
Another day of improvement for the Team
Please make it a priority to do your OYO workouts and
Have A Very Merry Christmas
---
Saturday 12/18/21: St. Anthony's Meet #2
[Team Results] [Official Results]
Another good day of good results
3 more earn Varsity Letters - This team is improving everyday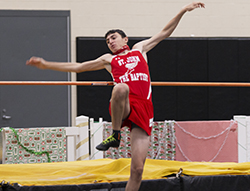 ---
Saturday 12/11/21: St. Anthony's Developmental #1:
[Team Results]
VERY GOOD FIRST MEET for SJB Boys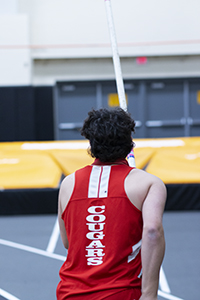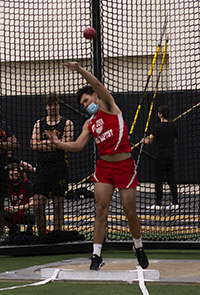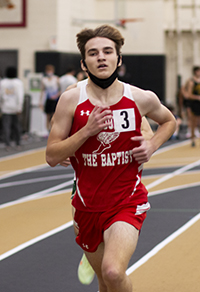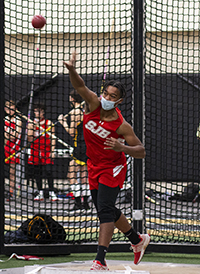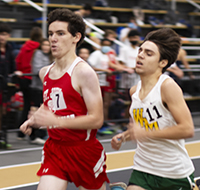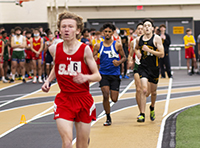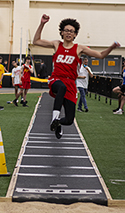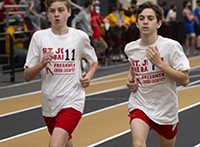 ---
First week of practice/tryouts will be Monday 11/15 - Saturday 11/20:
[Team expectations and try out info] [Meet The Coaches]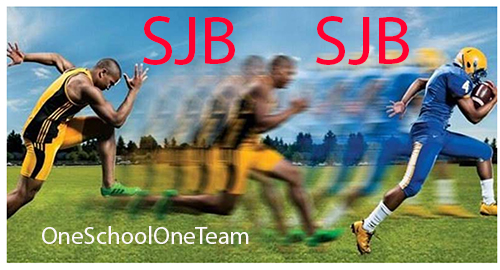 ---