&nbsp
Saturday 11/19/11: New York State Federation Championships
[TEAM RESULTS]
After being predicted to finish in 24th place, the boys run a great race and FINISH 18th
SJB ALL-TIME: Sean Ferguson #3, Jake Morales #4 and Kevin Murray #9
Great way to end the season
---
Saturday 11/12/11: CHSAA Championships
[Team Results]
For only the THIRD TIME in the last 12 years
the Boys Qualify to run at the NYState Federation Championships as a TEAM (2009-2010-2011)
---
Saturday 11/5/11: CHSAA Frosh/Soph Champs
[Team Results]
Bryan Reilly #6 Woody's Soph 2.5 Mile
Ryan Bennis #8 Woody's Soph 2.5 Mile
Sean Kildare #9 All Time SJB 1.5 mile Vancortland
---
Sunday 10/30/11: NSCHSAA Var/JV/Fr Champs
[Team Results] 3rd Place with a 17:37 average
Sean Ferguson is named NSCHSAA Tom O'Brien Memorial Scholar Athlete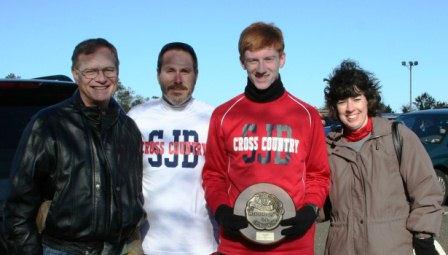 FIRST SJB Boy to earn this prestigious honor
---
Wednesday 10/26/11: Soph Champs
[TEAM RESULTS]
Reilly #7 and Bennis #8 Woody's Best Sophomore Times
---
Saturday 10/22/11: Section One Inv [TEAM RESULTS]
Varsity comes in 4th place at the final invitation of the season
SJB ALL TIME: Ferguson #3 - Morales #6 - Hamilton #8 - Hall #10
If this was Feds last year we would have finished 19th - like last years team
BUT we still have four weeks of training during championship season to go!!!
---
Saturday 10/15/11: SPLIT SQUADS
Freshmen run well at the NY XC Relays [Frosh Relays]
Varsity 3rd Place at the Brown U Northeast Championships [TEAM RESULTS]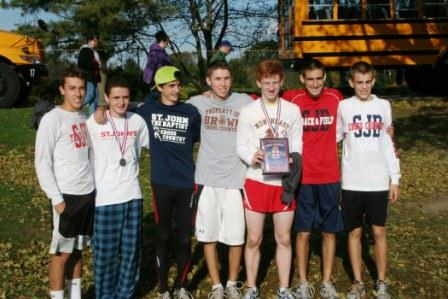 ---
10/9/11: The Manhattan Inv - Temp 85-90 degrees
BOYS WIN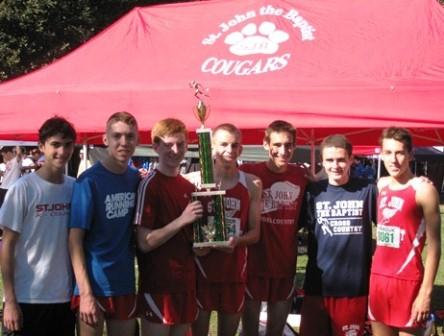 The Varsity Boys ran at 1:50pm in EXTREME Conditions
and ran the perfect TEAM RACE
[TEAM RESULTS] [OFFICIAL RESULTS]
---
Wednesday 10/5/11: Dual Meet vs. Holy Trinity
11 of 14 JV/Var Runners PR
[Team Results]
---
THANKS TO OUR PARENTS FOR YOUR
FOOD DONATIONS
Your generous support of the SJB sports programs has not gone unnoticed
The Boys SJB XC TEAM loaded up the shack for homecoming
and many games in the future
YOU MAKE ME PROUD TO BE A PART OF THIS TEAM
BOYS...How was your run today?
Was I right that you would start to feel strong again?
Let me know either at homecoming or by e-mail
REMEMBER...HARD PRACTICE TOMORROW - BE READY!!!
---
Wednesday 9/28: Dual Meets Vs. St. Anthony's and Chaminade
NOT OUR BEST DAY and not our worst [Team Results]
Freshmen raced well...Varsity had some good races and some bad...
JV did better than the coach told them...Your Times have been corrected and
YOU BEAT CHAMINADE
---
Saturday 9/24: SPLIT SQUADS - 6-Flags and Suffolk Coaches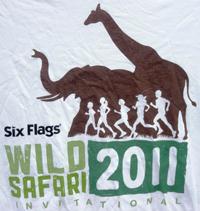 [6-Flags Results] [Suffolk Coaches Results]

BOTH J.V. and Varsity WIN
at 6-Flags Wild Safari Inv
The Varsityalso had the fastest team avg 16:31.8

Rob Challenor WINS the JV RACE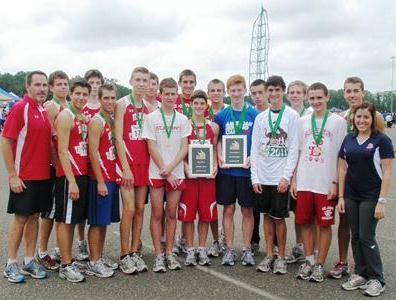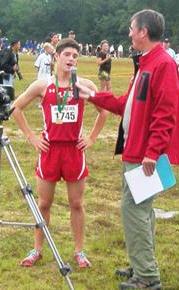 ---
Wednesday 9/21: Dual meets Vs. Kellenberg [Results]
Varsity + JV + Frosh are all 3 wins 0 losses
5 guys under 14:00 and 14 guys under 15:00

---
Saturday 9/17/11: The Jim Smith Inv
[Team Results] [ Official Results]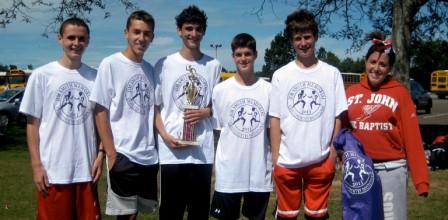 JUNIORS WIN THE PURPLE JACKET FOR MISSY
HIGHLIGHTS
Freshmen: ALL PR and 2 under 9:00
Sophomores: 3 break 20 in their first 5K
JUNIORS: WIN!!! and have 2 Earn All-League Honors
Seniors: 4th Place as a Team
Sean Hall #10 and Sean Ferguson #7 ALL TIME SJB and earn All-League
WHAT A GREAT START TO THE SEASON
---
9/14/11 Dual meets Vs. St. Doms and St. MAry's [Team Results]
Another GREAT DAY with 6 PR's
What will happen when I let them race for real???
---
9/10/11 CHSAA Practice Meet [Team Results]
A GREAT START to the season
8 Personal Records (PR's) on tired legs - NOT BAD
Now let's get ready and focused to train even harder

---
American Running Camp Pictures are Posted
[Click Here]
---
SJB's Warriors 2011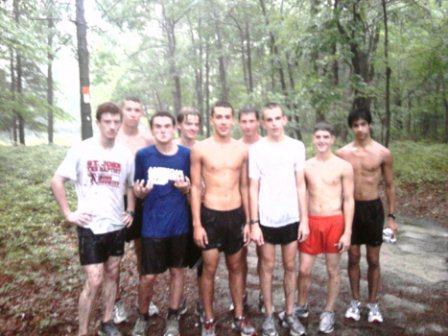 9 TRUE XC RUNNERS Who Ran Sunday Morning
This proves to me that 2011 is going to be great
One Week To Go!!!
---
Now that July's build up phase is over
it is time to start August's TRAINING PHASE
Group Runs for August are almost over - I highly recommend that you participate
Tuesday 8/16: 6pm medium distance with hills at Sunken Meadow
Thursday's 8/18: 6pm Hard Aerobic Intervals at Gardners (4/8 workout) Sunday's 8/14 + 8/21: 8am long run at connetquot
Goal #1 BUILD YOUR STRONGEST AEROBIC BASE POSSIBLE
Goal #2 (new) NEVER MISS A SUNDAY LONG RUN
13 days left of pre-season
---
Only 16 days until the first official pracice.
Sean and Sean are READY...Are You?

Remember 10-12th graders will run a 2.5 mile (10 laps) time trial on the first day and you must hit your assigned time to make the team
If you are not able to run the speed yet - do not worry - it is not to late. Just make sure you are running your 1000's on Saturday's at the GOAL PACE or faster. If you have been running all summer, these intervals will do the trick.
As you know, I am away at camp with 10 of your teammates and we will be returning on Saturday, any questions, just e-mail me
---
Sometimes it's just are freakin JOB!!
When you have to tell yourself that you MUST get out the door and run...and then you actually do it... That is when you know you are truly dedicated!!!
You do not miss going to work unless you are sick...treat your running the same way...IT IS OUR JOB
---
Sunday July 17th Group Run - Are You In The Picture??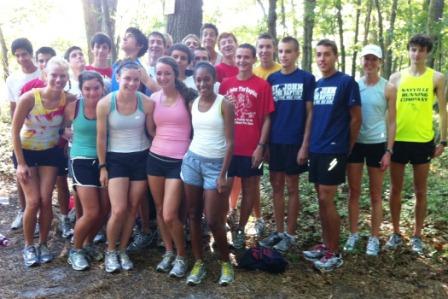 ---
Now that summer is in full swing:


1. Please e-mail me which camp you are going to; SJB XC (7/18-22), American Running Camp in Rhode Island (8/1-6), or another
2. Are you doing your Threshold Intervals on Saturday's?
3. Are you running at least 6 days a week?
4. Have you thought about WHY you are running XC and Sacrificing all of the time it takes to do it right?


Are you building the strongest aerobic base you can?
Group Runs - come run with your team and their friends
8am Sunday's Long Run on the greenbelt trail in Connetquot SP
6pm Tuesday's steady state and hills at SMSP
6pm Thursday's flat in Sayville until 8/4 then Babylon

---
26 Runners came Tuesday 7/5 to Sunken Meadow
With only 10 Saturday's left before YOUR FIRST RACE
Are you building the strongest aerobic base you can?
---
To read the article Coach Wood has written on Running in the Humidity of Summer, go to the SJB Elite TC Site
---
19 At SUNDAY #2 (a holiday weekend) 7/3:
Coaches/Alumni/Others:Wood, Petrina, Hamilton, Zampariello, and 2 guests
Seniors: Ferguson, Conley, Dulko, Murray
Juniors: Fiore, Challenor, Schneider, Hamilton
Sophomores: Pidel, Reilly, Tinti, Dulko, Khoury
The BEST Showing we have EVER had on a Sunday
**ONLY 7 WEEKS LEFT UNTIL THE FIRST OFFICIAL PRACTICE**
---
The FIRST Group RUN has happend
Please Remember, SUNDAY IS THE KEY RUN FOR SUCCESS IN XC
At Sunday #1: 6/26
2011 XC Team: Khoury, Bennis, Dorney and Fiore
Alumni: Dorney, Hamilton and Micheels
Coaches: Wood, Petrina and Micheels
I hope to see more of the current team this Tuesday night
---