---
Saturday 11/9/13: CHSAA Champs [Team Results]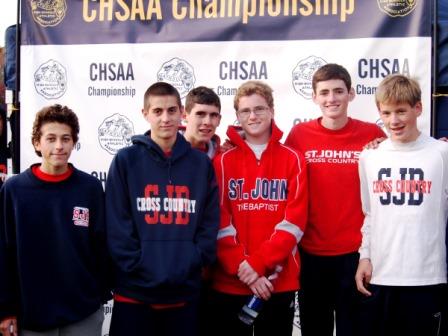 JV Champs 5th Place Team
Peter DeMaio runs the 8th Fastest time for a SJB Freshmen on the 2.5 mile course
Bryan Reilly and Chris Tinti Make the NYState Federation Championships THANK YOU to our ALUMNI RUNNERS for starting the day off for us
It makes the day a special day when our Alumni Run
---
Saturday 11/2/13: CHSAA Frosh/Soph Champs
[Team Results] [Official Results]



Freshmen finish their season by coming in 3rd Place in the CHSAA
This is the BEST IN SJB HISTORY for a Freshmen XC Team
Peter DeMaio runs #8 Frosh time at VCP in SJB HISTORY
EVERY FRESHMEN RAN A PR
Chris Tinti comes in 3rd Place overall in the CHSAA Soph Championships
Devin Laudenschlager and James O'Brien Run PR's
---
SUNDAY 10/27/13: NSCHSAA LEAGUE CHAMPS
[Team Results] Official Results]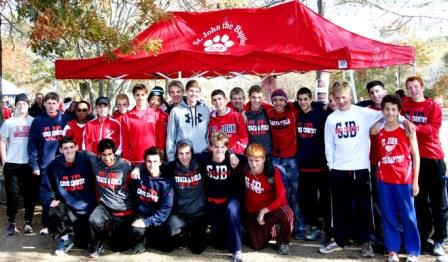 All Three Teams Finish in 3rd Place
Two more earn All-League for a total of FOUR so far...
Sean Kildare - Bryan Reilly and now...Tim Seeberger and Chriss Tinti
Thank you to our Parents for making this a spectacular event
Thank you to our athletes for displaying the best sportsmanship
and the best school spirit

---
Saturday 10/19/13: 2.5 mile at VCP and Frosh Relays
[Team Results]
Varsity takes Third Place but has average results
Freshmen take Fourth Place and run the 3rd fastest ever run at SJB
---
Wednesday 10/16/13: NSCHSAA Sophomore Champs
[Team Results]
Chris Tinti finishes in 3rd Place and James O'Brien 8th Place
---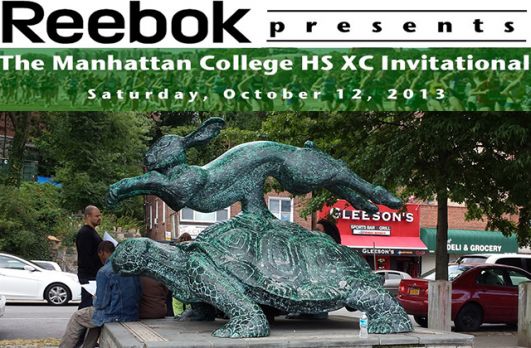 [Team Results] [ Official Results]
Chris Tinti runs 13:51 which is #4 All-Time and #2 Woody's
---
Wednesday 10/9/12: 2-Mile Run at SMSP:
[Team Results]
Very nice job done as a final tune up for Manhatten on Saturday
---
Friday 10/4/13: HOT OCTOBER 1600m Time Trials:
[Team Results]
8 upperclassmen run PR's in the 1600
All Freshmen run PR's Also
Nothing like a good TEAM RACE
---
Saturday 9/28: 6-Flags Wild Safari Invitational:

[Team Results]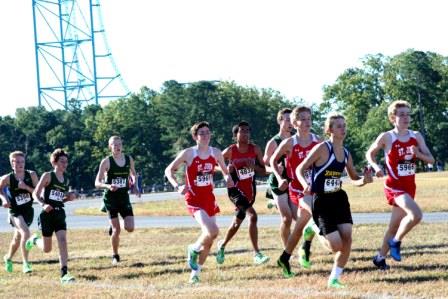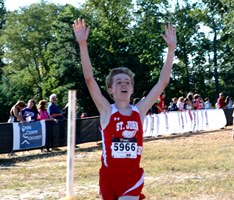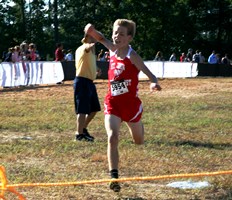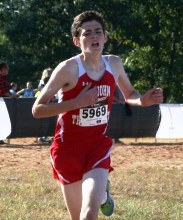 Chris First Place - Devin Second Place and Leo 7th Place
---
[Click to see NY State Rankings Week of 9/23]
Boys are Ranked 16th in NYState
---
Saturday 9/21/13: Xavier Invitational at VCP:
[View and/or Purchase Pictures from the race]
Varsity Team Takes 3rd Place [Team Results] [Official Results]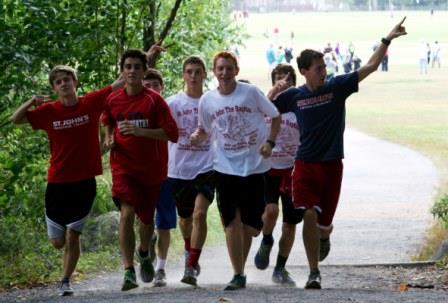 Every Freshmen ran a Personal Best (PR)
Chris Tinti 3rd and Devin Laudenschlager 6th in Soph Race
Sean Kildare 8th and Bryan Reilly 12th in Varsity Race
Sean Kildare runs the 11th Fastest Time ever run for Coach Wood
---
Wednesday 9/18/13: Open races at SMSP
Great day of Training/Racing on the new course at Sunken Meadow
[Team Results]
---
2013 SJB Boys XC Team

---
[ Today's Core Routine and How to do it]
---
Saturday 9/7/13: CHSAA Practice Meet 2013
[Team Results] [Official Results]
Varsity Wins
Sean Kildare WINS and the Frosh take 2nd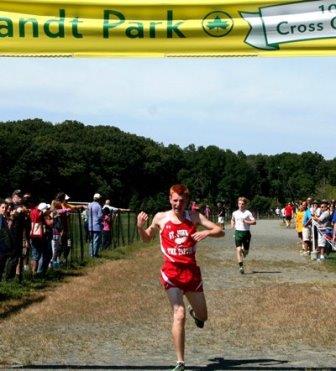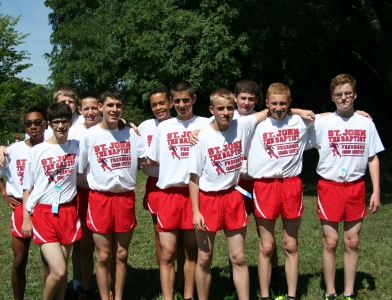 ---
Saturday 8/24/13: Long Run 7-10+ Miles at Connetqot
GREAT RUN IN GREAT WEATHER THIS MORNING!!!
At Least 4 ran their longest continious run - No One (but me) ran less than 7 miles
GREAT FIRST WEEK OF PRACTICE
#OneGoal
---
Sunday 8/4/13 Group run was well attended
and we had 2 run their first 10 mile run
If for some reason you have not been running as much as you should have been, please start NOW
The Season Starts in 2 weeks. Don't punish yourself for not doing the work, you can not change what you did not do. Just get going now.
It would be great to see more of you at the group run this Tuesday at Sunken Meadow
it's time to get your hill work in
---
38 Runners attend the SJB Running Camp in the crazy heat
This is a video of the start of one of our favorite camp games - The Shoe Relay
---
Tuesday 7/2/13: Groups Run #2 - 1000's at SJB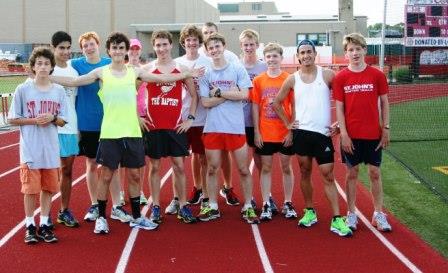 Nice group for our first Tuesday Workout
Consider joining us if your not pictured above
Only 48 more days until our First Official Practice - Will YOU Be Ready?
---
Sunday 6/30/13: Great FIRST Group Run of the Summer
Sunday at connetquot was well attended, 11 team members and 3 coaches
All said it was their best run of the summer
If you were not there, consider coming next week
Group Runs the rest of this week:
6pm Tuesday at SJB: 1000's on the track
6pm Wednesday at Park Ave Babylon:
normaly Thursday, but running Wednesday because Thursday is the 4th of July
---
This has been a HOT and HUMID Week! - How should you train?
Read the following advice from Coach Wood which is a continuation on Coach Petrina's advice posted 6/25
[Coach Wood's Advice 6/28/2013]
---
Please get in touch with your teammates that have not reported their results
If they have not started running yet - Please help to motivate them
Group Runs Start Sunday
[Read This Runners World Article - Endless summer ]

[Read This Advice Coach Petrina Gave To One Of Your Teammates 6/25/13]
---