Spring Track & Field 2020
---
Winter Track & Field Award Winners - B+G Varsity - B+GJV/Soph/Frosh - Boys Frosh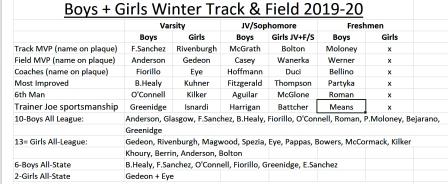 Congratulations to all for a great season
---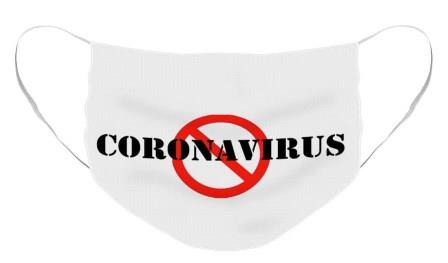 As you all know, it is official that our 2020 school year and Spring Track & Field season are over. I do not have to tell you how sorry I am that this has happened. I also should not have to tell you that we have, and are still, saving lives by shutting down. This is something that I believe you need to remember every time you start to get upset about your own situation. I cannot imagine how bad this would have been if we had not shut down. I am still trying to wrap my head around what has happened and is still happening.



If I have taught you anything, I have taught you the following:
When life poops on you - which it will (I know you believe me now) - you need to take some time to figure it out...then get up, clean yourself off and walk forward. My lessons to you have all ended with the same theme - keep moving forward - do not let anything stop you. Things will pause you, but they never have to stop you - it is all up to you.

SENIORS:
I have long sleeved Spring Track & Field shirts for all seniors who were at practice during our short time together. I will have them for you when the school announces the day that we will be getting together to collect uniforms, empty lockers and return locks. If you do not have a uniform to return you should still come to get your shirt. If you would like to help us recoup the cost of the shirts, you and/or your family, can join our Track & Field Booster club. This is how your shirts were paid for and you can pay it forward. Information can be found on our team website www.coachwood.org.


Front of shirt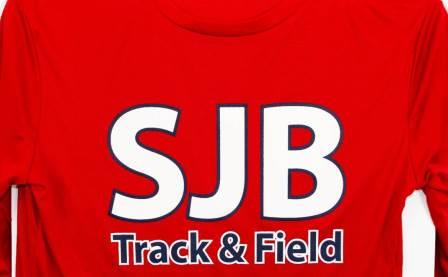 Back of shirt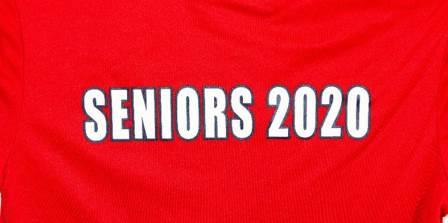 ---
Today, Thursday March 26, we were all notified that we will not be returning to school until Monday April 20th. I know that this is not what any of us wanted to hear. I also know that under the circumstances this is the correct decision!!
Immediately a Senior on our team contacted me to ask if the season has been cancelled. The following was my response:
"I was talking with Mr. Dalton last night and he told me that sports are going to try and have some sort of a season. With that said, I have no clue what it will look like. Plus I am sure most kids will not return to our team. My plan will be to hold practice for those that are willing to come and find away to make something out of nothing."
I want to add to that statement:
If you know me and our coaches, you know that we will do whatever is in our power to help you grow in our sport and end this school year with a smile on your face.
Stay Strong - Stay Positive - Help Your Parents - Do Your School Work - Get A Workout In - Stay Safe

---
Saturday 3/21/2020: OYO 400m Time Trial Results
[Team Results]
I am very humbled by the members of our team that have taken the time to try and stay in shape and positive during this trying time
With that in mind, this week I would like you to try and make your OYO workouts more fun by adding body strength exercises. Lets turn the objective of your workouts into being fit and living a healthy life. My suggestion is to add pushups, sit ups burpees, standing broad jumps, bounding. These are all exercises that we have done at practice.
Distance runners should start to turn their training into what they would do over the summer, longer and always going faster in the 2nd half of your run. Plus the strength and agility exercises.
Everyone's objective needs to be finding the love of exercise. If your truly love what you are doing you will be more likely to do it
---
SRING TRACK & FIELD SPORTS FEE'S:
Juniors + Seniors: $225 - Freshman + Sophomore: $200
(This is $15 less than you were told at practice
Please have your check made out to St. John the Baptist the FIRST DAY we are back
(hopefully very soon)
---
Winter Track & Field 2019-2020
---
Friday 3/13/20 + Saturday 3/14/20:
[Team Line Up Soon]
---
3/7/2020: New York State Federation Championships [Team Results]
Brian Healy 4th in the 1000m and Fernando Sanchez 3rd in the 600
BOTH RUN SJB SCHOOL RECORDS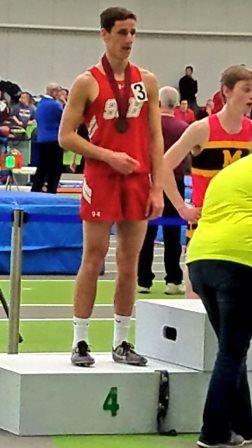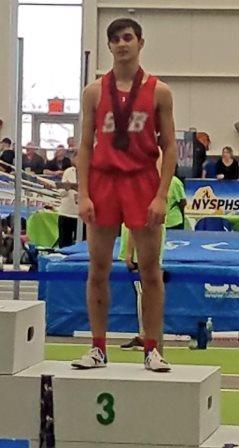 Healy 2:30.96 and Sanchez 1:21.16
---
2/29/2020: The Long Island Elite Meet
[Team Results] [Official Results]
BRIAN HEALY WINS THE MILE running 4:27 (a 12 second PR)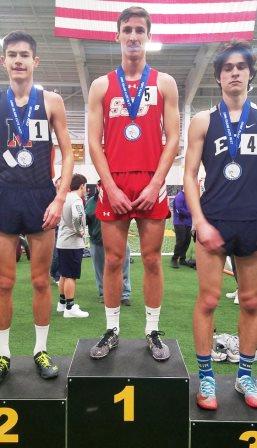 Fernando Sanchez comes in 2nd Place in the 1000 running 2:33.81
which is the 3rd fastest in SJB History
The 4x400m Relay Team of Fernando Sanchez, Patrick Moloney, Chris Greenidge and Francisco Bejarano also come in 2nd place
Chris McGrath comes in 3rd Place in the Frosh/Soph Mile running 4:44
---
Tuesday 2/18/2020: The Eastern State Championships [Team Results]
Boys 4x800m Relay comes in 4th Place, running 8:01.04
and Qualifies for Federations and Nationals!!!
---
Saturday 2/8/2020: CHSAA Catholic State Championships
[Team Results]
Incredible day for SJB T&F
3 CHSAA Catholic State Champions
Laila Gedeon, Fernando Sanchez and Brian Healy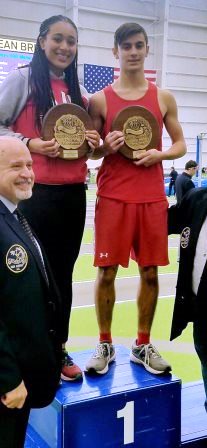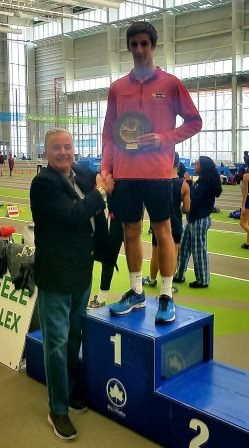 Both the Boys and Girls 4x800 comes in 2nd Place
Alex Eye comes in 2nd Place in the Long Jump and Qualified for Federation Champs
Kristen Rivenburgh comes in 3rd Place in the 55mHH
Boys 4x400 breaks 3:30 and comes in 3rd Place
Kelly Kuhner comes in 4th place in the Shot Put in her FIRST season on the team
FERNANDO SANCHEZ SETS THE SJB SCHOOL RECORD IN THE 600m - 1:21.29

---
Saturday 2/1/2020: Boys CHSAA Frosh/Soph Champs: [Team Results]
Frosh and Sophs Boys end their season showing us the future of SJB T&F is STRONG
Frosh finish in 7th place and Sophs 13th
Aidan Harrigan and Jerard Aguilar come in 3rd and 5th Place in the 1000m
Patrick Moloney comes in 2nd place in both the Triple Jump and the 300 meter Dash
And sets, and resets, the SJB Freshmen School Record in the process...37.25
---
Sunday 1/26/2020: NSCHSAA League Championships
[Boys Team Results] [Girls Team Results]
9 League Champions and Laila Gedeon Voted League Field MVP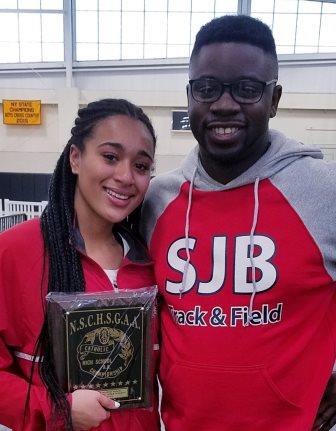 Gold Medal Winners:
Gedeon-TJ, F.Sanchez-600+4x8, B.Healy-1000+4x8, Fiorillo-4x8, O'Connell-4x8, Roman-4x4, Greenidge-4x4, P.Moloney-4x4, Bejarano-4x4
Silver Medal Winners:
Rivenburgh-H, Gedeon-LJ, Magwood-TJ, Oconnell-3200, M.Anderson-HJ
Bronze Medal Winners:
Spezia-3000+4x8, Eye-HJ+LJ+4x2, Pappas-4x8, Bowers-4x8, McCormack-4x8, Kilker-4x4, Khoury-4x4, Berrin-4x4, A.Anderson-4x4, Gedeon-4x2, Magwood-4x2, Bolton-4x2, Glasgow-SP
All 23 of those athletes named above have earned NSCHSAA All-LEAGUE HONORS
All of this and 2 more names are added into the sub 5:00 Mile Club
John Miller and Gerhard Aguilar
---
Monday 1/20/2020: NSCHSAA League Frosh/Soph Champs
[Boys Team Results] [Girls Team Results]
LEAGUE CHAMPIONS TODAY
Chris McGrath is the Sophomore 1600m Champ
Jaxson Werner is the Freshman Shot Put Champ
Patrick Moloney is the Freshman Long Jump Champ
Patrick Moloney also sets the SJB Frosh Record in the Triple Jump
and 3 more freshman earn Varsity Letters - Partyka, Bellino and Wanerka
---
Saturday 1/18: The New Balance Games at the Armory
[Team Results] [Official Results]
Brian Healy comes in 3rd place running 2:34.11 in the 1000
3rd Fastest is SJB History and the fastest run for Coach Wood
---
Friday 1/10 + Saturday 1/11: The Yale Inv + The Stanner Games
[Yale Team Results] [Stanner Games Results]
Great results posted at BOTH MEETS Fernando Sanchez WINS the 600 at Yale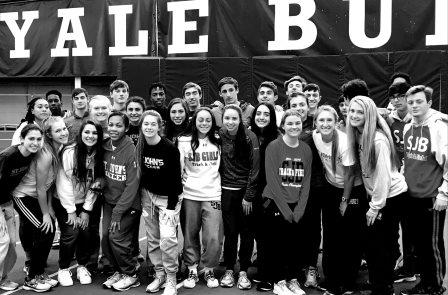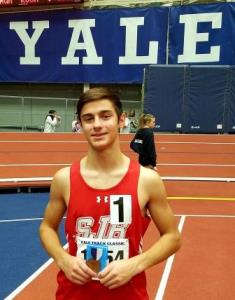 ---
Saturday 1/4/20: Developmental #3
[Boys Team Results] [Girls Team Results]
Patrick Moloney Sets Another Freshmen School Record
200m in 25.16
---
Sunday 12/29/19: Novice Champs and Varsity Races at Ocean Breeze in Staten Island
[Team Results]
Boys Finish in 2nd Place at the CHSAA Novice Champs
Boys 4x800 runs The #1 Time in the USA so far this season!!!
Much better effort by all - THANK YOU
---
Friday 12/27/19: Developmental #3:
[Boys Team Results] [Girls Team Results]
Not our best day - hopefully we broke the rust off and can back to being aggressive
---
Friday 12/21/19: Christmas Classic
[Boys Team Results] [Girls Team Results] [Official Results]
ANOTHER SUCCESSFUL DAY OF RACING FOR SJB TRACK & FIELD
Our Varsity First Place Gold Medal Winners are
Johnny O'Connell in 3200, Sabrina Spezia in the 3000, Alex Eye in the 300
Freshman First Place Gold Medal Winners:
Shane Bellino in the 600, Jaxson Werner in the Shot Put and Brian Moloney in Both the Long Jump and 300
Patrick Moloney also broke the SJB Freshmen Record in the Long Jump, jumping 19'2"
---
Saturday 12/14/19: CHSAA Relay's + Developmental at St. A's:
[Relay Team Results] [Relay Official Results] [St.Anthony's Dev #1 Results]
Boys Freshmen 4x400 comes in 2nd Place to earn our First medals of the season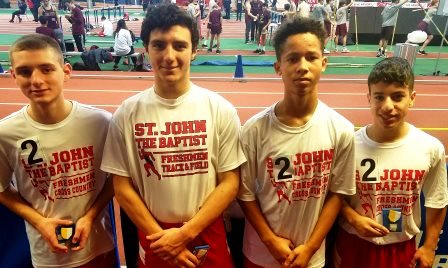 Boys Varsity 4x800 starts the season with a WIN running 8:13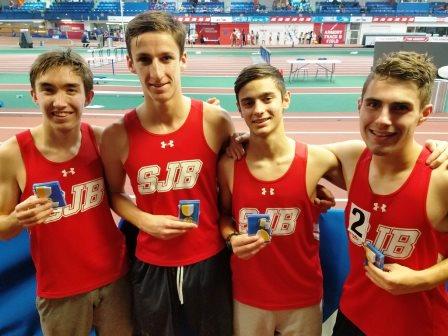 OTHER GREAT PERFORMANCES
Alex Eye Jumps 15'11" in the Long Jump to be the top competitor of the day in that event
Laila Gedeon Jumps 33'11 in the Triple jump for 2nd Place
Kristen Rivenburgh comes in 2nd Place in the 55m Hurdles
The Girls Varsity 4x200 comes in 2nd Place
The Girls Varsity DMR Teams come in 3rd and 4th Place
Liz Thompson comes in 4th Place in the Frosh 55m Hurdles
Boys Sophomore 4x800 comes in 4th Place
[Get Directions]
---
Sports Fee's are over due
Frosh+Soph $235 - Juniors+Seniors $260
---
Parents Please join us at the Annual Cougar Club Auction
Friday Night 12/6/19 at 7pm in the Cougar Café
With Coach Maurer as the MC
ALL Proceeds go to support ALL of the sports at SJB
[Auction Flier]
ALSO, if you have anything you would like to donate please contact SJB as soon as possible