&nbsp
Saturday 11/29/08: Footlocker Northeast Regionals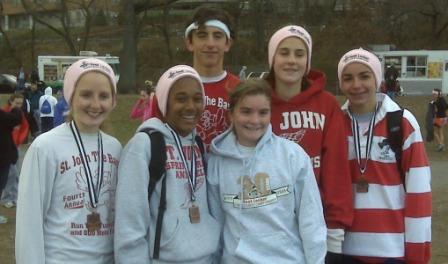 Results when I get them
---
Saturday 11/15/08: New York State Federation Champs [Team Results]
Girls finish in 17th and ahead of all Catholic Schools
Anne Carey is the first girl to medal at Feds in an SJB unifom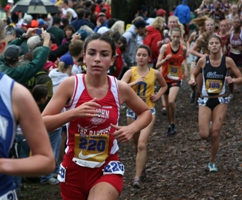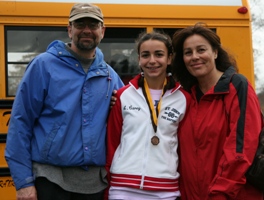 ---
Saturday 11/8/08: CHSAA CHAMPS [Team Results]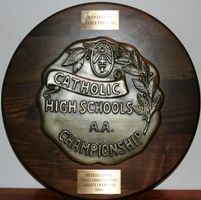 WHAT A GREAT DAY FOR SJB XC
Rob Block WINS the Alumni Race
Anne Carey is the Individual CHSAA Champion and Sets the SJB Record
Varsity Girls are CHSAA Champions
J.V. Girls are CHSAA Champions
Brian Hannigan runs 13:49 and is going to FEDS
Thank you to the Seniors' Parents for everything you did today you made the team feel like champions
INTERESTING FACT: The JV girls 5 person average was 17:08 which means if the JV team had run the varsity race instead of our varsity team, they would have finished 4th and qualified for feds
---
Saturday 11/1/08:CHSAA Frosh/Soph Champs
[Team Results]
Frosh Girls finish in 4th Place with 5 of 6 running PR's
Nicole Cunningham sets the SJB Frosh Record at VCP
Frosh Boys ALL run PR's and tie for 11th Place
Sophomore Boys finishes 5th matching the best place ever run for a Woody Team
Matt Zampariello runs the 2nd fastest Sophomore "Woody" time
---
Sunday 10/26/08: [Team Results]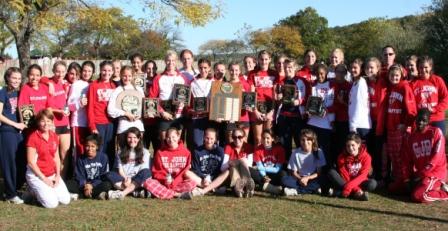 Girls Varsity and JV WIN 2008 League Championships
All Girls can wear their XC Sweatshirts with any XC T-Shirts Underneath to school tomorrow. Any girl that does not have a sweatshirt can wear your Red or Gray XC T-Shirt.
Congratulations to Erin O'Reilly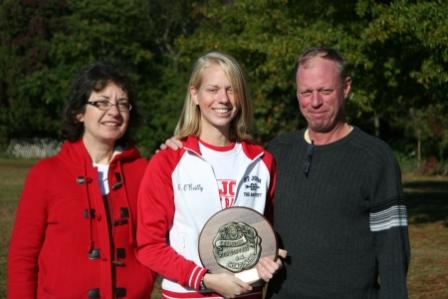 Winning The Tom O'Brien Scholar Athlete Award
---
Woody's Photo's Has Been Updated With the St. Anthony's Inv, Sophomore Champs and The Brown Inv. Sorry it took so long
[Click Here To See Them]
---
Saturday 10/18/08: Brown Inv and NYC Classic
[Brown Results] [VCP Results]
Today the team split up with the Varsity racing in Rhode Island
and the JV Racing as Varsity at VCP
Brown Highlights:
Boys 6th Place in the Large School Varsity Race
James Hall - 16:49
Girls 4th Place in the Northeast Championship Race
Anne Carey 10th running 18:14.4 an SJB RECORD
VCP Highlights:
Freshmen Girls WIN the Relay Race
JV A Girls run as Varsity in the A-Race and come in 2nd
JV B Girls run in JV race and WIN!!
---
Sophomore Champs: Wed 10/15/08 [Team Results] [Official Results]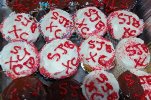 Boys take 3rd Place
Zampariello runs 14:30 for 5th Place Overall

Girls WIN by 2 points
Anne Carey is the Sophomore League Champion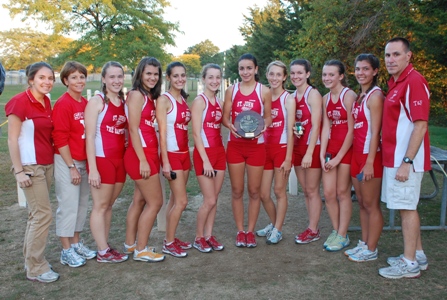 ---
Saturday 10/11: Manhattan Invitational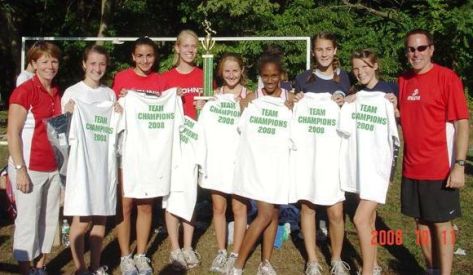 [TEAM RESULTS] [OFFICIAL RESULTS]
Another Great Day
Nicole Cunningham, Aislinn Rowan and AnneMarie Zigrosser
take 3rd Place overall in their races
The Varsity Boys run a 5-Man Average of 14:24
Freshmen Girls Take 3rd Place
Varsity Girls WIN!!!
Varsity Girls 5-Woman Average of 16:01
Alyssa Dorney #3 Sophomore ALL TIME
Krystal Foster #5 Varsity ALL TIME
Kerry Hamilton #4 Varsity All Time
Anne Carey #1 Soph ALL TIME and #3 Varsity ALL TIME
---
Wednesday 10/8: [Team Results]
Great Results are run at the final dual meets of the season. Boys JV beats Kellenberg and 6 of 7 Varsity Boys run PR's. Girls Varsity, JV and Frosh Win
Varsity Girls and JV Girls go UNDEFEATED!!!
---
Sat 10/4: St. Anthony's Inv [Team Results] [Official Results]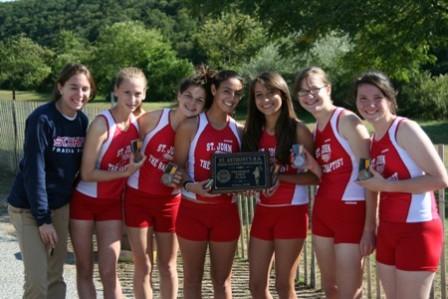 Freshmen Girls 1st Place
Nicole Cunningham 2nd in race, 4th in SJB History - Emma Cleary 10th in SJB History Sophomore Girls 2nd Place
Anne Carey Wins Race and is now the SJB Sophomre Record Holder
AnneMarie Zigrosser 8th Soph in SJB History
Freshman Boys 4th Place
Pat Collins 9th in SJB History
Sophomore Boys 4th Place
Matt Zampariello 5th in SJB History
---
Wed 10/1: Dual Meets [Team Results]
30 PR's (12 Girls + 18 Boys) are run on a sloppy course and Many Season Bests
Girls Varsity and JV remain Undefeated!!
---
Wed 9/24: Dual Meets [Team Results]
All Boys and Girls Teams Win
Some BIG PR's on JV - Both Boy's and Girls
---
Girls Varsity Team
Ranked 13th in New York State
[NYS Rankings]
---
Saturday 9/20/08: Bowdoin Park Classic [Team Results] [Official Results]
Boys + Girls Teams Have their BEST DAY EVER!!
[Click here to see Coach Woods Pictures of the races]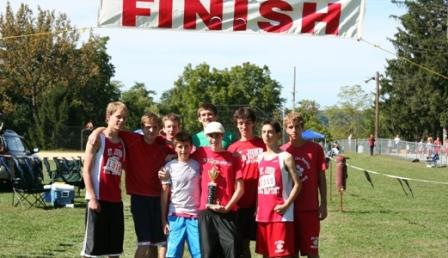 Varsity Boys: 8th place

(Top 5 - 18:11-18:42) The boys also finished just behind Iona Prep who is ranked #8 in CHSAA


J.V. Boys: 3rd Place

only loose to Shen and CBA (who's Varsity finished 1st+2nd in the Championship Race) (Hall 11th overall)


J.V Girls: 4th Place

Top 5 - 22:15-23:02 (Rowen 11th overall) Also beat many teams who's Varsity competed in the Championship Race


Varsity Girls: 7th Place in the Championship Race

1. Shenendohowa - #5 NYState
2. Lincoln-Sudsberry - #1 Northeast + #9 Country
3. Emmaus - #2 Northeast + #21 Country
4. Voorhees - #3 Northeast + #18 Country
5. Northport - #9 NYState
6. Red Hook - ???
7. SJB


In the merged results of the Championship Race and the Varsity Race - the girls also beat Holy Name and Ward Melville both ranked tops in their regions

---
Wednesday 9/17/08: SJB Vs Holy Trinity
Great Job by all
Congratulations to the Boys JV and Frosh for their FIRST wIN of the Season
[Team Results]
---
Woody's Pictures of the Jim Smith Invitational are now posted
[Woody's Photos link]
Make sure to show your parents these Pictues - We all know they love to see your pictures
---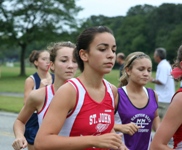 Sat 9/13: Jim Smith Invitational
[Team RESULTS] [Official Results]
The Girls Sophomore Team comes in FIRST PLACE with Anne Carey and Alyssa Dorney running the 2nd and 7th fastest Sophomore time in School History. The Junior girls comes in 2nd Place and the Senior Girls take 3rd Place. The Boys teams take a big step foward running very good times for the first 5K of the season.
---
Wed 9/10/08: Dual Meets [RESULTS]
Girls Varsity - JV - Freshmen all WIN!! Boys do not have as good a day...but...it will get better!!!
Anne Carey and Alyssa Dorney run the 8th and 10th
fastest ALL-Time "WOODY TIME"
Nicole Cunningham runs the 9th fastest Frosh "WOODY TIME"
---
Sports Fee is now due:
$210 for ALL Freshmen and anyone else who needs a uniform
$165 for all others
Included in your fee is your awards dinner, uniform, training shirt and t-shirt
Please make check payable to "St. John the Baptist" and give to Coach Wood by this Saturday
---
Saturday 8/23: Time Trial's [Results] To make the team you must run faster than your time trial from last year. The goal is that you progress each year and take the sport more seriously as you get older. That means your summer training was everything!
3 PR's were run at the time trial - that is wonderfully insane
Matt Zampariello - Katie Mezzacappa - Anne Carey
3 Girls run an ALL LEAGUE TIME
Anne Carey - Kerry Hamilton - Krystal Foster
Unfortunately - some have to run it again this Saturday
---
Newport Running Camp 2008
What a Great Experience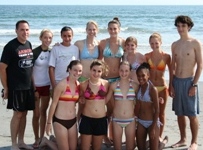 NOW I KNOW WE ARE READY TO START THE SEASON
BRING IT ON!!!
---
2 Great weeks of Camps at SJB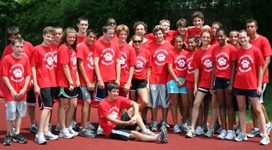 25 came to Track and Speed Camp and 30 came to XC Camp
11 are leaving tomorrow for The Newport Running Camp
OFFICIAL Practice Starts in 2 Weeks
Summer Running Club has the following results so far:
2 on Pace for 1000+ Miles
1 on Pace for 500+ Miles
5 on Pace for 400+ Miles
7 on Pace for 300+ Miles
Plus whoever I do not know about yet...
I think we are in for a GREAT SEASON on BOTH Teams
---