---
Top Of The Moat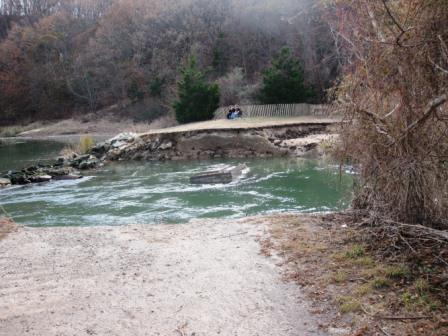 ---
This video shows the top of the moat (300m to go)

---
Saturday 11/10: Intersectional Champs:
[Team Results] [Official Results]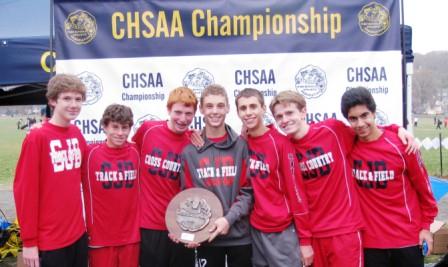 The Underclassmen have a terrific day
JV Team comes in 3rd Place just missing Chaminade for second by 6 points
Tim Seeberger 6th fastest SJB Soph All-Time
Sean Kildare 8th fastest SJB Soph All-Time
Chris Tinti 2nd Fastest and Devin Laudenschlager 10th Fastest SJB Freshmen All-Time on the 2.5 course
Reilly and Bennis earn All-League Honors
Fiore-Morales-Butler-Hamilton-Bennis All Qualify to run at the NYState Federation Race
---
Sunday 10/28: 2012 League XC Champs [Team Results] [Official Results]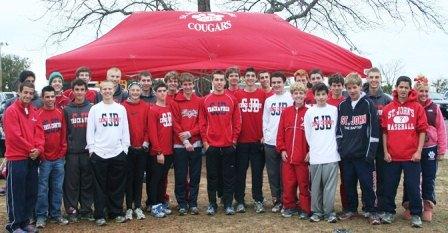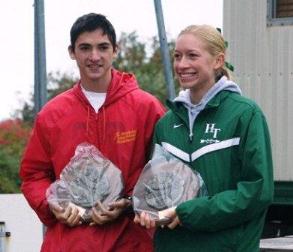 All 3 Teams finish in 3rd Place and Paolo Fiore
Is Awarded The Tom O'Brian Scholar Athlete of the League Award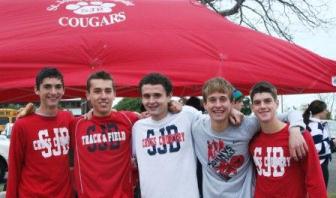 Seniors Finish Their H.S. X-C Career on the SMSP 5K with the following:

Paolo Fiore #3 All Time SJB and #1 for Woody
Jake Morales #8 All Time SJB and #6 for Woody
Kyle Butler #11 All Time SJB and #9 for Woody
Rob Challenor and Jimmy Hamilton #15+16 All Time SJB


The FUTURE is STRONG Too
Freshmen:
Chris Tinti runs #6 All-Time and #4 Woody's on the Freshmen 1.5 Course
Sophomores:
Tim Seeberger #3 Soph All Time, Sean Kildare #7 Soph All Time and Aaron Zigrosser #11 Soph All Time
---
Saturday 10/20: Brown University Inv and Freshmen Relays
[Brown Inv Results] [Frosh Relays Results]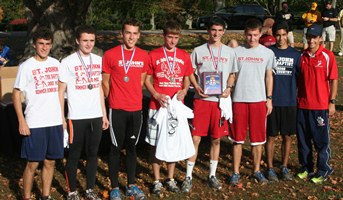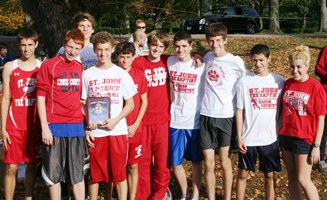 Varsity WINS and J.V. comes in 3rd Place
---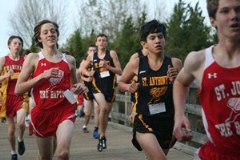 Wednesday 10/17/12: Sophomore Champs
[Team Results] [Official Results]
Sophomores finish in 3rd Place
Seeberger runs 7th Fastest SJB Sophomore 2.5 mile
And 4th Fastest Ever for Woody
Seeberger, Zigrosser, Hannigan and McCoy PR
---
Saturday 10/13/12: The Manhattan Inv [Team Results] [Official Results]


Sophomore Teams comes in 2nd Place
Sean Kildare Runs 14:13 #6 Woodys Soph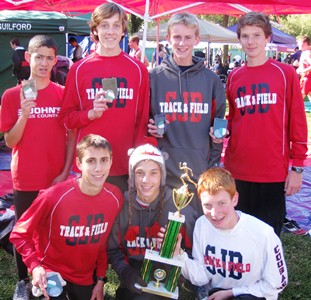 Varsity Team Comes in 2nd Place
Kyle Butler Runs 13:38.3 #9 Woodys Best
Rob Challenor Runs 13:37.9 #8 Woodys Best
Jimmy Hamilton Runs 13:35.3 #6 Woodys Best
Jake Morales Runs 13:34.5 #5 Woodys Best
Paolo Fiore Runs 13:16.1 #2 Woodys Best
Varsity 5-Man Average was 13:32.4
Fastest Average ever run for Coach Wood
---
Wednesday 10/10/12: Open Races at The Meadow
[TEAM RESULTS]
Not your normal day of league races
Seniors and Juniors ran the 1.5 mile course as a HARD training run
Sophomores each adopted a Freshmen and raced them through the 2.5 Course
ALL WITH GREAT RESULTS
---
Monday 10/8: The SJB Boys Mid-Season Time Trial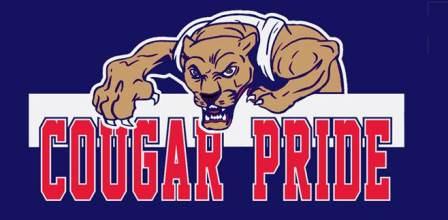 [SPECTACULAR-RESULTS]
WOW
---
Wednesday 10/3/12: Dual meets vs Chaminade and St. Dom's
[TEAM RESULTS]
Great Practice day for the upperclassmen
EVEN BETTER DAY FOR OUR FRESHMEN
---
Saturday 9/29/12: 6 Flags Wild Safari Inv
[TEAM RESULTS] [Meet Web-Site + Video's]

Varsity and JV Teams finish in 3rd Place
Freshmen finish in 5th Place
Fiore and Morales run the 2nd and 4th FASTEST 5K's in SJB History
---
Wednesday 9/26/12: Dual meets vs Kellenberg and Holy Trinity
[TEAM RESULTS]
I am not very impressed by the way the J.V. and Varsity raced today - You are all better than this
I am very impressed by the show of Love and Support you gave to the Lucie Family Tonight
---
Saturday 9/22/12: Bowdion Park XC Classic [TEAM RESULTS]
Not the best day for the Varsity...Not the worst day either
VERY GOOD Day for the JV...The Future is looking very bright for SJB X-C
Thank you to all of the parents and grandparents who made the trip to support our team
It's great to have so many great fans
---
Wednesday 9/19/12: vs. St.A's and St.M [Team Results]
Varsity runs a Tempo Run and Frosh and JV Race
Sophomore's impress again!!!
---
Saturday 9/15/2012: JIm Smith Invitational
[TEAM RESULTS] [OFFICIAL RESULTS]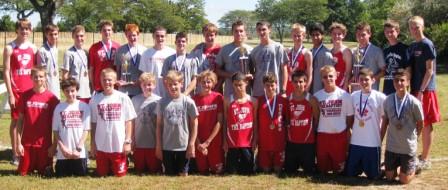 Rob Challenor runs 2:37 for the final 800m
Sean Kildare runs the 10th fastest Sophomore time in SJB History
Jake Morales runs the 8th fastest Time in SJB History
Paolo Fiore runs the 4th fastest Time in SJB History and the 2nd Fastest Time ever run for Woody
Freshmen finish in 6th place - Sophomores finish in 3rd Place
Juniors and Seniors WIN!!!!!! - FIRST PLACE!!!!!!
Lot's of Smiles - Lot's of T-Shirts - Lot's of Medals and Lot's of Trophies
---
Wednesday 9/12/2012: Open League races at Sunken Meadow
[Team Results]
Today was one of the best FIRST RACING DAYS that I can remember!!!
This team has been working incredibly hard and today proves that
BRING ON THE REST OF THE 2012 SEASON
THESE BOYS ARE READY FOR THE FIGHT
---
After three great weeks of practice, the racing season is now upon us
Wednesday will be a Practice Race against our league on our League Courses
Saturday will be our FIRST INVITATIONAL of the year!!!
---
GREAT FIRST WEEK OF PRACTICE
Freshmen ran 19.5 miles Sophomores ran 33 miles
Varsity ran 45 miles
The Varsity is ranked in the top 30 of NYS [Click to see top 30]
Please get your regeneration run done or enjoy your off day
Eat well - Get sleep - Ice - and get ready for a GREAT WEEK 2
---
2012 Varsity and JV X-C Team:
Seniors: Butler - Challenor - Fiore - Hamilton - Morales
Juniors: Bakos - Bennis - Dulko - Khoury - Reilly - Sokol - Tinti - Werner
Sophomores: Browne - Hannigan - Hirst - Kildare - McCoy - Seeberger - Zigrosser

---
Summer Group Runs have come to an end
Use this final week to prepare for your 2.5 mile time trial

The following times are required to make the SJB XC team:
Seniors: 14:35 = 5:50/mile, 3:44/1000m and 87/400
Juniors: 15:25 = 6:10/mile, 3:51/1000m and 92/400
Sophomores: 16:15 = 6:30/mile, 4:03/1000m and 97/400
Freshmen: No Required Time - Just be enthusiastic, cooporative and willing to learn the sport

If you have been running the minimum of 21 miles a week, and at the paces that you were given at the XC meetings, then you will be fine. However, if you are worried, run 4x1000m with a 200m jog. Start at the above pace and run a little faster each rep. If you can do this, you will have no problem on Monday the 20th.
---
I am very pleased with the 9 SJB Runners who came to Connetquot this Sunday morning (8/5) for the 2nd most difficult day of the summer
I am also very pleased that these runners made SMART decisions during their run
TWO WEEKS TO GO...I AM GETTING VERY EXCITED!!
---
August Group Run Schedule
Wednesday's: 6-7:00pm - Park Ave Tennis Courts in Babylon
Thursday's: 6-7:00pm - Sayville Running Co - Main st Sayville
Sunday's: 8-9:15am: Connetquot Path - off of Vets Hwy
less than 1/4 mile south of Connetquot Ave - you will see cars on the side of the road
ALL SJB X-C RUNNERS ARE EXPECTED
all runners, friends/family/other sports, are welcome
---
The Following Came To Wednesday's (8/1) Group Run:
Seniors: Fiore - Morales - Butler
Juniors: Khoury - Reilly - Pidel - Bakos
Sophomores: Hannigan - Browne - Seeberger - Kildare
These 11 are serious about the 2012 Season - ARE YOU???
IF SO...PLEASE COME AND RUN WITH THEM ON WEDNESDAY'S
---