&nbsp
&nbsp
THANKS FOR A GREAT SEASON AND GOOD LUCK IN COLLEGE TO OUR SENIORS2>
---
6-9-06: NY State Meet
4x400m Relay Team runs 3:18.57
New SJB Record - 4th Place

A.Ortiz 51.1 - D.Harris 48.2 - A.Jackson - 50.5 - M.Fitzgerald 48.4

Qualify for Federation Championship Race Saturday 6-10
---
6-4-06 Eastern States Championships [Team Results]
4x200m Relay's:
A+Team - SJB Record

A-Team Jr. Class Record

---
Frosh and Soph Champs Celebration
This Tuesday - June 6th - after school
Plaques and Shirts will be distributed
---
Danny Harris SJB Athlete of the Year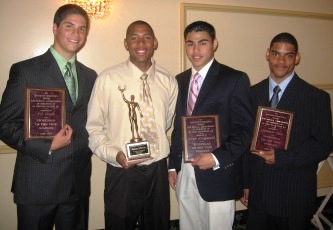 Congratulations to all 5 Seniors nominated for Athlete Of The Year
Danny Harris, Mike Fitzgerald, PJ Conte, Antonio Ortiz, Andre Jackson
---
May 20th CHSAA INTERSECTIONALS:
[Team Results] [Official Results]

SJB Finishes Tied for 5th Place with Chaminade in the TEAM scoring!!! 1st Place Finishers:
Danny Harris - 800m
Mike Fitzgerald - 100m
4x400m Relay Team
Harris-Ortiz-Jackson-Fitzgerald
---
May 13th NSCHSAA CHAMPIONSHIP AT SJB:
First Place Finishes - 100m - 200m - 400m - 800m - 4x100 - 4x800
Second Place Finishes - 100m - TJ - HJ - 4x100!
Third Place Finishes - 110HH - 200 - LJ - 4x400
SJB SCHOOL RECORDS SET - 400M (MIKE FITZGERALD)- 200M (ANDRE JACKSON) and many Woody Team Records are set too
[Team Results] [Official Results]
---
May 6th CHSAA Frosh-Sophs Champs&nbsp[Team Results]

Phil Ferrantello wins the 800m in 2:02!!!!
---
May 5th and 6th - St. Anthony's Invitational [Team Results]

WOW!!! 2 SJB RECORDS SET
Danny Harris sets School Record in the 800m 1:55.87
4x400m Relay team of A.Ortiz-Harris-Jackson-M.Fitzgerald sets School Record 3:21.69
---
5/3/06 Boys WIN The Freshmen and Sophomore Championships Again.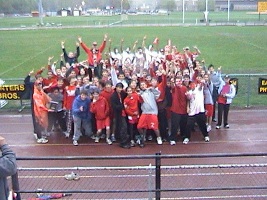 Sophomores: SJB wins by 11.5 Point
Freshmen: SJB wins by 5 points

[SophLeagueResults]
[FroshLeagueResults]
[Team Results]



---

4x400 Sets School Record 3:23.92
---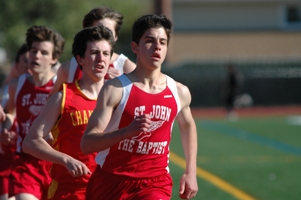 Picture by Lindsay Brown
4-26-06 First Boys track meet at SJB in years!!!! 3 Woody Team Records were set: Didier Guillaume-Sam 40'3/4" in the Triple Jump, Jake Rachiele 24.3 in the 200m and Dan Woroniecki 39' 1" in the Frosh Shot Put [Results]
---
4-19-06 CHSAA Intersectional Relay's: [Results] 4x200 team of Mike Fitzgerald - Ike Iloegbu - Danny Harris - Andre Jackson Set a NEW SJB SCHOOL RECORD 1:31.76
---
4-18-06 NSCHSAA Easter Classic: [Results] 4x100m Relay's take First and Second Place
---
4-15-06 Suffolk Coaches Inv: [Results] Freshmen Jake Rachiele runs a School Freshmen Class Record in the 100m Dash - 10.9 seconds
Not to be outdone Seniors Andre Jackson and Mike Fitzgerald run 10.5 and 10.6
---
4-8-06 Suffolk Track Officials: - only a few cold and wet 1500's then rained out [Results]
---
Farrell Invite 4-1-06: [Results]
---
Develomental 3-29-06 at Kellenberg: [Results]
---
March 26th 4X800'S Run at The Bishop Ford Relay's
Varsity 3rd place and the Freshmen win their first medals of the season with a 5th place finish [Results]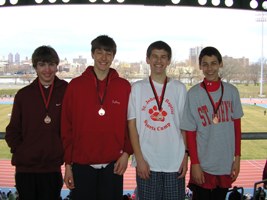 ---

March 22nd First Meet of the Season. Developmental at Chaminade wirh many good results [Results]
---
CONGRATULATIONS DANNY HARRIS 7TH AT THE NIKE NATIONALS [Results]
---
Jan. 16th 2006 - What a day for SJB 2 Championships [Results]
SOPHOMORE'S ARE LEAGUE CHAMPS!!!!!!!!!!!!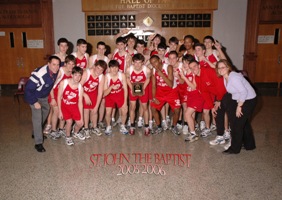 FRESHMEN ARE LEAGUE CHAMPS too!!!!!!!!!!!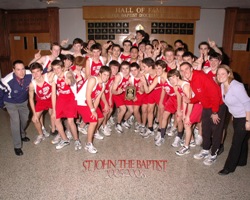 ---