&nbsp
&nbsp
Saturday 6/6: Eastern State Champs
While the Seniors were at Graduation, the Juniors showed the world a preview of next years team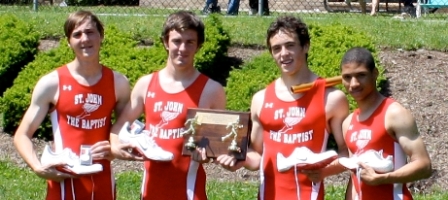 3 Races - 3 Junior Class Records
[Team Results] [Video of 4x400] [Official Results]
---
5/30 Reebok Grand Prix - SJB 4x100 goes up against the best
[Race Results] [Click to see Pictures]
The SJB Boys were in position to Re-Set the Catholic State Record until last years National Champ - Sheepshead Bay
Dropped the baton and step into SJB's Lane
[Watch the Video]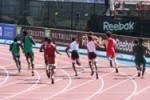 I CAN NOT WAIT UNTIL THE NEW YORK STATE FEDERATION RACE

---
Saturday 5/23/09: CHSAA Champs:
Catholic State Champs [Team Results] [Official Results]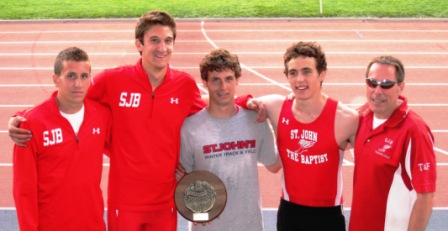 4x100m Relay Runs CHSAA RECORD 42.46
Also 2-Woody Team Records and 2-Woody Team #2 are achieved
[4x100m Relay Finals] [4x400m Finals]
---
Saturday 5/16/09: NSCHSAA League Champs:
SJB Finishes in 2nd Place
[Team Results]
Unbelievable Results by ALL
---
Saturday 5/9/09: CHSAA Frosh/Soph Champs:
Frosh highlight of the meet: Sean Ferguson - 4:59 Mile
Soph highlight of the meet: Dom Safina - 9' Pole Vault
[Team Results]
---
Friday 5/8/09: Massapequa Inv: [Team Results]
Simon Cleary throws a Woody Team Record 139'3" in the Discus
Mile Medley runs a Woody Team #2
Great Tune up for Champs
---
Wednesday 5/5 Frosh/Soph League Champs
Frosh 2nd Place and Soph's 2nd Place
[Team Results] [Official Results]
It was great to see the young SJB Track & Field Cougars
compete and grow as a "TEAM"
Woody Frosh or Soph Team Records that were set:
Hunter Burrell in the 400m
Matt Zampariello in the 2000m Steeplechase
Matt Hill in the 2000m Steeplechase
Seitu Solomon in the Long and Triple Jumps
and Dom Safina in the Pole Vault
---
Saturday May 2nd: Day 2 St. Anthony's Inv
[Team Results] [Official Results]
SJB comes in 6th Place out of 46 teams that scored
Varsity Team Declares to Coach Wood - "We are ready for champs"
Let's get ready to Rock and Roll
---
Friday May 1st: Day 1 St. Anthony's Inv
3 Woody Team Records are run in the rain
Ryan Baist in the Pole Vault - 10'
Joe Micheels in the 400mIH - 58.12
4x1600m Relay team of
Kyle Grell, John Blackler, Matt Zampariello and Dom Ferrera - 18:50
[Team Reaults]
---

Fri4/24+Sat 4/25: The Penn Relays
[Watch the 4x400] [Watch the 4x100]
3:22.20 WT#2 and 43.80
SJB Boys have another successful trip to Penn
[Team Results]
---
Wednesday 4/22: Developmental Meet at SJB
[Team Results]
Very nice results in poor conditions and after a full team workout
Thank you for taking it seriously and working so hard
---
Saturday 4/18: Suffolk Coaches Inv
[Team Results] [Official Results]
We had a little bit of everything today - some good - some bad - some ugly


Woody Records Set: Pardo in 110mHH, Perrelli in HJ
Woody #2 Records: Rachiele in 200m, Boyce in 400mIH, McLeod in Discus
Woody Team Soph Records: Solomon in LJ + TJ
---
Wednesday 4/15: CHSAA Relays [Team Results]
4x200m RELAY RUNS A MEET AND SCHOOL RECORD 1:29.3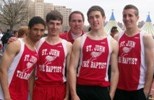 Many other GREAT results and lots of medals
---
Tuesday 4/14: NSCHSAA Easter Classic
[Team Results]
Freshmen and Sophomores run at St. Anthony's...in the rain again
with GREAT results
---
Monday 4/13: Iona Prep Inv
[Team Results]
Very nice results and NO RAIN
---
4/11 Suffolk Track Officials Inv:
The rain started and then the Temperature dropped
Coach Wood pulled the team after the 400IH and F/S 1500's
400IH were run with 11 sets of hurdles and some at 110 heights
Boyce 62, Colon (Fell) 69
Frosh 1500: Gorman 5:10, Hill 5:15 and Kruse 5:52
Soph 1500: Zampariello 4:31 and Rojas 4:59
---
SJB has repaired the track and installed a discus cage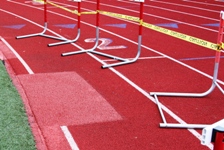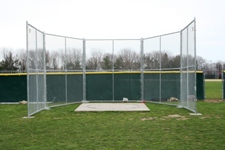 Let's win some championships to thank them
---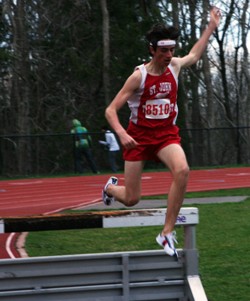 4/7/09 Steeplefest:
[Team Results]

9 SJB athletes have a very cold but productive day
4 Frosh were introduced to the pain of the Steeplechase
and all ran well
John Blackler is the highlight of the day by coming in 2nd place in the 2000m and runs a
Woody's Team #2




---
Saturday 4/4 Middle Country Relays:
SJB Takes 1st Place!!!
[Team Results]
Wind gusting to over 50 MPH could not stop these guys from impressing everyone - including your coaches
Foot Note: I saw Chris and he is OK
---
Wednesday 3/31 Developmenal meet at Kellenberg:
[Team Results]
Frosh and Soph do a very good job and have some fun too
---
Saturday 3/28: Amityville Developmental:
[Team Results]
Very good results for the first meet of the season
Elijah Pardo runs a Woody Team #2 in the 110m High Hurdles
J.Hall breaks 5:00 in the Mile - Rachiele 50.7 in the open 400
Many that were new to the team became Track & Field Athletes
---
[Watch the SHR Nationals Video] [Watch the 4x200 Nationals Video]
Friday, Saturday and Sunday Nike National Championships:
Day 3 Sunday: [Team Results]
School Records Set
Pardo in 60m Hurdles - Rachiele in 60m Dash - 4x400 3:27.80
Hannigan runs 1:57 in the 4x800 to end his High School Career
WHAT A GREAT WAY TO END THE INDOOR SEASON!!

Day 1+2 (Friday + Saturday) Results:
8 have earned Nike National High School All-American honors
Both the 4x200 and the Shuttle Hurdle Relay finish in 4th Place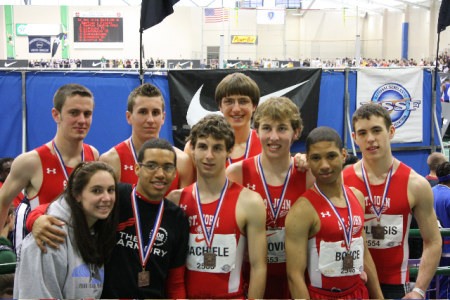 Hopefully we have even more success tomorrow
---
Saturday 3/7: New York State Federation Champs
[Results]
The 4x200 runs the 3rd fastest time in the Trials, but no as well in the finals for a 7th place finish overall. Funny, some how we found a way to be dissappointed with being the 7th best 4x200 in al of New York?
---
Welcome to the SJB Spring Track Team
Spring Track Sports Fees:
Soph - Sr's: $145 if you have the uniform - $195 if you need it
Freshmen: $125 if you have the uniform - $175 if you need it
---
Tues 2/24 Eastern State Championships: [Team Results]
Next up is The New York State Federations and Nationals...Today was just a tune-up for these upcoming races
---
---
Saturday 2/14/09: CHSAA Championships [Team Results]
Girls 1st Place and Boys 3rd Place
Many New SJB Records and Personal Bests Are Run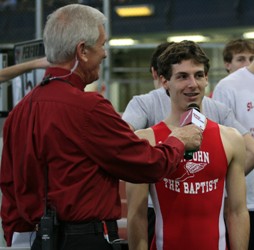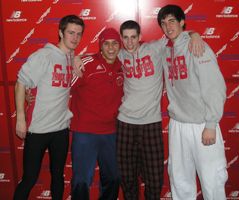 4x800 8:02.36 2nd Place - 4x200 1:30.51 1st Place
Rachiele 6.53 1st Place in the 55m Dash
Cleary 54' 1st Place in the Weight Throw
---
On Your Own Workouts for the Eastern States and Nationals Teams:
Monday: Speed - 2x300(like you are running a 400) 5 min rest/2x100 accells and 100 backwards/2 min rest/2x60 fly's.
Distance - 15 minutes out/back faster/6x100 strides
Tuesday: Speed - 2x250/150 walk/4x150/250 walk.
Distance - 10x200 @ 30/200 jog
Wednesday: Speed - 2x(Broad Jump 40m/L-Leg 20m/R-Leg 20m/R-L-R-L(Bounding)50m/20 squatthrusts with a jump/2x100m accells)400 jog between
Distance: 15 minutes our/back quicker/6x100 strides
---
Sunday 2/8/09: CHSAA Frosh - Soph Championships
[Team Results]
The Sophomores end the season by coming in 3rd Place


Both the Frosh and Sophs ran terrific and had some fun too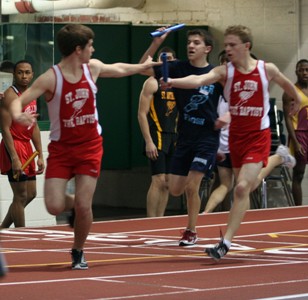 Go to Woody's Sports Photo Gallery to see pictures of the meet
[Clich here for photo's]
---
Sunday 2/1/09: LEAGUE CHAMPS
Chaminade 65 - SJB 62.5 - SA 49.5 - HT 38 - Kell 25
[Team Results] [Official Results]
It was a GREAT Battle, fought by GREAT Warriors
who competed at an extremely high level!!


3rd Place: Baist (PV), Micheels (600), Pardo (55HH), 4x400 and 4x800
2nd Place: Rachiele (55), Perrelli (HJ) and Boyce (TJ)
1st Place: Rachiele (300), Hannigan (1000), Solomon (TJ) and the 4x200
Woody Team Frosh Record: Martinez (LJ)
Woody Team Soph Record:Safina(PV), Zampariello(1600) and Solomon(LJ)
Woody Team #2: Safina (PV) and Cleary (SP)
Woody Team Record: Baist (PV)


Thank you for your love and dedication - I love you all

---
---
Thursday 1/29/09: NSCHSAA League Champs Pole Vault:

Ryan Baist ties for 3rd place jumping a PR of 9'6"
Dom Safina finishes in 6th place jumping a PR of 8'
The Score Entering Sunday is:
St. Anthony's 7.5 Pts
Chaminade 6 Points
St. Johns 2.5 Points
This is the first time we are entering champs with points
I guess Ryan and Dom wants to see me run in a Speedsuit...
DO YOU??
---
Saturday 1/24/09: New Balance Games
[Team Results]
This was the last Invitational of the season and we used it as a good indoor training opportunity and to have some fun. Now we are in the Championship Season...Stay Focused...Get Your Workouts In...Get Ready To WIN!!
---
Monday 1/19/09: Frosh/Soph Champs [Team Results]
Frosh 2nd and Sophs 3rd
Thank you for your effort today
It was impressive watching you all merge into a TEAM
---
Sunday 1/17/09: Stanner Games [Team Results]
Another Saturday - Another track meet - More great results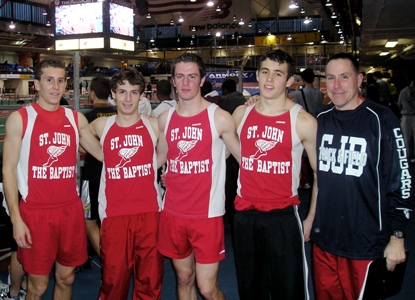 1 SJB School Record - 4x400 - 3:28.18
1 Woody Team #2 - SHR - 32.50
2 Woody Team Soph Records - TJ-41'2" - SMR-3:50.98
1 Woody Team Frosh Record - SMR-4:03.4
---
Sunday 1/14/09: Millrose Trials: [Team Results]
The A team runs all alone in the second heat and still runs
a Woody Team Record 8:10
The B Team Runs 8:33
The Soph team Runs a Woody Soph Record 8:36
I am so Proud of all of you
---
Sunday 1/11/09: Hispanic Games Day 2:
More Great Results [Team Results]
One Woody Team Record - Baist 9' in Pole Vault
One Woody Team Soph Record - Zampariello 4:43 in the Mile
One 4th Place Relay
One 3rd Place Relay
and Two 2nd Place Relay's
---
Saturday 1/10/09: Hispanic Games Day 1:
Day One goes very well with the 4x200m Relay Team Making the Finals, finishing in 2nd and setting the SJB School Record - 1:30.72
[Watch the Video]
[Team Results] [Official Results]
Also, Congratulations to Anne Carey for running
5:00 in the Invitational Mile
---
Saturday 1/3/09: Novice Champs and Varsity Inv [Team Results]
SJB WINS The CHSAA NOVICE CHAMPS AGAIN!!!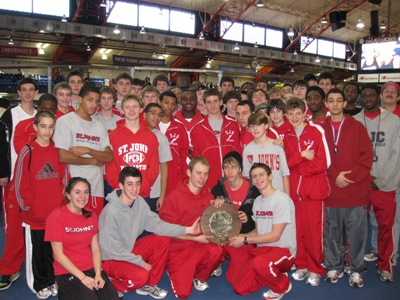 1-SJB 37.5 2-ST.A's 36 3-Iona 23 4-Fordham 23 5-Holy Trinity
In the Varsity Races:
1 SJB Record (SHR-22.3), 1 Woody Team Record (4x800-8:11) and 1 Woody Team #2 (4x400-3:29)
---
Make sure to do your On Yor Own Workouts for the next 3 days
Running on NON Team Practice Days is the GLUE to your training. These easy to medium runs and accelerations do the following:

1. Keeps your body strong and used to running
2. Keeps your aerobic base strong
3. Glue's together the Interval training days and Racing days
4. Helps to protect your body from injury
5. The key to achieving your Individual and Team GOALS
6. Gets you to Millrose and/or States and/or Nationals
7. Wins Championships

See you on Saturday - HAPPY NEW YEAR
---
Tuesday 12/30: West Point Invitational
[Team Results] [Official Results]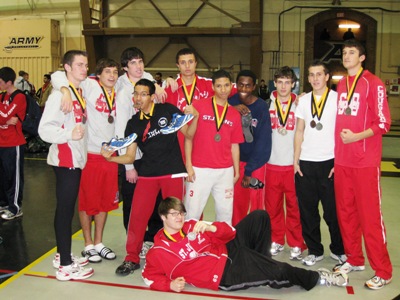 Many Great Results as you can see by the medals
DMR 5th Place - Elijah Pardo 4th Place in the 55mHH - Dennis Locher 3rd Place in the 200m - 4x400, Seitu Solomon in the Triple Jump and Simon Cleary in the Weight Throw all came in 2nd Place
AND JAKE RACHIELE 1ST PLACE IN THE 55M DASH
---
Monday 12/29: Grinch Games [Team Results]
Very good results on a slow track
Brandon Camenzulli breaks 5 minutes in the mile
---
***West Point Invitational Info***
You MUST have a picture ID with you on the bus tomorrow to enter the Military Base. Also, I have a form that your parents need to sign when they dropp you off for the bus
To print a copy of the form now, click the following and print the last page [Release Form]
Please e-mail me to let me know that you received this information
---
Saturday 12/27: Holiday Classic
[Team Results] [Official Results]
1 Woody's Team Record, 1 SJB Record and many PR's
I feel like this team is starting to make it's move...watch out world...here comes SJB T&F
---
MERRY CHRISTMAS
---
Monday 12/22: NSCHSAA Christmas Classic
This was a very good day of training/racing
[Team Results] [Official Results]
---
Saturday 12/20: Two Meets - Both have Great Results
At the Armory 22 competed in the Bishop Loughlin Games
[TEAM RESULTS] [Official Results]
2 Woody's Team Records (Pardo + Rachiele)
1 Woody's Team Sophomore Record (Solomon)
18 Personal Records (PR's)

At Fordham University 67 competed in the Ignatian Invitational
[TEAM RESULTS] [Official Results]
2 Woody's Team Frosh Record (DuPlessis + Martinez)
38 Personal Records (PR's)
---
Sat 12/14: CHSAA Relay's: [TEAM RESULTS] [Official Results]
2 Woody Team Freshmen Records
2 Woody Team Sophomore Record
2 Woody Team #2 Records
1 SJB Scchool Record
Not a bad way to start the season!!
---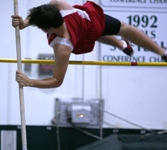 12/10: Farmingdale Meet [Team Results]
Great Results in more crazy conditions and a very late night
Ryan Baist sets a Woody Team Record in the Pole Vault clearing 8'6"
just missing 9'


---
Thowing Practice Update:
All throwers are to come to practice after school tomorrow (Tuesday)
[More Info for the Throwing Team]
---
Sunday 12/7/08:Kick Off Classic [TEAM RESULTS]
Great first day of racing in a very CRAZY environment
Frosh DMR sets a Woody Team Record to start the season!!
---
IMPORTANT INFO FOR SUNDAYS MEET:
Since we are boarding the bus at 2:30 and you are not racing until 5pm, you need to have food for fuel!!
The usuall recomendation is that you pack a sandwich or two cut in fourths. You want to eat a quarter before your warm-up and then a quarter after your first race. Then you still have a half to eat after your last event.
My recomendation is a plain ham sandwich with no dressing on it. You get protien, salt and fuel from this. Also, make sure you have water or some sort of liquid with you to hydrate
---
Wednesday 11/26 Team 4x400m Relay Time Trials - FINALS
[Team Results]
Out in the cold - most in trainers - Teams Run Incredible
3:42 - 3:43 - 3:43
What's going to happen after we train? I can not wait to see!!
---
Monday 11/24 Team 4x400m Relay Time Trials
Nice job run by most [Team Results]
I can not wait to see the FINALS on Wednesday
---
Friday 11/28: Run your Turkey Off 2.5 mile race
If you are running, you need to get your application to Coach Wood ASAP!! If you are not runninn you are REQUIRED to Volunteer!! Also, bring one doz Bagles as a donation. This is our teams only fundraiser and we need everyones help. I will be assigning the jobs at 8:30 on race day - please do not be late
---