&nbsp
Saturday 11/21/09 New York State Federation Champs
Girl's finish 10th in ALL OF NYS!! - WOW
Boy's gain valuable experience
[Team Results] [Official Results]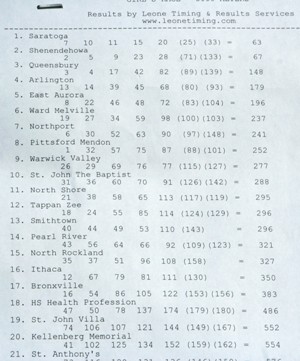 ---
Girls Win - top four in the top 7 of the race
set the CHSAA Champs 5-person average Record - 16:02
Boys come in 4th Place - just miss 3rd
Both teams headed to Feds!!! [NEWSDAY ARTICLE]

[TEAM Results] [BOYS Official Results] [GIRLS Official Results]
---
Saturday 11/7: CHSAA Frsoh/Soph Championships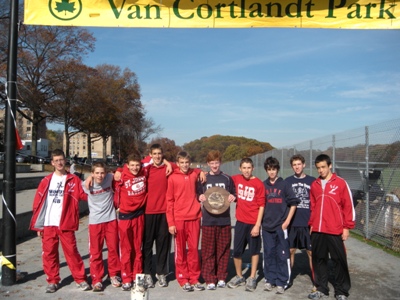 Soph Boys take 3rd Place lead by Ferguson running a Woody Soph Record 13:54
Ferguson's time is also #3 Sophomore in SJB History
Ferg had to run fast after he saw his future Varsity Teammates (Welch + Fiore) come in 2nd+4th in the Frosh Race
The Sophomore Girls finished in 5th place and Katie Stroble took 4th in the Frosh Race with only ONE SHOE
[Team Results] [Official Results]
---
Wednesday 11/1: League Champs 2009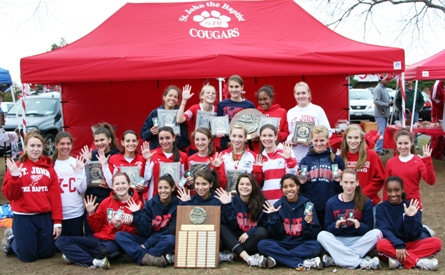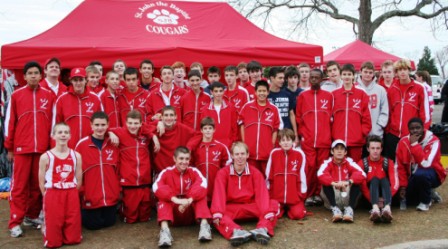 I knew it was 11/1 (111) when the day started out with the Freshmen league champion being DQ'd
Then our #2 Boys Varsity Runner gets the wind knocked out of him by an accidental punch
Other then that...the Boys did very well
The Girls lived up to their reputation by winning both JV and Varsity...BIG
Varisty Girls were 2-5-6-7-10 for 30 points
JV Girls were 2-3-4-5-6 for 20 points
[Team Results] [Official Results]
---
Sophomore Champs Pictures are now posted on Woody's Sports Shots
[Pictures]
---
Wednesday 10/21: Soph Champs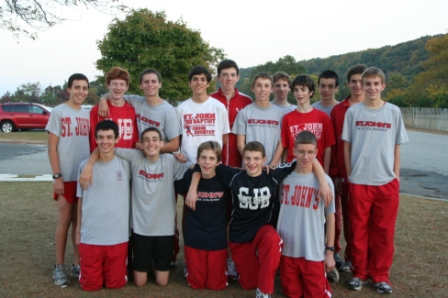 Boys 2nd Place and Girls 4th Place
[Team Results]
---
Saturday 10/17: Brown XC Northeast Championships: [Team Results]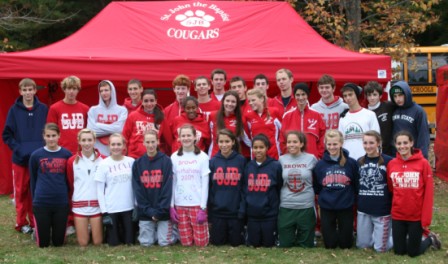 Boys Varsity - 2nd Place - Boys JV - 3rd Place
Girls Varsity - 5th Place - Girls JV - 6th Place
The rain held off - The temperature was fine - The racing was memorable
and the dance party was priceless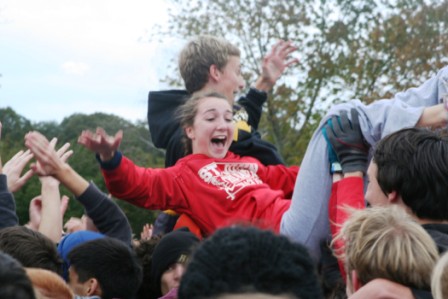 ---
***To All SJB X-C PARENTS***
I would like to Thank All of the SJB XC Parents for your donations that you delivered today. I am going to be a very proud coach tomorrow when I deliver the car load of food to SJB
---
Wednesday 10-14-09: Boys Vs. St.Doms and Girls Vs. OLM+St.Doms
[Team Results]


Varsity and JV Girls are Dual Meet Champs...Again
Varsity Girls are 43+0 for the last six years
---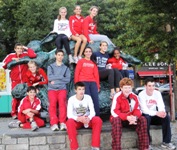 Saturday 10/10/09
Very good times run by the teams in two locations
Van Cortlandt Park and Sunken Meadow State Park

[Manhattan Inv Team Results]

[Suffolk Track Officials Team Results]

---
Wednesday 10-7-09: Boys Vs. Cham and Girls Vs. St.A's
[Team Results]
Freshmen Boys run a great race with the top 3 running the 5th-6th and 10th fastest times in SJB history
Katie Stroble run 6th fastest frosh time on the 2 1/2 course
Varsity and JV Girls keep the winning streak alive against St. Anthony's, ALTHOUGH the JV made it very interesting winning by only 1 point
---
Saturday 10/3: St. Anthony's Inv at SMSP
[Results] [Official Results]
Varsity Girls FIRST PLACE
Varsity Boys 4th Place
Freshmen Boys and Sophomore Boys 2nd Place
---
Wednesday 9/30: Boys Vs. HT - Girls Vs. HT &nbsp[Team Results]
Varsity Teams run a "workout-race" and still win
Both JV teams win and run many Personal Bests (PR's)
Emma Cleary and Paolo Fiore win JV races
---
Saturday 9/26: What a GREAT day!!!
The Varsity Teams runs upstate at Bowdoin Park
with Great Success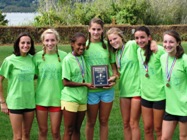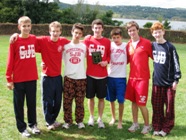 The Girls Team came in First Place
With Anne, Krystal and Catherine coming in 3rd-4th-10th
The Boys Team came in Third Place
with Zampariello, Camenzuli and Rojas coming in 11th-16th-18th
[Team Results] [Official Results]

The rest of the team stayed home and ran at
Sunken Meadow ALSO with Great Success
Katie Stroble comes in 2nd Place in the Freshmen Race and runs
#7 Woody's and #8 SJB All-Time time
Paolo Fiore runs #4 Woody's and #6 SJB All-Time time
Christian Welch runs #8 Woody's Time
Freshmen Boys Team came in 3rd Place
Sophomore Boys Team came in 2nd Place
[Team Results] [Official Results]


What a GREAT day!!!
---
Wednesday 9/23: Boys Vs. St. A's - Girls Vs. Kell
[Team Results]
Varsity and JV Girls Win - Keep 6 + 5 year streaks alive
Christian Welch - Woody's 8th Fastest Frosh
Paolo Fiore - Woody's 5th Fastest Frosh + SJB's 8th Fastest
---
Please e-mail Coach Wood with your splits from Friday's 6 miler and Yesterday's 5 miler, if you still have them
Friday's run: first 2.5 - 1 mile - Second 2.5
Saturday's Run: First 2.5 - Second 2.5
REMEMBER - NO WATCH - NO PARTICIPATION
---
9/16/09 Boys Vs Kellenberg and Girls Vs. Sacred Heart
Both Boys and Girls are impressive and run very well
[Team Results]
---
9/12/09 Jim Smith Inv: Great OPENING DAY for SJB
[TEAM RESULTS] [Official Results]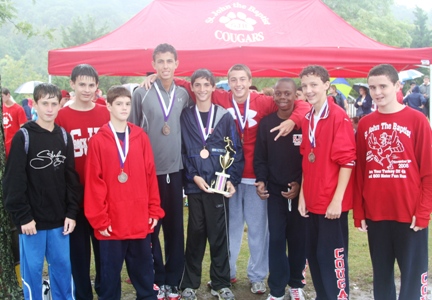 Boys Frosh 3rd Place and Jr's 3rd Place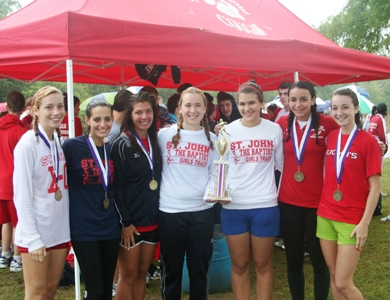 Girls Sr's 3rd Place and Jr's FIRST Place

---
Congratulations to Kerry Tobin (class of 2008)
for being the Skyline Conference XC athlete of the week
[Read Article]
---
The 100 Days of Summer are over
Please send Coach Wood your final results TODAY in order to be eligible for your 300, 400, 500 or 1000 mile club shirt
---
Long Island Pre-Season Rankings are Out
The Girls are Ranked 4th
The Boys are not YET ranked
Check out the "Ramblings of a Madman" link on the left
The Buckley and the Kochman rankings have not come out yet
---
They Are Ready...ARE YOU?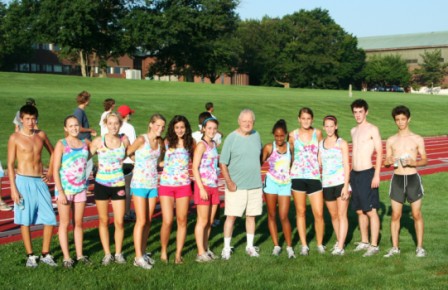 11 go away to camp to be with the best coaches and runners in USA History
YES that is PRE's Coach
---