Spring Track & Field 2016
---
Saturday 6/11/16: New York State Federation Championships
Senior Kayla Pollock ends her HS Career attempting 5'5"
and finishing 9th in NYState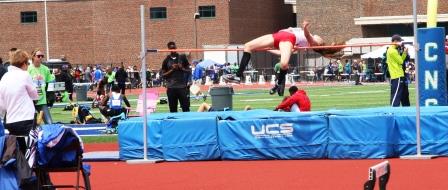 Sophomore Patrick Kain gains valuable experience racing NY's Best
and finishing 12th in NYState
[Click to see Patrick's race]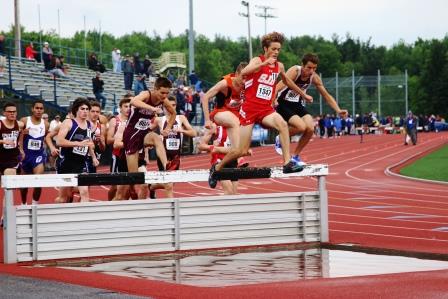 ---
Saturday 5/28/16: CHSAA Catholic State Championships
[Boys + Girls Teams Results]
IT HAD TO BE OVER 100 DEGREES ON THE TRACK!!!
Kayla Pollock and Patrick Kain
are headed to the NYState Federation Champs
Girls 5th Place - Boys 10th Place
Patrick Kain WINS the Steeplechase
Kayla Pollock comes in 2nd Place in the High Jump
Brittany Stokes runs 26.49 for 3rd Place
Alvaro Garcia runs 57.89 in 400IH for 3rd Place
Kristen Dulovic Jumps 17'3 for 3rd Place in Long Jump
Boys 4x400m Runs 3:23 to make the finals
Girls 4x100 runs 50.08 for 2nd Place

---
Saturday 5/21/16: NSCHSAA League Championships
[Girls Team Results] [Boys Team Results]
Both Boys + Girls come in 2nd Place



Boys missed first by only 1/2 Point and Girls missed first by only 8 points
GREAT DAY - GREAT EFFORT - GREAT RESULTS...TOUGH DAY
---
Saturday 5/14/16: CHSAA Frosh/Soph Champs
[Team Results]
Patrick Kain is the CHSAA 3000m Steeplechase Sophomore Champion
Sophomore Team finishes in 5th Place
---
Wednesday 5/11/16: NSCHSAA Girls Frosh/Soph Champs
[Team Results]
Zhanna Green is League Champion in the 100m and the 200m
Hailey Marcello 2nd Place in 3000m and 3rd Place in 1500m
Meredith Haberfield 2nd Place 400mIH
Jill Schleier 3rd Place 3000m
Many Other Great Results and PR's
---
Friday 5/6 and Saturday 5/7/16: The St. Anthony's Inv
[Boys Team Results] [Girls Team Results]
Both Teams Get GREAT Results in not so great weather
2 Juniors + 1 Frosh added to Varsity Team
---
Extra SJB T&F Clothing For Sale
Updated 5/5 - Going Fast! - email today for yours
Long Sleeved Gray T-Shirts - $25: 4-small, 2-medium, 4-Large, 2-XL, 1-XXL
Lightweight 1/4 Zips $40: Cross Country: 1 Medium Track & Field: Red and white: 1-small and 1-medium Blue+white: 1-medium - Blue+white female cut: 4-small+3-medium
e mail coach wood at coachwoodsjb@aol.com - Items will be sold on a first come first served basis
---
Tuesday 5/3/16: NSCHSAA Sophomore + Freshman League Champs
[Team Results] SOPHOMORES WIN!!!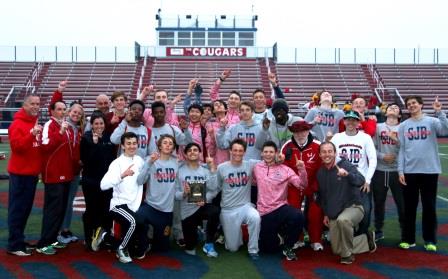 Our Individual League Champions Are:
Patrick Kain: 2000m Steeplechase + 3200m
Liam Herrin: Pole Vault + Triple Jump
Aidan Healy: 1600m
Chris Tyszka: High Jump
Colby Marina: 400m Intermediate Hurdles
---
Saturday 4/28/16: The Bob Pratt Inv: [Team Results]
MANY PERSONAL BEST (PR) ARE RUN!!!
You were asked to step up and START YOUR SEASON and you did!!!
---
Thurs 4/28 - Sat 4/30/16: The Penn Relays: [Team Results]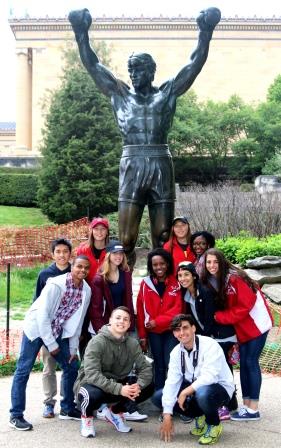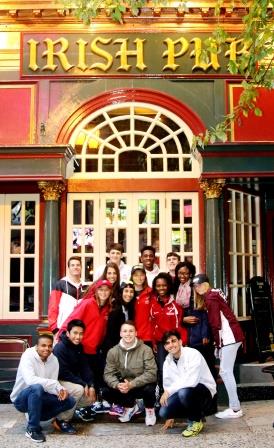 ---
Tuesday 4/26/16: Steeplefest Plus [Team Results Updated 5/1]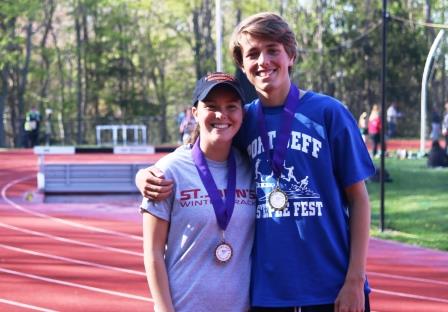 Erin Enders (7:31) and Patrick Kain (6:15) Set SJB School Records
Aiden Healy Wins Novice 2000m Steeple - Patrick Kain Wins Open 2000m Steeple - Kayla Pollock Wins HJ
---
Saturday 4/23/16: The Mount Relays
[Team Results]
9 Relay Team Medal - 3 come in First Place
---
Tuesday 4/19/16: Boys Developmental Meet
[Team Results]
LaFemina (4:42) and Mullany (4:56) BREAK 5 Minutes in the Mile
---
Saturday 4/16/16: Suffolk Coaches Inv + Joe Brandi Relays
[Boys Team Results] [Girls Team Results]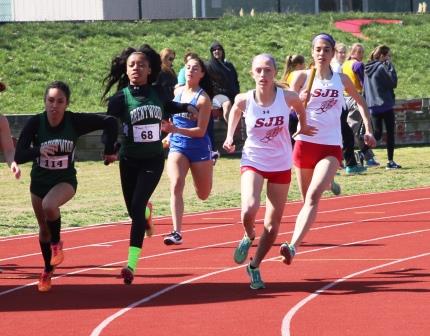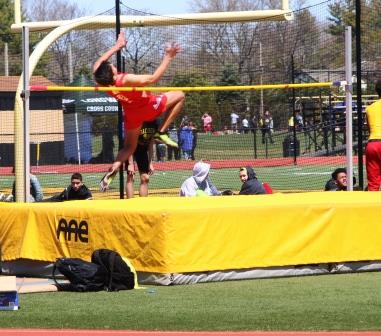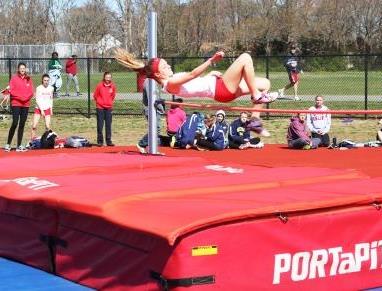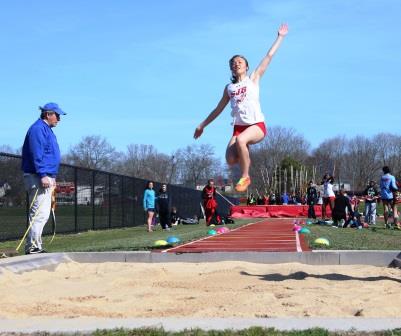 Better weather helped to yield some better results
Some SJB Records and Woody's Class Records are Set
---
Wednesday 4/13/16: Girls Developmental Meet at SJB
[Team Results]
KAYLA POLLOCK JUMPS SJB RECORD 5'3 IN THE HIGH JUMP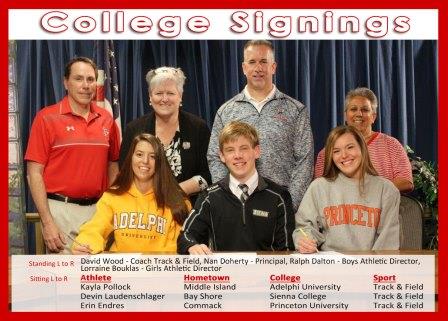 ---
Saturday 4/9/16: Boys Suffolk Track Officials Inv.
[Team Results]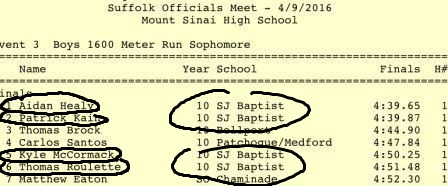 Soph Boys Impress Again 1st-2nd-5th-6th in the 1600 and 2nd in the Pole Vault
Many nice results and even some PR's in very cold conditions
---
Saturday 4/2/16: Girls Lindy Relays
[Team Results]
The rain was tough but the girls were tougher
1600 Medley and 4x200 come in FIRST PLACE
Two girls even earn Varsity Letters in these conditions!!
---
Tuesday 3/29/16: Easter Classic Inv.
[Boys Results] [Girls Results]
VERY WINDY DAY - 30-50 MPH
---
Saturday 3/26/16: Massapequa Developmental
[TEAM RESULTS]
Very Nice Day 1 of Outdoor Track
---
Double Check the spelling of your last name please
Names are being used on your clothing
[Names updated 3/23]
E-mail any problems to coachwoodsjb@aol.com
---
SPORTS FEES are now due:
Juniors and Seniors: $240 + $30 if you need uniform shorts
Sophomores and Freshmen: $220 + $30 if you need uniform shorts
Checks are made out to: St. John the Baptist
---
Winter Track & Field 2015 - 2016
Indoor Track & Field Nationals 2016 [Team Results]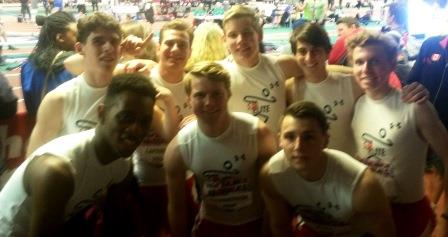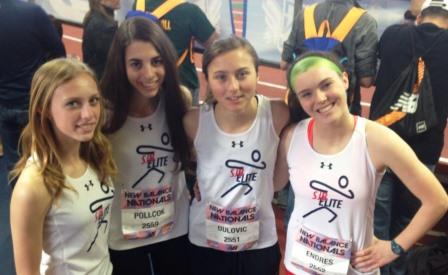 ---
Saturday 3/5/16: New York State Federation Champs
[Team Line-Up]
---
Tuesday 3/1/16: The Eastern State Champs
[Team Results]
Stephanie Dulovic runs 9.09 which is the 2nd fastest in SJB History
Zhanna Green Lowers the SJB Freshmen 200m Record - 26.76
Kayla Pollock Re-Ties the SJB High Jump Record - 5'2
Boys 4x200 runs a season best 1:32.56 and qualifies for Nationals
Girls 4x200 runs 1:46.83 taking another second off of their time and Zhanna ran a 25.2 anchor leg

---
Saturday Evening 2/27/16: The Long Island Elite Meet
[Team Results]
SJB Sophomores Impress Long Island
SJB Relays Compete with the best
---
Saturday 2/20/16: The Millrose Games
[Team Results]
Boys 4x200m Relay 4th Place and Girls Sprint Medley Relay 3rd Place
Girls run the 2nd Fastest time in SJB History missing record by .25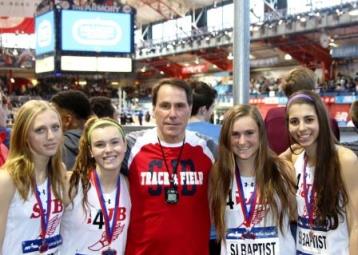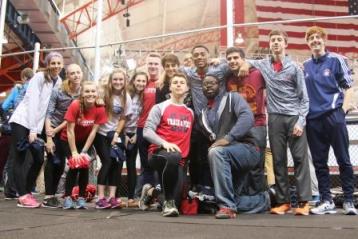 ---
Saturday 2/13: CHSAA Catholic State Championships
[Boys Team Results] [Girls Team Results]

Boys 11th and Girls 4th Place
in the CHSAA Catholic State
Erin Enders (1000m), Kristen Dulovic (LJ) and Jack White (HJ)
are headed to the New York State Federation Champs
Other Highlights:
Devin Laudenschlager runs a Woody's Team #2 9:31.96 in the 3200
Boys 4x800m Relay comes in 5th Place
Boys 4x400m Relay makes Finals then comes in 4th Place
Girls 4x800m Relay team comes in 3rd Place
Girls 4x400m Relay and 4x200m Relay come in 2nd Place
Girls 4x200m Relay runs 1:47.49 - Their best be 2 seconds!!!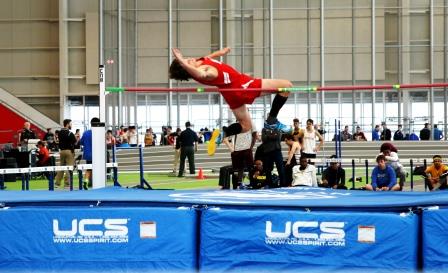 ---
Sunday 2/7: NSCHSAA League Champs
[Boys Team Results] [Girls Team Results]
Both Boys and Girls come in 3rd Place
Erin Enders and Jack White
ARE LEAGUE CHAMPIONS
Kayla Pollock
Ties SJB High Jump Record 5'2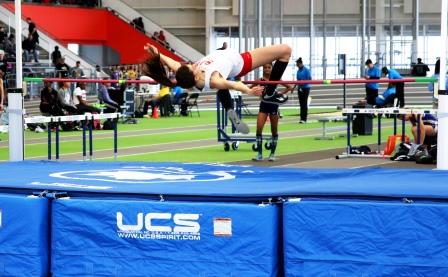 24 ALL-LEAGUE HONORS - 11 BOYS + 13 GIRLS
Boys: Kain, LaFemina, Mercado. DeMaio, McCormack, Healy, Bran Rich, Pepe, Magwood, White and Berrin
Girls: Enders, Vullo, Stokes, Whalen, Mahon, Green, Henriquez, K.Pollock, Hess, Barrios, Brown, M.Pollock and K.Dulovic
Other Highlights:
Zhanna Green
Sets SJB Freshmen Record in 300m - 42.86
Patrick Kahn, Aidan Healy, and Liam Berrrin
Set Woody Soph Records in 3200 (9:42.94), 1000 (2:41.54) and PV (11')
Colby Macina
sets Woody's Team Frosh Record in 55m High Hurdles - 9.34
Our Shot Put Corps throw 10 PR's
---
Sunday 1/31: Girls at The Ocean Breeze Invitational
[Girls Results]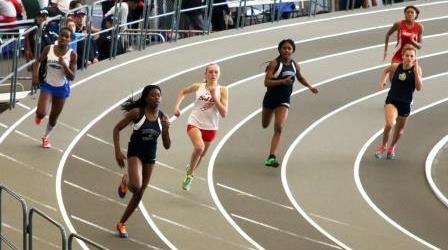 Erin Enders 5th in 800 running 2:19.10
Hailey Marcello 5th in Freshmen Mile running 5:39
Zhanna Green runs 26.85 to take 2nd Place in the Freshmen 200
[Endres in 800m] [Green in Frosh 200m Finals] [4x200 A-Team] [4x200m B-Team]
---
Saturday 1/30/16: Boys at The Ocean Breeze Invitational
[Boys Results]
Laudenschlager 9:37 2-Mile
Healy and Kain 4:37 Mile's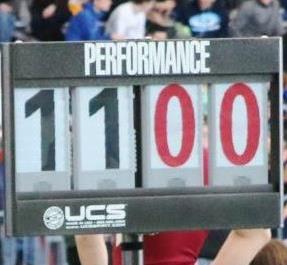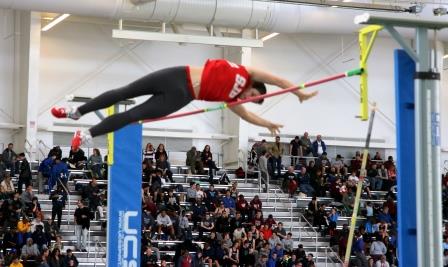 [Berrin Clears 11'] [Macina 55mHH Finals] [4x200 A Team] [4x200 B Team]
---
[Returning Frosh/Soph]
If your name is not on this list you did not qualify to compete at either the Boys Frosh/Soph CHSAA Champs or the Varsity League Champs. Please empty your gym lockers and return your locks to the athletic office tomorrow. Also, if you are not joining Spring Track, you must return your uniform top to the Athletic Office with a note that has your name pinned on it. Freshmen Boys do not return their tops. Thank you for a wonderful season.
---
Monday 1/18/2016: NSCHSAA League Frosh/Soph Champs
[Soph Boys Results] [Frosh Boys Results] [Frosh/Soph Girls Results]
League Champions are:
Patrick Kain in the 3200 and 1600
Hailey Marcello in the 3000
Zhanna Green in the 55
Kyle McCormack in the 1000
Liam Berrin in the Pole Vault
Connor Tosun in the Long Jump
Colby Macina in the High Hurdles
---
Saturday 1/16/2016: Stanner Games
[Boys Team Results] [Girls Team Results]
Third Competition in four days and still getting great results
Erin Endres runs 2:59 in the 1000 which is #3 in SJB History
Kayla Pollock jumps 5' in the high jump and is tied at #2 in SJB History
---
Friday 1/15/2016: Yale Inv
[Team Results]
Boys 4x400m Relay Wins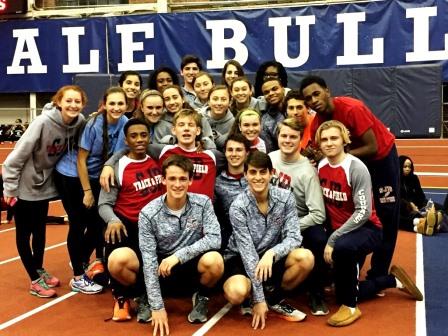 [Boys 4x200m Relay Video] [Girls 4x200m Relay Video] [Boys 4x400m Relay Video] [Girls 4x400m Relay Video] [Boys 4x800m Relay Video] [Girls 4x800m Relay Video]
---
Wednesday 1/13/16: Millrose Games Qualifier
[Team Results]
The Girls SMR and the Boys 4x200 Qualify to Race at The Millrose Games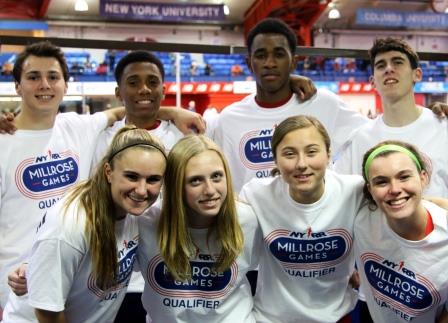 [Boys 4x200m Relay A-Team Video] [Boys 4x200m Relay B-Team Video] [Boys 4x200m Relay C-Team Video] [Boys 4x800m Relay A-Team Video] [Boys 4x800m Relay B+C-Teams Video] [Girls SMR A-Team Video] [Girls SMR B-Team Video] [Girls SMR C-Team Video]
---
Saturday 1/9/16: St. Anthony's Developmental #4
[Boys Team Results] [Girls Team Results]
Very Nice Results Today
Boys 46 PR's + Girls 33 PR's
2 Woody's Team Girls Records are set
2 Woody's Team Girls #2's are set
3 Woody's Team Freshmen Records are set
---
Sunday 1/3/16: CHSAA Novice Champs and Varsity Races
[Team Results]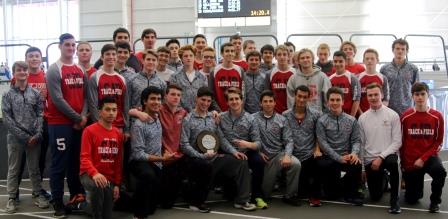 SJB Boys come in 2nd Place at the Novice Champs
Varsity A Teams All run Season Bests Times
---
Wednesday 12/30/15: The Ocean Breeze Holiday Festival
[Team Results]
Boys 4x800 comes in 3rd Place
from the back heat after a 2 1/2 hour drive and arriving as it was clerking
[4x800m Relay Video]
Girls SMR's come in 2nd + 5th Place
and the A-Team Runs a Woody's Team #2
[SMR A-Team Video] [SMR B-Team Video]
---
Tuesday 12/29/15: The Marine Corps Holiday Classic [Team Results]
Woody Team Records Set Today
Boys: Connor Tosun in 200m - Sophomore DMR
Girls: Zhanna Green and Kerri Whalen in 200's - Melissa Mathieu in SP
Other Great Results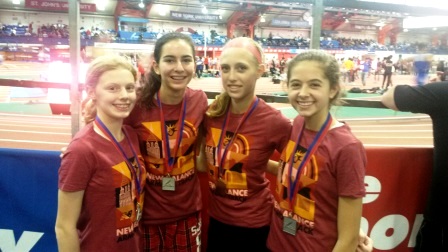 Boys and Girls Both come in 5th Place in the Invitational DMR's
Girls Freshmen DMR comes in 2nd Place in the Frosh/Soph Race
Boys Sophomore DMR Comes in FIRST PLACE in the Frosh/Soph Race
[Boys 4x200m Relay A-Team Video] [Boys 4x200m Relay B-Team Video] [Boys Inv DMR Video] [Girls Inv DMR Video] [Girls 4x200m Relay A-Team Video] [ Girls 4x200m Relay B-Team Video] [ Girls 4x200m Relay C-Team Video]
---
Wednesday 12/23/15: St. A's Developmental
[Boys Results] [Girls Results] [Official Results]
Zhanna Green Woody's Team #1 and Woody's Team Freshmen 200m Record
Kerri Whalen Woody's Team #2 and Woody's Team Sophomore 200m Record
Connor Tosun Woody's Team Sophomore Record
---
Friday 12/18/15: NSCHSAA Christmas Classic
[Boys Results] [Girls Results] [Official Results]
MUCH BETTER DAY FOR MOST
Do not ruin your good results by not running Saturday
Distance 60 minutes - Mid Distance 30 minutes - Speed 10 minutes skips 4xstrides
---
Saturday 12/12/15: CHSAA Relay Carnival and St. A's Developmental:
[Boys Results] [Girls Results] [Throwers Developmental Results]
Great Day with Great Results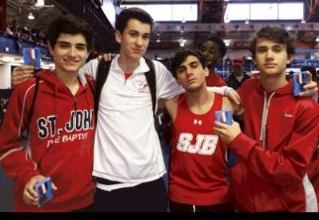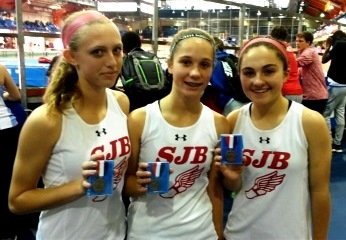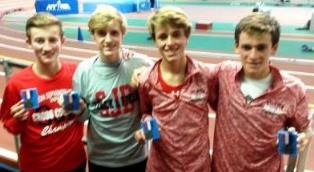 ---
Saturday 12/5: Developmental Meet:
[Boys Team Results] [Girls Team Results] [Official Results]
So many of our young men and women became Track & Field Athletes today!!
Great Start To The Season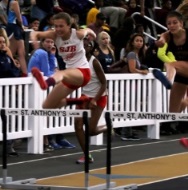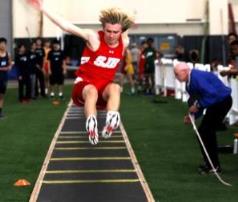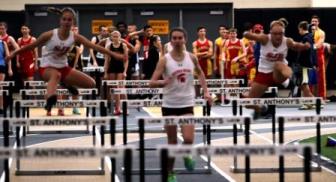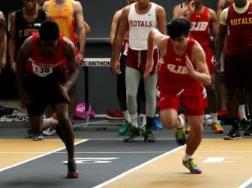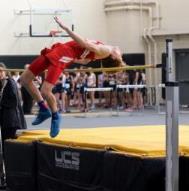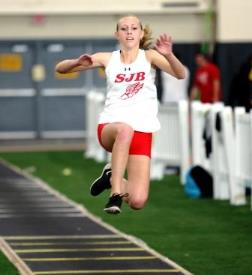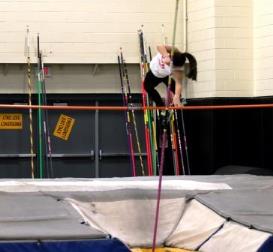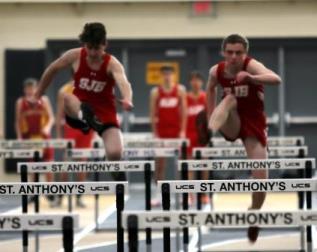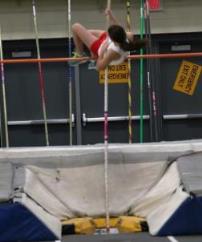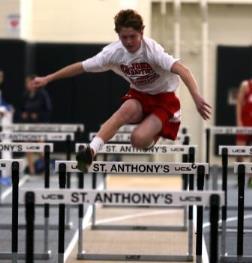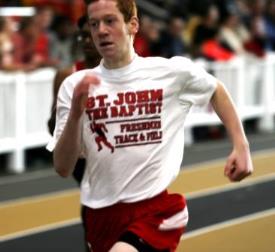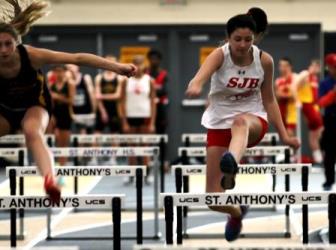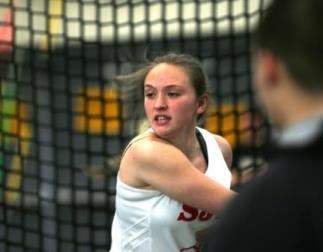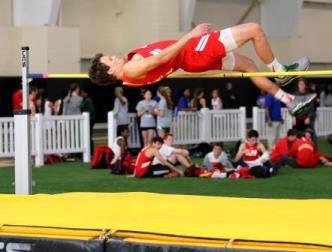 ---
This Friday 12/4, The Smithtown Running Company will be at SJB so we can order Racing Spikes as a Team - Team Orders are Discounted!!!
They are bringing examples you can try on after practice starting at 4:00pm
We will be placing the order Friday
You will also be able to order new training shoes
---
WT&F 2015-16 Sports Fees are Due Now
Juniors + Seniors: $225 +$30 if you need uniform pants
Sophomores + Freshmen: $205 + $30 if you need uniform pants
The team 1/4 zip top is included with your sports fee
Make checks payable to: St. John the Baptist

The following team clothes are optional



Your last name will be on the back of the long sleeved shirt and on the sleeve of the hoody
The long sleeved Team Shirt is $45 and the Hoody is $50. I will be accepting orders up until Friday 12/4
---