Spring Track & Field 2018
---
Saturday 5/26/18: CHSAA Catholic State Championships:
[Team Results] Girls finish in an impressive 4th Place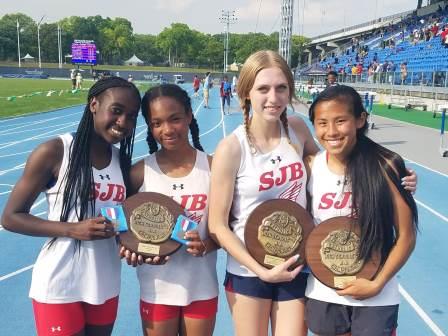 Krisin Hess WINS Pole Vault at 9'6" and Zhanna Green WINS 100m in 12.25
Kristin + Zhanna + Ann-Isabelle Eustache + Tiese Antilus WIN 4x100m Relay
Haberfield 3rd in 400H - Jeran 3rd and Mingot 4th in Disc
Scott 5th 100H - Marcello 5th 1500 - Girls 4x800 3rd
Amelemah 5th in TJ - Boys 4x800 5th
---
Friday 5/18 + Saturday 5/19 + Monday 5/21: NSCHSAA LEAGUE CHAMPIONSHIPS
[Team Results]
Easily the most confusing, interesting and at times frustrating league championships
Friday was Pole Vault - Shot Put - Discus at SJB
Saturday was All Running Events at SJU
Monday was Long Jump - Triple Jump - High Jump at SJB
SJB ST&F LEAGUE CHAMPIONS
Kristin Hess Pole Vault - Zhanna Green in both 100m and triple jump
Colm Brown, Aidan Healy, Kyle McCormack, Patrick Fiorillo in the 4x800m Relay
and Chris Tyszka in the High Jump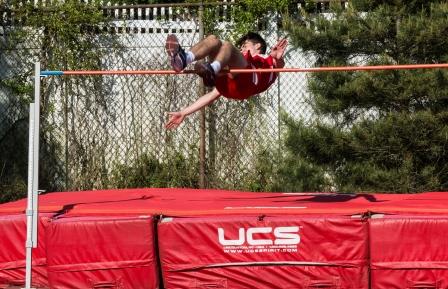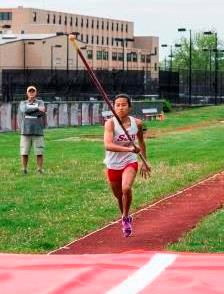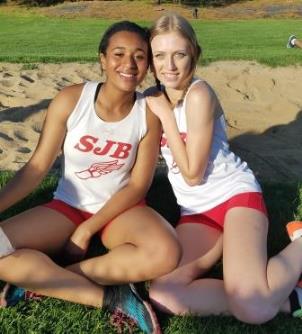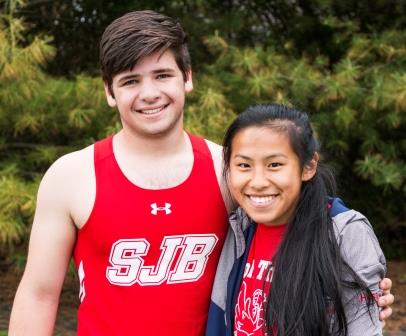 ---
Saturday 5/12: CHSAA Frosh and Soph Champs: [Team Results]
Fernando Sanchez WINS the 800m
Dan Cyrille 3rd Place in the Triple Jump
Emanual Sanchez 4th Place in the 2000m Steeplechase
Patrick Fiorillo 4th in the 1600m
---
Friday 5/11: Massapequa Under The Lights:
[Team Results]
Great job by Jr's and Sr's in their final tune-up before champs
---
Thursday - Saturday 5/10 - 5/12: The Loucks Games
[Team Results]
Frosh/Soph DMR comes in 5th Place and Varsity 9th Place in the East Coast Challenge!!!
Zhanna Green makes the Finals of both the 200m and 100m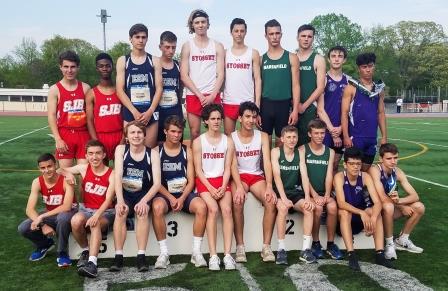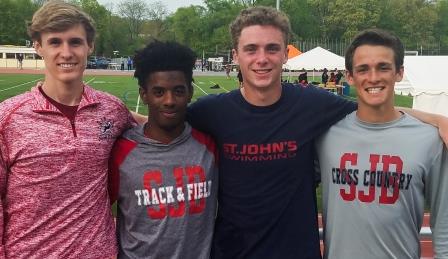 ---
Wednesday 5/9/18: NSGCHSAA Frosh/Soph Champs: [Team Results]
The following are our point scorers:
5th Place: Anderson in TJ and Eye in LJ
4th Place: Kilker in 400, Isnardi in 1500, Rivenburgh in LJ and 4x400m Relay B-Team
And our medal winners:
3rd Place: Pappas in 800, Spezia in 400H and 4x400 A-Team
2nd Place: Spezia inn Steeplechase, Rivenburgh in 100H, Gedeon in TJ and 4x100m Relay
All Varsity Letter Winners report back to practice on Monday
Thank you all for a Great Season
---
Friday 5/4 + Saturday 5/5/18 St. Anthony's Inv.
[Boys Team Results] [Girls Team Events] [Official Results]
Boys Soph 4x800 comes in 2nd + 5th Place - Girls F/S 4x800 come in 4th Place
Girls Frosh 4x100 comes in 3rd Place - Girls Soph 4x100 comes in 5th Place
Girls Frosh 4x400 comes in 5th Place - Girls Soph 4x400 comes in 6th Place
Zhanna Green comes in 5th Place
in the 200m at the end of a very long day!!
---
Tuesday 5/1: NSCHSAA Boys Freshman + Sophomore League Championships
[Team Results] [Official Results]
Both Frosh + Soph Teams come in 3rd place with outstanding results
First Place (League Champions): Patrick Fiorillo, Fernandon Sanchez, Shawn Adams and Dan Cyrille
Second Place: Johnny O'Connell, Emanual Sanchez, Shawn Adams, Austin Epp, Chris Ramos, Matt Stroble, Anthony Galasso, The Soph 4x800 and The Frosh 4x400
Third Place: Chris Greenidge, Fernando Sanchez and the Soph 4x100
And 3 more Frosh + 1 more Soph earn Varsity Letter:
Austin Epp - Anthony Galasso, Emanual Sanchez and Matt Stroble
---
Saturday 4/26: Smithtown Inv [Team Results]
Johnny O'Connell gets the WIN in the Frosh/Soph 1600
Everyone else found out that the CAN run fast in the 400m
---
Thursday 4/26 - Saturday 4/28: The Penn Relays [Team Results]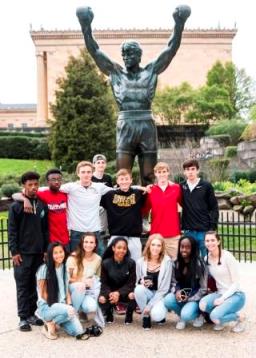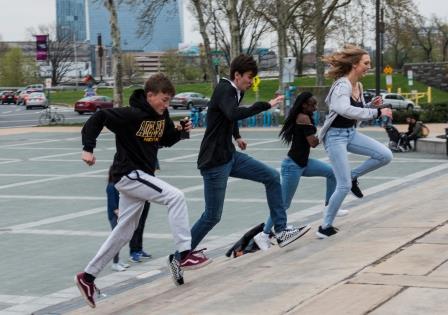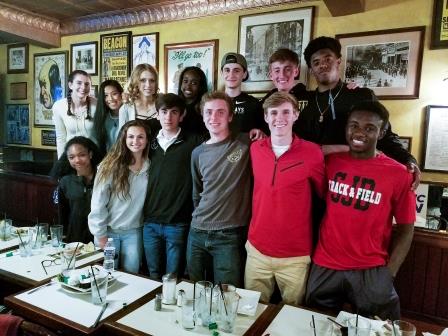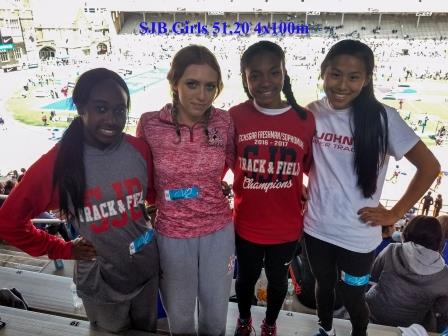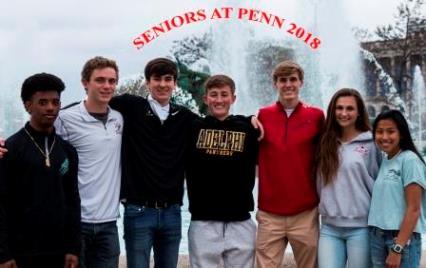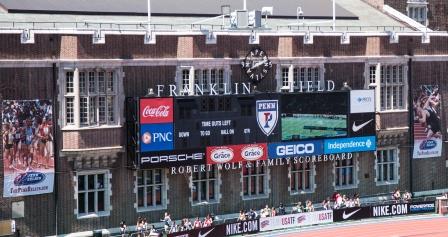 You never know when you will see Elmo in a drumline

---
Friday 4/20 + Saturday 4/21: Three Invitationals
[Girls Joe Brandi Fri Night] [Girls Joe Brandi Relays] [Boys Suffolk Coaches]
Boys Team: 28 Personal Records (PR's) + 10 Season Bests (SB)
Girls Team: 23 Personal Records (PR's) + 14 Season Bests (SB)
Patrick Fiorillo, Fernando Sanchez and Boys 4x800 all WIN
Fernando Sanchez Sets SJB Freshman School Record in the 800m - 2:06.52
Video of our girls day on Saturday

---
Wednesday 4/18/18: Girls Developmental at Kellenberg
[Girls Team Results]
27 athletes competed and 19 Personal Records (PR's) are set!!
---
Tuesday 4/17/18: Very Cold Developmental Boys at Kellenberg
[Boys Team Results]
Many PR's and great efforts with not great conditions
---
Saturday 4/14/18:
Boys at Track Official Inv. and Girls at Suffolk Coaches Inv.
[Boys Team Results] [Girls Team Results]
Saturdays Highlights:
#1. The Weather!!!
#1a. Hailey Marcello running 2:22 in the open 800
#2. Fernando Sanchez running 2:10 in the 800 after running the mile
#3. Kevin Budveit running a 13 second PR in the mile and then a 3 second PR in the 400
---
Friday 4/13/18: Time Trial Results
[Results by fastest to slowest]
---
Wednesday 4/11/18: Developmental A
[Girls Team Results]
Very nice - but cold - Day at SJB
---
Thursday 4/5/18: Team Scrimmage in 34 degrees and 30+ MPH Wind:
[Team Results]
---
Wednesday 4/4/18: Steeplefest 2018: [Team Results]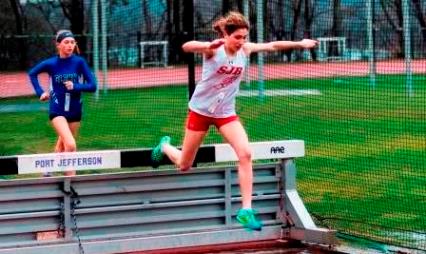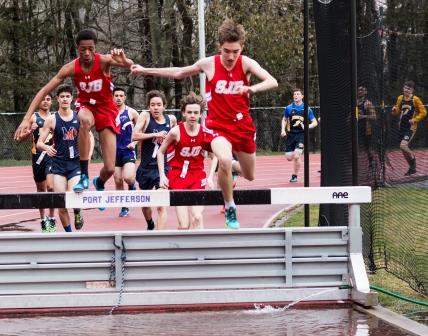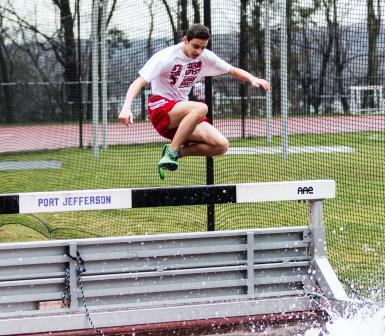 ---
Thursday 3/29/18: CHSAA Season Opener: [Team Results]
A VERY GOOD FIRST MEET!!!
FIRST PLACE:
Spezia in Fr1500 - Jeran + Sicilian in Disc Relay
SECOND PLACE:
Eye in Fr100+400 - Green Var100+400 - Sanchez in Fr1600 - Adams in Sp100
THIRD PLACE:
Pappas in Fr1500 - Sanchez in Fr1600 - Magwood in Fr100 - Eustache in Var100 - Parker in Var100 - Mahoney + Flareau in Disc Relay
Watch what it is like to be on the team from 7am to 4:30pm

---
Winter Track & Field 2017 - 2018
---
Saturday 3/2/18: NYS Federation Champs [Team Results]
Colm runs 1:26 and Aidan runs 4:30 representing the CHSAA
---
Saturday 2/24/18: Long Island Elite Champs [Team Results]
Patrick Fiorillo WINS F/S 1600 - Aidan Healy 2nd Place 3200
---
Saturday 2/10/10: CHSAA Catholic State Championships
[Team Results]
Girls Team 6th and Boys Team 13th Place
Aidan Healy moves on to the NYState Federation Champs
---
Sunday 1/28/18: NSCHSAA Varsity League Champs
[Boys Team Results] [Girls Team Results]
Boys 2nd Place Team - Girls 4th Place Team
Our Individual League Champions are:
Laila Gedeon (10th)- Liam Berrin (12th)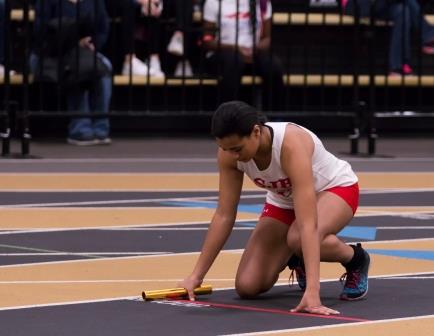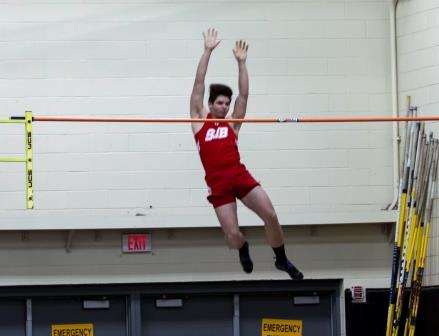 David Amelemah (11th)- Chris Tyszka (12th)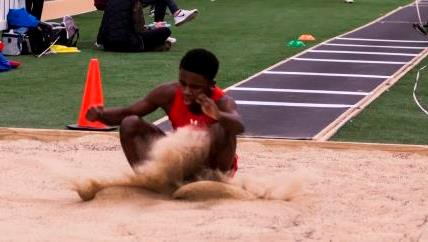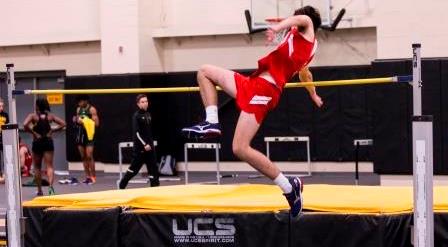 ---
Saturday 1/20/18: The Ocean Breeze Grand Prix
[Team Results]
Girls 4x200 and 4x800 come in 3rd Place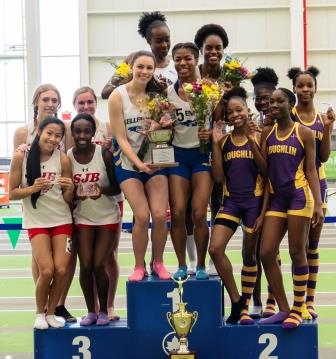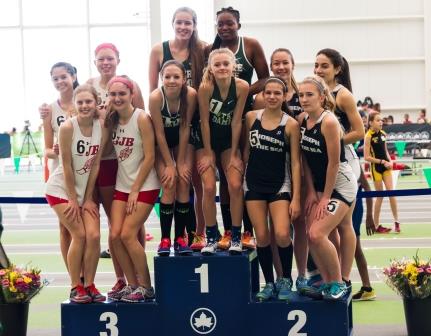 ---
Monday 1/15/18: NSCHSAA Frosh/Soph League Champs
[Boys Team Results] [Girls Team Results]
Boys Sophomore's and Boys Freshmen come in 2nd Place
First Place Finishers:
Louis in LJ+55+300, Cyrille in TJ, Anderson in HJ, Delcore in 600, F.Sanchez in 1000, Fiorillo in 3200, Gedeon in LJ
Second Place Finishers:
B.Healy in 1000, Fiorillo in 600, F.Sanchez in 1600, Adams in 300, Soph+Frosh 4x800,Frosh 4x400, Stroble in SP, Cyrille in LJ, Gedeon in TJ
THIRD PLACE finisher:
Adams in TJ
---
Saturday 1/13/18: The Stanner Games
[Girls Team Results] [Boys Team Results]
Aidan Healy 1600m + David Amelemah 300m finish in 2nd Place
Hailey Marcello 1600m finishes in 3rd Place
---
Monday 1/8/18: Ocean Breeze + Millrose Qualifier: [Team Results]
Girls Qualify both the 4x200 and 4x800 to The Ocean Breeze Grand Prix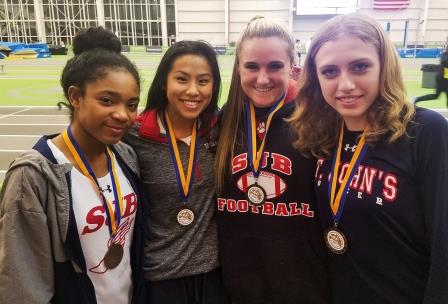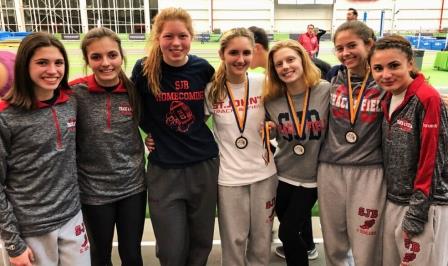 Boys Qualify the 4x800 to both Ocean Breeze Grand Prix and The Millrose Games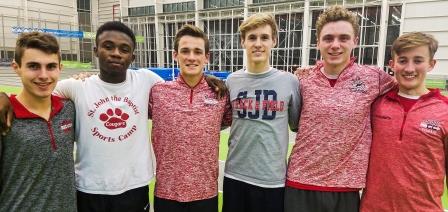 ---
Friday 1/6/17: Developmental #3:
[Girls Team Results] [Boys Team Results]
Nice results after a difficult week
Girls lower their SMR Time on the back of Hailey Marcello's terrific double
Fernando Sanchez sets another SJB Frosh Record in the 600m - 1:31.93
---
Friday 12/29/17: CHSAA Novice Champs and Varsity Races [Team Results]
Novice Boys finish in 7th Place
Fernando Sanchez run 2:50 in the 1000m breaking Aidan Healy's SJB Freshmen Record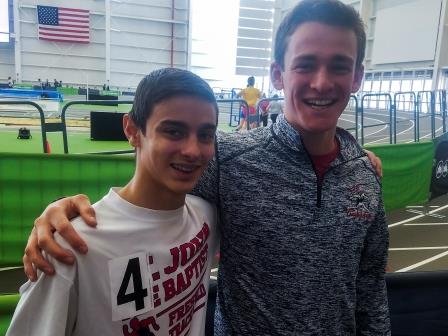 ---
Friday 12/22: NSCHSAA Christmas Classic at St. Anthony's
[Boys Team Results] [Girls Team Results]
SJB Hurdlers Get us started with IMPRESSIVE Results
BOYS 1st, 2nd, 3rd and GIRLS 2nd + 3rd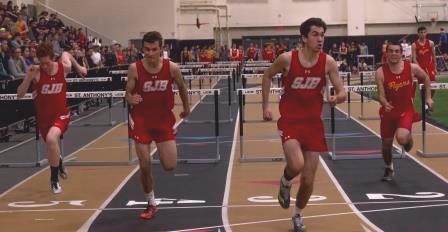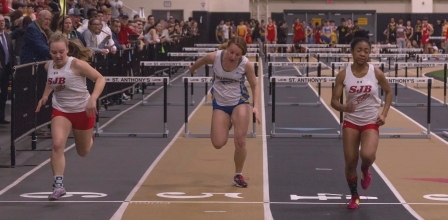 ---
Saturday 12/16/17: AT+T Hall of Fame Inv.
[Team Results]
Very Nice Early Season Results
Patrick Fiorillo WINS Frosh/Soph Mile
Liam Berrin Pole Vaults 12'6 for a Woody's Team WT#2
---
Saturday 12/9/17: CHSAA Relay Carnival
[Team Results] [Official Results]
The day started off with the Boys Freshmen 4x400 coming in 5th
And the Frosh DMR finishing in 2nd Place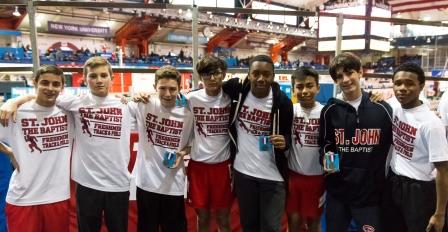 Other team results:
Sophomore Boys: 4th Place in 4x400, 2nd Place in 4x800 and 5th Place in Shot Put Relay
Varsity Boys: 4th Place 4x800, 4x200 + Long Jump Relay and 1st Place High Jump Relay
Frosh Girls: 2nd Place 4x2 and 1st, 2nd and 4th Placce 55m hurdles
Varsity Girls: 3rd + 5th Place DMR, 2nd Place 4x400, 2nd + 3rd Pole Vault, 4th + 5th Shot Put and 2nd Place Triple Jump
---
Saturday 12/2/17:Developmental at St. Anthony's
[Boys Results] [Girls Results]
GREAT RESULTS IN OUR FIRST MEET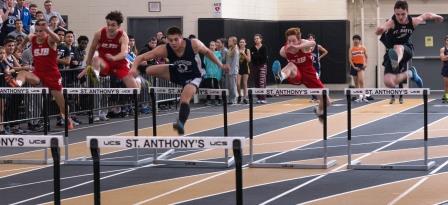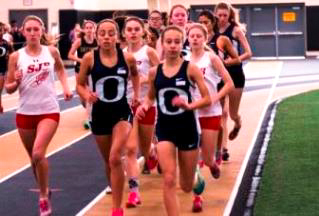 ---