Spring Track & Field 2012
---
Friday 6/15/12: New Balance Nationals [Team Results]
The 4x800 Comes in 12th in the USA running 7:47
Thank you to our Generous Fans for donating $2,900 so we could travel to North Carolina

---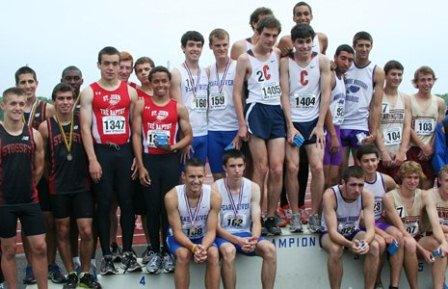 Saturday 6/9/12:
New York State Federation Champs

[RESULTS]
4th Place 7:45.51
2nd Fastest Time in SJB History

[Watch the Video]


---
Sunday 6/3/12: Eastern State Champs [Team Results]
5 SJB Runners run sub 2:00 minutes in the open 800m - WOW
---
Saturday 5/26/12: CHSAA Catholic State Championships [TEAM RESULTS]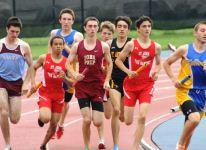 All Pre-Meet Goals are Accomplished!!!

Make it exciting at the end by being in ALL THREE RELAY FINALS
4x800 makes the New York State Championships and runs NYS#2 7:47.69
10th Place in the Catholic State
Pole Vaulters Jump Woody's Team #1+#2
[Watch Pat Collins Clear 12'] [Watch Mike Sabarese Clear 11'6] [Watch the 4x100m Trials] [Watch the 4x100m Finals] [Watch the 4x400m Relay Trials] [Watch the 4x400m Relay Finals] [Watch MOST if the 4x800m Relay] [Watch Nick Eckhoff Throw Javelin] [Watch Pete Micheels Throw Javelin] [Watch Carey Adams Throw Javelin] [Watch Pat Collins just miss 12-6 ] [Watch Mike Sabarese just miss 12']
---
More Video's from League Champs
[4x100 A-Team Trials] [4x100 B+C Team Trials]
---
Saturday 5/19/12: NSCHSAA LEAGUE CHAMPIONSHIPS
3rd Place as a TEAM [TEAM RESULTS] [OFFICIAL RESULTS]
KEVIN MURRAY [VIDEO] AND TOM DUPLESSIS [VIDEO] WIN!!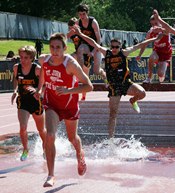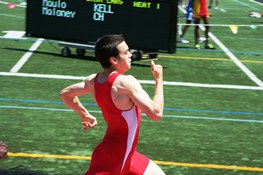 OTHER HIGHLIGHTS:
4x800m Relay Team of Benfield-DuPlessis-Ferguson-Schneider are CHAMPIONS
John Selle (100m) and the 4x100m B-Team finish in 2nd Place
Sean Hall(SC), Sean Ferguson(1600), Jeremy Schneider(800), Cary Adams(SP) and the 4x100m A-Team finish in 3rd Place
Dylan Kort Runs a Frosh School Record 51.91 in the 400m
4 NEW Sub 5:00 min Milers - Which makes 21 TOTAL THIS YEAR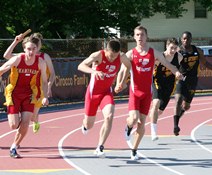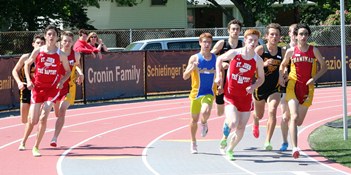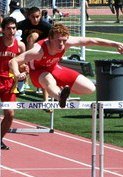 <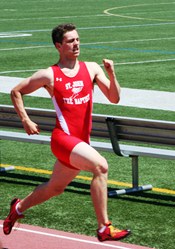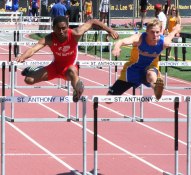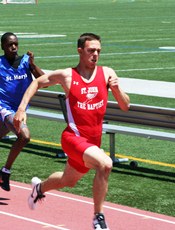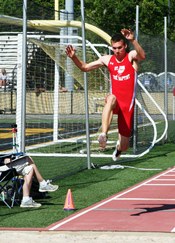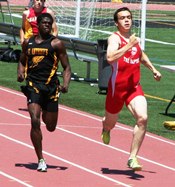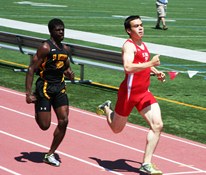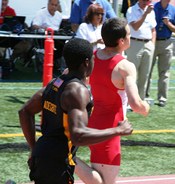 ---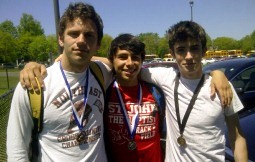 Saturday 5/12/12: 3 Meets with Great Results
[Louks Games Team Results]
SEAN FERGUSON RUNS 4:18.09 in the 1600 - Woodys Team #1
[CHSAA Frosh/Soph Champs Team Results]
DYLAN KORT RUNS 52.34 to WIN the 400 - Freshmen School Record
John Glenn Pole Vault
2nd Place - 3rd Place - 6th Place

OTHER HIGHLIGHTS
Sean Sokol CRUSHES the 5 minute barrier running 4:51 - 18th Sub 5 this year for SJB
Aaron Zigrosser runs the 2nd fastest Freshmen Mile for Woody 4:48 (only 3 seconds to #1)
Oscar Frisby Throws 40'10" in the 8lb Shot Put (only to 1 foot form #1 in SJB History)
Freshmen 4x100 re-sets their own record running 48.32

---
Friday 5/11/12: Massapequa Inv [TEAM RESULTS]
GREAT START to the weekend!!!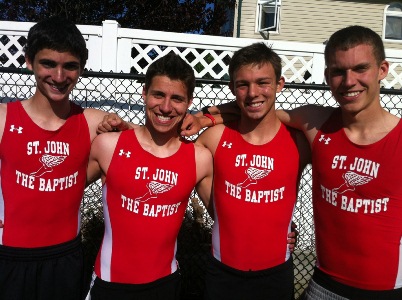 1600 Medley Relay runs a Junior Class Record to get the meet started
Kevin Murray WINS the 1600m and the 800m
---
Friday 5/4/12 + Saturday 5/5/12: St. Anthony's Inv
[TEAM RESULTS] [OFFICIAL RESULTS]
FRIDAY - Great Start by the Milers
A-Team Runs a Woody's #2 18:13 (Ferguson 4:22 - Hall 4:41 - Murray 4:31 - Benfield 4:37)
B-Team Runs a Junior Class Record 18:48 (Fiore 4:36 - Schneider 4:39 - Hamilton 4:41 - Morales 4:49)
SATURDAY Starts with the Frosh/Sophs Runners Impressing
showing the Future is STRONG: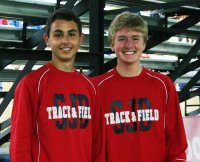 Saturday Afternoon The VARSITY TEAM Continues to Roll
Four runners 1:58 or better in the open 800m lead by SEAN FERGUSON'S 1:56.46
KEVIN MURRAY runs a Woody's Team #1 in the 3000m Steeplechase - 9:54.22
THOMAS DuPLESSIS breaks 50 in the 4x4 helping the team to a SB 3:24.55
46 PR's are run over the two days of competition!!!
---
Tuesday 5/1/12: NSCHSAA Frosh/Soph Championships
[TEAM RESULTS] [OFFICIAL RESULTS]
Two Freshmen Records are set:
Dylan Kort resets his 400m Dash and the Frosh 4x100 Team runs 48.3
The Freshmen throwing team scores 19 Points - 1st-2nd-3rd in Disc - 2nd+4th in Shot
Many other GREAT Results
The Following Freshmen and Sophomores should report back to practice tomorrow
[Frosh/Sophs Post Season Team]
---

Friday + Saturday 4/24+25/12: The Penn Relays [Team Results]

SATURDAY'S RESULTS
7th Place in the Championship of America - 7:49.61
WOODY'S TEAM #2
Benfield 1:58.7 - DuPlessis 1:56.0 - Schneider 1:57.7 - Ferguson 1:57.2
[4x800m Championship of America Video] [4x400m Relay Video]

FRIDAY'S RESULTS
The 4x800 runs 7:56.71
Qualifies for The Championship of America Race tomorrow
[4x800m Relay Video] [4x100m Relay Video]
---
Saturday 4/21/12: Suffolk Coaches Relay
[TEAM RESULTS] [OFFICIAL RESULTS]
Sean Ferguson WINS the 1600 in 4:24.96
The 4x800m Relay team run the 4x400 and WINS running 3:25
AND THE TEAM PERFORMS 46 PR'S
---
Wednesday 4/18/12: Developmental at Kellenberg [TEAM RESULTS]
Congratulations to our Two New Members of the Sub 5 Club and both are Freshmen
Aaron Zigrosser and Sean Kildare
---


Congratulations to two of our most talented alumni
Amire Solomon Triple Jumps a 1'4" PR by jumping 51 Feet 4 inches
Anne Carey Runs an 11 second PR in the 1500 running 4:26 (converts to 4:45 mile)



---
Wednesday 4/11/12: CHSAA Intersectional Relay's
[TEAM RESULTS] [OFFICIAL RESULTS]
Relay races have a way of bringing out the best in our team and yesterday was another example of that
Many Medals were won and Many PR's were set
Sophomore DMR sets a Woody's Sophomore Record that was set in 2005
The Varsity DMR A Team runs a Woody's #2 (10:40) and less than 20 minutes after run 3:29 in the 4x400
IMPRESSIVE
---
Tuesday 4/10/12: Easter Classic
[TEAM RESULTS] [OFFICIAL RESULTS]
Collin Stevens throws 126'9" for First Place in the Varstiy Discus
Oscar Frisby throws 76'8" for First Place in the Freshmen Discus
EVERY DISCUS THROWER PR'd!!!
---
Monday 4/9/12: Iona Prep Inv
[TEAM RESULTS] [OFFICIAL RESULTS]
Great Results in VERY Windy conditions
Ferg-Hall-Morales go 1-2-3 in the 2000m Steeplechase to end the meet
Frosh Noah Orozco clears 7'6" the first time he ever pole vaulted
---
Tuesday 4/3/12: Developmental at Chaminade
[TEAM RESULTS]
23 Personal Bests (PR's) and 1 Freshmen School Record
Dylan Kort runs 53.8 in the open 400m
---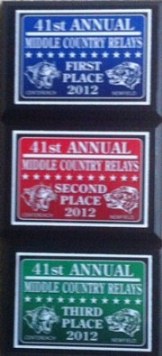 Saturday 3/31/12: The Middle Country Relays [TEAM RESULTS]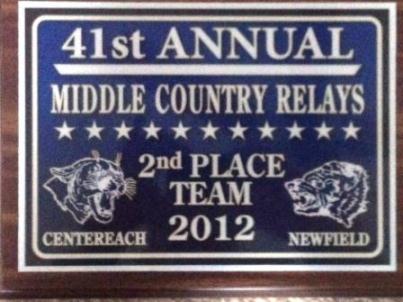 2nd Place as a TEAM
Thanks for doing your best under difficult conditions
Anyone who was on a relay team who came in 1 - 3 place gets one of these plaques

Congratulations



---
Please e-mail Coach Wood at CoachWoodSJB@aol.com if you want to be doing any of the following events:
Pole Vault - High Jump - Long Jump - Triple Jump - 110m High Hurdles - 400m Intermediate Hurdles - Steeplechase
Please do not assume that Coach knows you want to do it - everyone who wants to be considered needs to e-mail

---
Tuesday 3/27/12: Developmental at Kellenberg HS [Team Results]
Very Nice Results by the entire program
---
Wednesday 3/21/12: Intra-Squad Meet
[Results]
Beautiful weather, great running and a lot of fun
---
Indoor Track & Field 2011-2012
---
More Video's From Winter Track
[Catholic States 4x800] [Eastern States 4x200] [Eastern States DMR] [Eastern States 4x800]
[Nationals 4x200] [Nationals 4x800 7:52]
---
Saturday 3/10/12 New Balance Nationals Day 2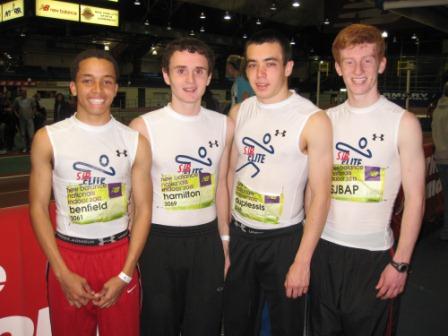 4x800 comes in 10th Place Running 7:52.94 - 2nd Fastest in SJB History
Benfield 1:58.2 - Hamilton 2:00.5 - DuPlessis 1:57.9 - Ferguson 1:56.0
---
Friday 3/9/12: New Balance Nationals Day 1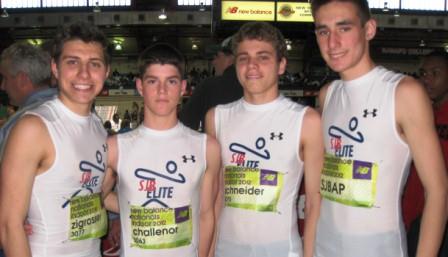 Emerging Elite 4x800m Relay gets the weekend started by running 8:15
Schneider 2:00.5 - Zigrosser 2:05.6 - Challenor 2:05.1 - Murray 2:03.8
Then the Emerging Elite 4x200 runs 1:34.48
Cisek 24.1 - Selle 23.2 - Campbell 24 - Pamlanye 23.0
---
Tuesday 2/28/12: Eastern State Champs [Team Results] Video's Soon
Juniors run very well in the 4x200 and DMR
4x800m Relay is the 3rd team to break 8:00 for SJB as they tune up for the NYState Federation Champs
---
Saturday 2/18/12 CHSAA Catholic State Champs: [TEAM RESULTS]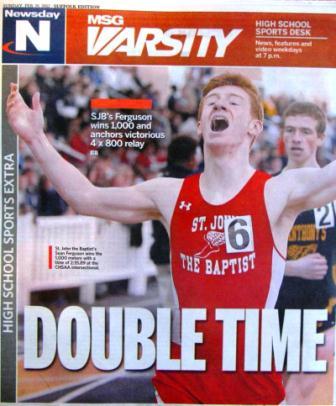 [Fergs 1000m Video]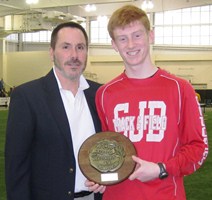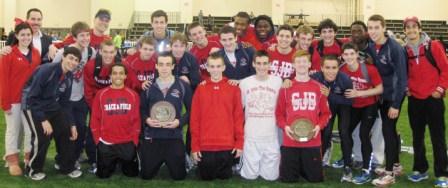 Ferg WINS 1000m - BOYS TEAM Finishes in 4th Place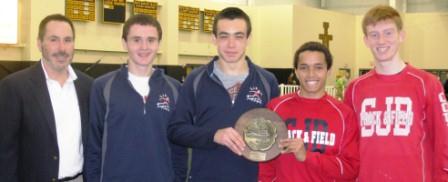 4x800 WINS
---
Late Saturday Night 2/11/12: Millrose Games
[Team Results] [VIDEO]
The Millrose Games are at the Armory for the 1st time and in my opinion, the meet went better than expected. Of course the high school athletes want to run at The Garden, however, this meet had us up close and personal with the Pro's, and the Pro's seemed to really enjoy that!! With all of that said, I wish The Millrose Games were still at the Garden and that this meet had a different name like The Armory Professional Classic. Having the professionals interacting with the crowd and having their races right in your face was really cool and I think there is room for both
SJB reacted to the loud crowd and great races being run all around them by running a Junior Class Record
---
Sunday 2/6/12: CHSAA Frosh-Soph Champs + Varsity Races
[TEAM RESULTS] [SMR-B Video]
Dylan Kort ends his Freshmen Season by re-setting his 300m Freshmen Record
Many other Sophomore's and Freshmen end the their Winter Season with GREAT Performances!!!
Thank you for a great season, enjoy a little rest time and stay in shape for Spring
---

Saturday 2/5/12: New Balance Grand Prix

The 4x800 runs 8:03 for their best time of the season

[TEAM RESULTS]

[VIDEO]



---
Sunday 1/29/12: NSCHSAA League Championships [Team Results]
SJB ends the championships electrifying the crowd with TWO GREAT RELAY RACES
The 4x400 got it started by going wire to wire with Kellenberg (just like the night before)
Then the 4x200 A-Team runs 1:34 winning with the B-Team finishing in 5th
OTHER HIGHLIGHTS:
Tom DuPlessis WINS the 600m
Carey Adams throws a 4-foot PR to take 3rd in the Shot Put
and Freshmen Dylan Kort runs his 3rd SJB Frosh Record (400m+600m) this time in the 300m Dash
---


Saturday Night 1/28/12: US Open at MSG Watch on ESPN2 7-9pm Sunday
Boys come in 2nd Place behind Kellenberg in a GREAT RACE [Watch the Video]
SPLITS: 2:03(in traffic) - 2:02.8 - 2:00.2 - 2:02.5
---
Friday 1/20/12 and Saturday 1/21/12: Yale Invitational and Developmental Meet
[Yale 4x200 Video] [Yale Results] [Developmental Results]
Thank You to all who fought the weather and made it to their competitions!!!
27 Personal Bests - 1 Woody's Team #2 Record and 1 SJB Frosh Record
This team is starting to roll as we move on to the championship season
GET YOUR STUDYING DONE and GET YOUR WORKOUTS IN
---
Monday 1/16/12: NSCHSAA League Frosh/Soph Champs [Team Results FIXED]
Freshmen 3rd and Sophomores 4th
CONGRATULATION FRESHMEN LEAGUE CHAMPIONS:
Rory Hannigan in the 55 meter High Hurdles and Dylan Kort in the Long Jump
---
Saturday 1/14/12: Stanner Games [Team Results]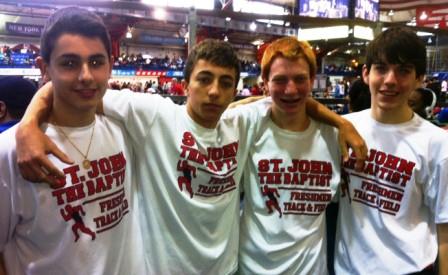 [Varsity 4x200m Relay Video]

Very impressive day that started off with the Frosh and Soph SMR Teams running incredible and ended with the Varsity 4x200m proving to the league that SJB is still a force to be reckoned with and MANY PR's in between

[Frosh A-Team SMR Video]

[Frosh B-Team SMR Video]

[Sophomore SMR Video]



---
Wednesday 1/11/12: Millrose Trials [Team Results]
New this year, the Millrose Games will be at the Armory and the CHSAA is running the Sprint Medley Relay
We sent Two teams to the trials and came in 2nd and 6th overall, running a Woody's Team #2 and #4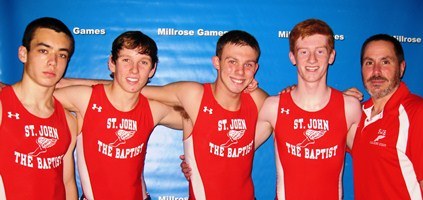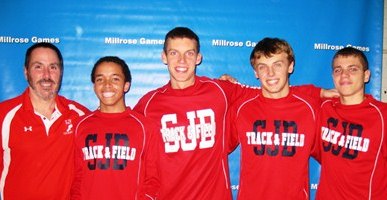 ---
Friday 1/5/12 Developmental and Saturday 1/6/12 Hispanic Games: [Developmental Results] [ Hispanic Games Results]
It has been a GREAT start to 2012...Thursday the 4x800m Relay showed the league that we still have more after last years graduations... Friday at the Developmental, the Freshmen show that they are a competitive group and can run with anyone and the Varsity Sprinters remind the league just how strong they are.
Also, a Woody's and SJB Freshmen Record is set:
Dylan Kort runs 56.30 and sets the woody's and SJB Frosh 400m Record
Then On Saturday at the Hispanic Games
17 run the mile with 6 PR's and most of the others run Season Bests, in the morning. Then at the end of the Day
Two Woody's #2 are set:
Thomas DuPlessis runs 51.11 in the 400m
Sean Ferguson runs 4:31.80 in the Mile (not the 1600)
---
The Boys Are Heading Back To The Garden
[Team Results]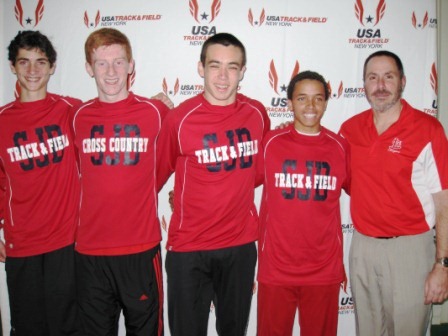 ---
Video's from the Novice Champs and Varsity Races
---
Thursday 12/29/11: Novice Champs and Varsity Races [Team Results]
SJB Finishes Novice Champs in 4th Place
Today the 2011-2012 Winter T&F Team started to look like an SJB T&F TEAM
This is the best way we can go into 2012
I can not wait to see what happens next...
---
Tuesday 12/27: Holiday Classic Video's Soon
[TEAM RESULTS] [OFFICIAL RESULTS]
[DMR Video of A+B Teams] [Freshmen 4x400m Relay B+C-Team] [Freshmen 4x800m Relay] [Varsity 4x200m Relay A-Team] [Varsity 4x200 B-Team]
Long Day at the Armory yields some good results
Frosh 4x800 5th Place and Varsity DMR 2nd Place
---
Thursday 12/22: NSCHSAA Christmas Classic [Team Results] [Official Results]
55 PR's and Two Woody's Team #1 in the Pole Vault by Collins and Sabarese
It's nice to see the improvement in STRENGTH and FORM
Make sure to get your workouts in to maintain this improvement
---
Saturday 12/17: Developmental #2
[Team Results] [Official Results]
Very Nice Early Season Results - 33 PR's (Personal Records)
Two New Members of the Sub 5 Minute Mile Club
Kevin Conley and Kyle Butler
---
Saturday 12/10/11: CHSAA Intersectional Relay's
[Team Results] [Official Results]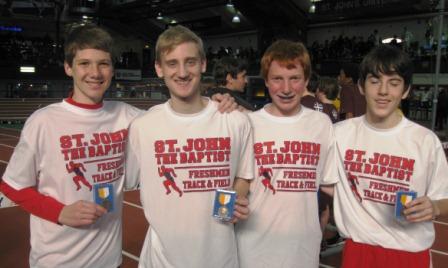 Freshmen 4x400m Relay win our first medals of the season
Varsity 4x200 Win 1:35
Varsity 4x800 come in 2nd 8:10
---
Friday 12/2: Developmental [Team Results] [Official Results]
First competition is in the books - very nice results on very tired legs
Get your kickout runs in on Saturday
Next weekends line-up will be posted later today or tomorrow
---
Contracts(anyone not on a fall sport) and WT Sports Fees are due by Friday 12/2
Seniors who were on XC: $175 - All other Seniors: $210
Juniors + Sophomores: $210
(any Soph/Jr/Sr that needs a new uniform add $50
Freshmen who were on XC: $190
All other freshmen: $215
---
Practice and Competition Schedules are posted
BE A TEAM LEADER
1. Make sure your teammates know when practices are
2. Make sure your teammates and their parents check the website daily
3. Make sure you and your teammates are prepared every day
---