Spring Track & Field 2013
---
Saturday June 8, 2013: New York State Championships 2013
Zigrosser 51.1 - Selle 51.2 - Schneider 50.3 - Rowan 49.1 - 3:21.95
[Race Video]
---
Arrangements for Joe LaCarrubba's mother
Thursday 6/6: 7-9pm
Friday 6/7: 2-4pm and 7-9pm
Arthur White Funeral Home
315 Conklin Street
Farmingdale, NY
Saturday 6/8 will be the Funeral Mass details to follow
The family has asked for you to wear white if you plan on attending
Please inform any of your teammates who may not know and please say a prayer for Joe and his family
---
Tuesday 6/4/13: The Last Chance Meet at Massapequa
[Team Results]
New School Record Set In The 1000m Swedish Relay (100m-200m-300m-400m)
A good day to shake off the rust after graduation
and get ready for States on Friday
---
Sunday 5/26: CHSAA Champioships [Team Results]


4x400m Relay WINS
2 Spring Track & Field Woody's Records are Set
Fiore in the 3200 and Sabarese in the Pole Vault
---
Saturday 5/18: NSCHSAA Varsity Champs [Team Results]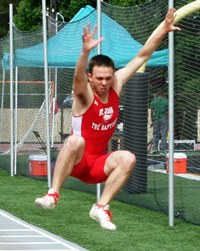 John Selle is The League Champion in the LJ
Jumping 21'8.75" Woody Team #2
3rd Place Finish as a team - Very close to 2nd
Schneider runs 49.8 and Rowan runs 48.6 in 4x400m Relay
ALL MILERS run open race PR's and 3 break 5 for the first time
The following should report to practice on Monday and will compete on Sunday:
Seniors:
Butler, Campbell, Challenor, Cisek, Cox, Eckhoff, Erlanger, Fiore, Guzman, Hamilton, Morlaes, Pamlanye, Rowan, Saberese, Schneider, Selle, Stevens, Syffrard and Zigrosser
Juniors:
Bennis, Khoury Reilly and Sokol
Sophomores:
Browne, DeJesus, Frisby, Gregg, Hannigan, Kildare, Kort, Seeberger and Zigrosser
---
The Following Athletes Are Moving On To The Varsity Champs
All Juniors and Seniors (even if you have not hit the Varsity Standard Yet)
The Following Sophomores:
Allen, Antonawich, Browne, Butler, DeJesus, Dubois, Dugre, Frisby, Gregg, Hannigan, Kildare, Kort, Mandaro, Mezzacappa, O'Callaghan, Schneider, Seeberger, Zigrosser
The Following Freshmen:
Conwell, Crescenzo, Laudenschlager, Moellendorf, O'Brien, Pepe, Tinti
Congratulations, making it to the Varstiy Champs on the SJB Track & Field Team is an accomplishment you and your family's should be proud of.
---
Saturday 5/11/13: Two Meets - Loucks Games and F/S CHSAA Champs
[Loucks Team Results] [Watch The DMR Video]
PAT ROWAN RUNS 49.69 AT THE LOUCKS GAMES
[F/S Team Results]
Freshmen and Sophomores run very well and keep their cool while meet managment makes things difficult.
Thank you to all of our Freshmen and Sophomores for your dedication and trust this season. The coaching staff and myself, hopes to see you all back on our Winter Track Team. Some of you should not only consider running cross country, you should consider training with the teams all summer at our open runs (Which will be announced soon)

---
Friday 5/10/13: Massapequa Inv
[Team Results]
Many Medals Won and Many PR's Run
---
Thursday 5/9/13: The Loucks Games DMR's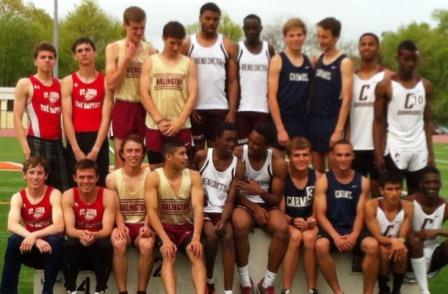 [Team Results]
Schneider 3:08 - Selle 50.4 - Rowan 1:56 - Fiore 4:20
10:15 WOW
4th Place in the East Coast Challenge
---
Friday 4/3 + Saturday 5/4/13: St. Anthony's Inv
[Team Results] [Official Results]
2 Woody Records - 1 Woody #2 and 1 SJB Record are set
On Friday Night the Seniors on the 4x1600 set the tone for the weekend running a Woody's #2
4:30-4:29-4:25-4:42 (18:08)
On Saturday Morning the Frosh and Sophs proved the future is strong
The Freshmen finished 5th and the Sophomores finished 4th + 5th in the 4x800 and 5th in the 4x400



(Freshmen Championship Team 2013)
Then in the afternoon the Varsity showed how good they really are
Jeremy Schneider sets the SJB School Record in the 800 - 1:55.08
with Pat Rowan running 1:56.97 and Paolo Fiore running 1:58.01
Kyle Butler breaks the 10:00 minute barrier in the 3200 for the first time
Jake Morales closed out the meet by running a Woody's Record 9:43 in the 3000m Steeplechase
---
Tuesday 4/30: NSCHSAA Frosh/Soph League Champs
[Team Results] [Official Results]
Oscar Frisby Wins the Shot and the Discus
with a SJB Sophomore School Record in the shot - 47'1"
Nick Conwell wins the 110m High Hurdles and the 400m Intermidate Hurldes
Devin Laudenschlager runs a Woody's Frosh Record in the 2000m Steeplechase
Many other GREAT results are performed as both the Sophomore and Freshmen Teams show how strong they are going to be in the very near future!!
---

Friday + Saturday 4/26+4/27: The Penn Relays [Team Results]


Great weekend with Great results


First the 4x800 runs 7:54 on Friday and qualifies to run in the Championship of America for the 3rd year in a row. Then the 4x100 gets the stick around in a seasons best 44.42.
On Saturday the 4x400 runs 3:30 with Karlhenry Syffrard running a 3 second PR (51.4). After this we watched the Pro's and Colleges set USA and Collegiate records while we waited for the 4x800 COA.
The 4x800 made the wait worth it by finishing in 7th Place after qualifying in 8th.
---
Wednesday 4/24: Developmental at Holy Trinity
[Team Results]
Very good results run and jumped on a very windy and cold day
---
Saturday 4/20/13: Suffolk Coaches Inv [Team Results]
Mike Saberese ties the Woody Team Records in the Pole Vault
Pat Dugre cleares 8'6" his first time jumping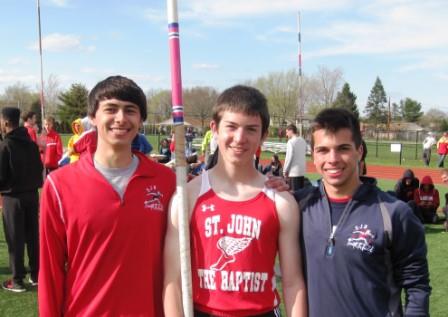 Other Highlights:
Pat Rowan
FIRST PLACE in the 400m IH
Oscar Frisby
3rd Place in the Soph discus
Jeremy Schneider
4th Place in the 800m
Paolo Fiore
5th Place in the 3200m
Bryan Reilly
6th Place in the 3000m Steeplechase
All in Extremely Windy Conditions


---
Wednesday 4/17/13: Developmental at Kellenberg [Team Results]
34 PR's are run with only half of the team at the meet
Pat Rowan enters the Sub 5:00 Minute Mile Club running 4:44 in his first ever mile
---
Saturday 4/13/13: Suffolk Coaches Inv. [Team Results]
Finally a nice day to race and the team responded
Many PR's in the Mile and the 400's
Sean Kildare 4th in the Soph Mile - Pat Rowan 5th in the 800
Rory Hannigan crushes the 5:00 barrier in the mile
4x400m Relay runs 3:26 and takes 2nd Place not long after 3 ran the 800m
AND OSCAR FRISBY SETS THE FIRST SOPHOMORE WOODY RECORD OF THE SEASON
BY FINISHING 4TH IN THE F/S SHOT
WITH A THROW OF 41' 8.5"
---
Tuesday 4/9/13: Developmental at Chaminade
[Team Results]
Great results with many PR's are run on the first nice day of the season
---
Saturday 4/6/13: The Kings Relays [Team Results]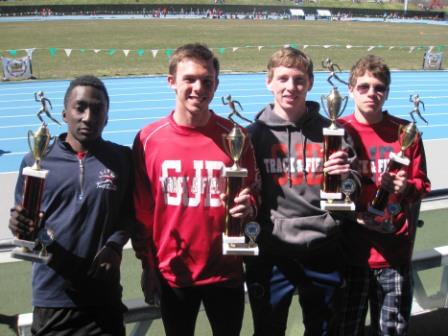 Very Good Results and a GREAT LEARNING DAY
The Day got started with the 4xMile running in Windy and Cold conditions and finishing in 3rd Place
Then Pat Rowan crushes his PR by running 58.61 and finishing in 4th in the 400m Hurdles
The Freshmen and Sophomores run very well in their SMR's and finish in 6th - 7th -8th
Followed by the Varsity SMR's finishing in 3rd and FIRST!!!
Jake Morales was our last Medal Winner of the day crushing his PR in the 3000m Steeple and finishing in 2nd Place

---
Tuesday 4/2/13: Easter Classic
[Team Results] [Official Results]
Tough conditions - cold and wind
---
Saturday 3/30: Massapequa Developmental
[Team Results]
Many Good Results - Some Great Results - Long Day - Tinti breaks 5:00 Minutes
Thanks for your patience and please enjoy your Easter Sunday with your families tomorrow
---
Wednesday 3/27: Steeplefest + Field Events [Team Results]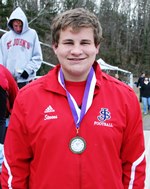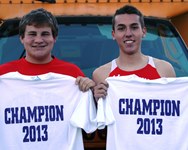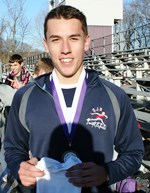 Collin Stevens and Jake Morales Start the 2013 ST Season by Winning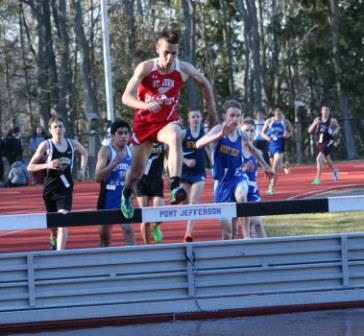 ---
Friday 3/15/13: 4x400m Relay Time Trials
[TEAM RESULTS]*updated 3/16
Great Day of FUN and GOOD TIMES
14 Personal Records (PR's) are RUN
New Members of OUR TEAM get a great feel for what we do!!

---
[Click to watch Steeplechase Video]
If you want to run either the 2000m or the 3000m at SteeplFest at the end of this month
e-mail coach wood ASAP @ Coachwoodsjb@aol.com

---
Winter Track & Field 2012-13
---


March 9+10: NATIONALS 2013 [Team Results]
4x800m Relay + 4x400m Relay Finish in 8th + 11th Place
IN THE USA!!!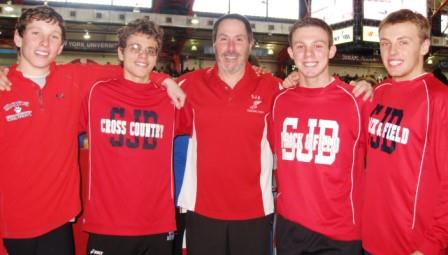 4x400m Relay team finishes the Winter Track Season
By Runnng The SJB School Record 3:24.66
Great Way To End The Season
---
4x400m Relay comes in 3rd PLACE IN NEW YORK!!!
[NY State Team Results] [Official Results] [4x400m Relay Video]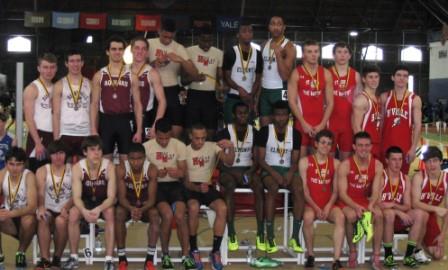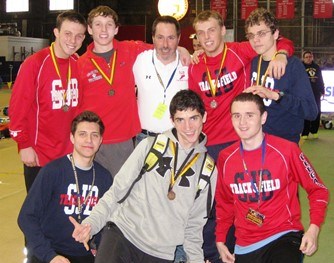 ---
SJB T&F Commercial 2013

---
Post Season Results so far...
[Long Island Elite and Eastern State Champs Results]
Nice results as the athletes Tune-Up at the LI Elite and get ready for the States
Even better Results at the Easter State Championships
DMR Splits: Schneider 3:11 - Rowan 50.4 - Hamilton 1:59 - Fiore 4:23 TEAM TIME 10:26.00 WT#2
---
Sunday 2/16/13: CHSAA Catholic State Champs
[TEAM Results]
CH 29 - SA 28 - FP 22.5 - Kell 21 - Farr 19 - Iona 18.5 - Mount 17 - X 16 - SJB 14
9th in the Catholic State and only 8.5 points from 3rd
4x400m Relay is the Catholic State Champs
Fiore, Schneider and the 4x400 move on to the New York State Federation Champs
[4x400m Finals Video] [4x200m Finals Video] [55m High Hurdles Finals Video]
---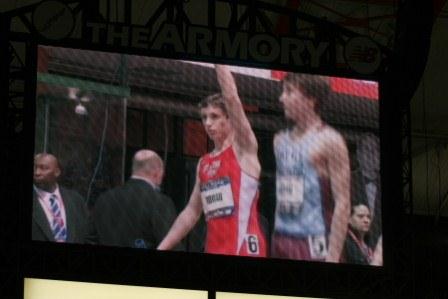 Saturday 2/15/13:
The Millrose Games 2013
The 4x800m Relay Finishes in 3rd Place
Rowan 1:58
Hamilton 2:02
Schneider 1:57
Fiore 1:57

[4x800M Relay Video]


---
Practice will be Monday - Friday this week - Weather Permitting. Missy, Mrs. Wood and I spent another 3 hours at the track today, Sunday, and now we have over 150m of lane one cleared.
Be prepared for rain tomorrow - have a towel and dry clothes to change into after practice.
WE WILL BE READY FOR MILLROSE AND CHSAA'S!!!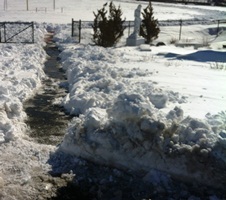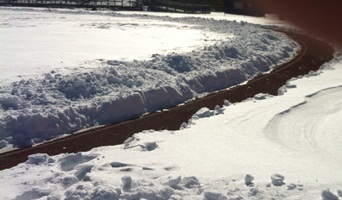 ---
Sunday 2/3: CHSAA Frosh-Soph Champs
[Team Results]
Sean Kildare runs a Woody's Soph Record in the 1000m - 2:46.60
Many other good results to end the Freshmen and Sophomore Season
Thanks for your dedication and hard work and we hope to see you on Spring Track & Field
---
Saturday 2/2: Boston Indoor Grand Prix
4x800 runs 7:53.29 for 2nd Place #3 SJB and #7 USA

Rowan 1:59.70 - Hamilton 1:58.84 - Fiore 1:57.26 - Schneider 1:57.46
---
Sunday 1/27: NSCHSAA LEAGUE CHAMPS
[Team Results] [Official Results]
Very Impressive Results with Very Impressive Determination
Team Scores:
SA 84 - CH 66 - SJB 37 - Kell 32
Second Place: Pamlanye - Selle - 4x400m Relay - 4x200m Relay
Third Place: Cox - Collins - Campbell - Sabarese
ALL-LEAGUE:
Pamlanye - Cisek - Selle - Collins - Cox - Fiore - Schneider - Zigrosser - Hamilton - Sabarese - Campbell
---
Monday 1/21: Frosh/Soph League Champs
[Team Results] [Official Results]
Both the Freshmen and Sophomores finish in 3rd Place
First Place: Sean Kildare - Oscar Frisby - Chris Cox
Second Place: Chris Tinti - Nick Conwell - Jamal Butler - Martin Moellendorf - Harry Gregg
Third Place: Rory Hannigan - Juan DeJesus - Soph 4x200
4-More Sophs and 3 More Frosh earn Varsity Letters.
That makes 17 Varsity letters for our Frosh/Soph Athletes So Far
Both the Freshmen and Sophomore Teams competed at a level that was very impressive and sent a message to the league that SJB will be a force for the next few years!!!
---
Friday 1/18 - Saturday 1/19: Yale Invitational and St.A's Developmental
[Yale Results] [Developmental Results]
DMR Runs WT#2 and is #10 USA + #4 NYS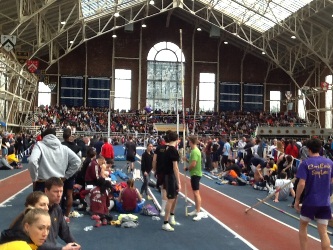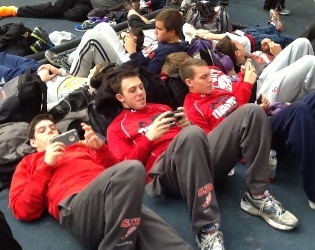 [DMR Video] [4x400 Video]
---
Wednesday 1/16: The Millrose Games Trials
[Team Results] [Official Results]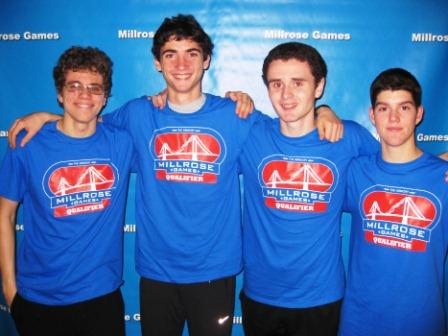 The 4x800 Qualifies to run at the Millrose Games for a 3rd Year In A Row
4x800 B-Team runs 8:15 with Pat Rowan running 2:00 in his 2nd 800 ever
The 4x200 runs in a thrilling race and wins the heat running 1:32...
HOWEVER...AFTER FURTHER REVIEW
They were DQ'd for stepping over the lane lines,
even though it did not give them an advantage or interfeer with any other team
The Video's are worth a look - They Ran GREAT!!!
[4x200] [4x800 A-Team]
[4x800 B-Team] [4x800 C-Team]



---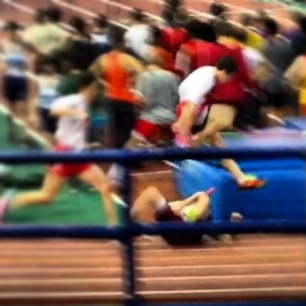 Saturday 1/12: The Stanner Games
[Team Results] [Official Results Soon]
WOW!!!
The Varsity Produce GREAT RESULTS
Mike Sabarese Jumps 12'8"
in the Pole Vault for a Woody Team Record
Paolo Fiore Runs 9:32
in the 3200 for a Woody's Team #2
Pat Rowan runs 35.90
in the 300 which is #4 in School History
and MANY others have oustanding runs
[4x400 A-Team] [4x400 B-Team] [Shuttle Hurdle Relay] [Rowans-300]
---
Saturday 1/5: The Hispanic Games
[Team Results] [Official Results]
Paolo Fiore 3rd Place in the Mile running a Woody's Team Record of 4:25.73
Oscar Frisby Sets a Woody's Sophomore Team Record in the Shot Put - 40'8"
The 4x200 runs 1:32.59 and finishes in 7th Place

---
Sunday 12/30: Novice Champs and Varsity Races
4th Place at the Novice Champs [Team Results] [Official Results]
Varsity 3rd place 4x200 - 3rd Place 4x800 - 2nd and 3rd Place 4x400
Video's Soon
---
Thursday 12/27: The Marine Corps Holiday Classic
[Team Results]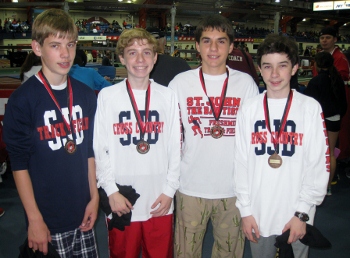 Frosh 4x800 starts the day by winning medals
Mike Sabarese ends the day by jumping a Woody's Team Record of 12'6"
---
Friday 12/21/12: Christmas Classic
[Team Results] [ Official Results]
[Rowan 1st Place 300m Video] [Selle + Collins 300m Video] [Cisek + Pamlanye 300m Video]
35 Runners and 9 Field Athletes PR with many of our ALUMNI on hand to watch
---
Saturday 12/15/12: Bishop Loughlin Games
[Team Results] [Official Results]
[Video 4x200 Finals] [Video 4x200 Trials] [Video 4x800] [Video 4x200B]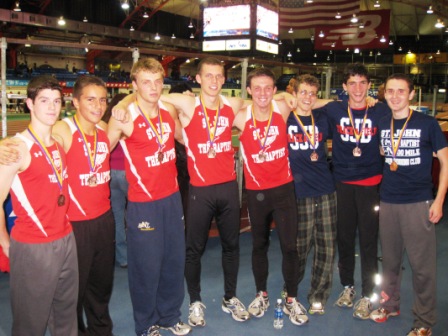 4x800 3rd Place and 4x200 4th Place
---
Friday 12/14/12: Frosh/Soph Relay's
[Team Results] [Official Results Soon]
Two Woody Team Records are Set - Freshmen and Sophomore DMR's
---
Saturday 12/8/12: CHSAA Intersectional Relay's
[Team Results] [Official Results]
The Freshmen and Sophomores got things started by running GREAT and showing that the future of SJB Track & Field is Strong!!! Then it was the Varsity's turn to show the World that SJB Track & Field will be a force to deal with in 2013!!! The 4x200's run 1:33 + 1:36 then comes back a little while later winning the 4x400 in 3:32 and 3:38. Then the 4x800 closed out the day by running 8:02.8 (2:03-1:59-1:58-2:00) which is the 2nd fastest time in the USA.
FIRST BATCH OF VIDEO'S

---
Friday 11/30/12: St. Anthony's Developmental
[Team Results] [Official Results]
21 Personal Records (PR's) are set
---
Saturday 11/24/12: The 400m Time Trial Extravaganza
4 heats of 400's for the final day of tryouts!!
[Team Results]
It may have been Cold and Windy but that did not stop The SJB T&F Cougars
The 7 Athletes that did not run their assigned time and the "No Show's"
will have a meeting with Coach Wood at the start of practice
Everyone Else Should Report Ready to START THE SEASON !!!