The Armory T&F Center
---
2019 Spring T&F
Varsity Letter Winners
[21-Boys] [19-Girls]
As of 4/14/19

---
SJB T&F Records
Boys:
[Winter] [Spring]
Updated 4/6/19
Girls:
[Winter] [Spring]
updated 4/6/19
---
Woody's Boys
5 Minute Mile Club
[Full List] [Freshmen]
updated 6/7/18
---
Past Results:
[2005-06] [2006-07]
[2007-08] [2008-09]
[2009-10] [2010-11]
[2011-12] [2012-13]
[2013-14] [2014-15]
[2015-16] [2016-17]
[2017-18]
---
[T&F Team Rules]

[Mission Statement]


---
Listen and Watch
["Stick-Baton Live"]
---
SJB Track Team Video's
2008-1/7/10
[Click to see Video's]

---
Spring Track & Field 2019
---
Saturday 4/13/2019: Suffolk Coaches Inv.
[Boys Team Results] [Boys Official Results]
[Girls Team Results] [Girls Official Results]
John O'Connell and The Boys Frosh/Soph 4x100 WIN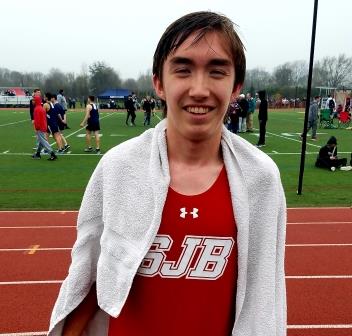 ---
Wednesday 4/10/2019: Girls Developmental
[Team Results]
High Jump (4'2 + 4'6 + 4'6) and 4x1's (51.7 + 52.7) impress
---
Saturday 4/6/2019: Longwood Invitationals
[Boys Team Results] [Girls Team Results] [Official Results]
Fernando Sanchez WINS the 800m Run
and sets the SJB Sophomore School Record running 2:00.12
---
Wednesday 4/3/2019: Boys Developmental Meet:
[Team Results]
Nice results and a lot of fun at the end with the 5x320m Relay (5x1 lapper)
---
Saturday 3/30/2019: CHSAA Season Opener + Tomorrows Hope 5K
[Team Results CHSAA Season Opener] [5K Team Results]


Ann-Isabelle Eustache
Runs a Woody's Team Record in the 100m High Hurdles - 16.70
Morgan Murry
3rd Place Female overall running 19:46
FIRST PLACE FINISHERS:
Meredith Haberfield 400m Dash - Mark Anthony Scott Frosh 100m Dash - Ann-Isabelle Eustache 100mHH - Emma Mingot Discus - Logan Almberg High Jump
SECOND PLACE FINISHERS:
Meredith Haberfield 400IH - Mark Anthony Scot Frosh 400m Dash - Ann-Isabelle Eustache 100m Dash - Alex Eye Long Jump - Laila Gedeon Triple Jump
---
All Sports Fees and Blue Cards and Contracts are due:
Juniors and Seniors:
$275 if not on Winter Track - $200 if on Winter Track
Sophomores and Freshmen:
$250 if not on Winter Track - $175 if on Winter Track
---
---
Winter Track & Field 2018-19
---
SJB Girls Track and Field Team is Voted The Sportsmanship Award
Coach Wood is Voted Coach of the Year
By the league coaches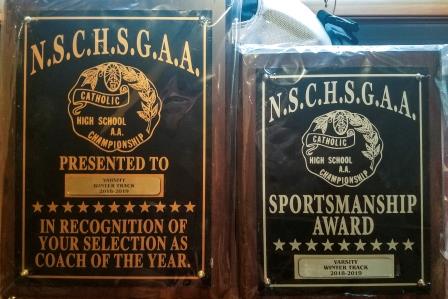 ---
Friday 3/8 and Saturday 3/9: High School Nationals
[Team Results]
Girls 4x800 14th Place - David Amelemah 3rd Place jumping 45'10"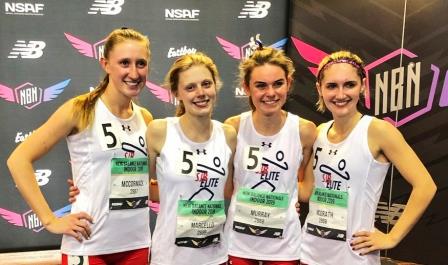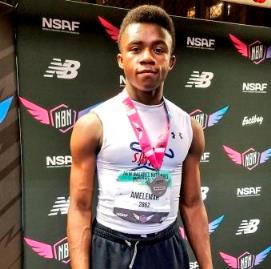 SMR arrive to the Armory by 11:30 or Leave from SJB with Coach Wood at 10am
---
Saturday 3/2/19: New York State Federation Championships
[SJB Team Results]
Anne-Isabelle Eustache runs sub 9 and is now the Woody's Team Record Holder
Brian Healy and Fernando Sanchez earn Silver Medals and Members of the CHSAA Relay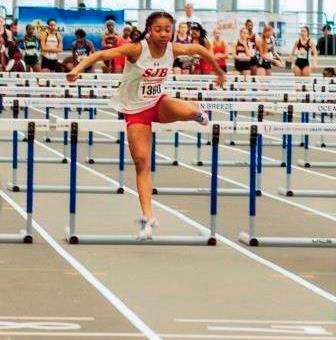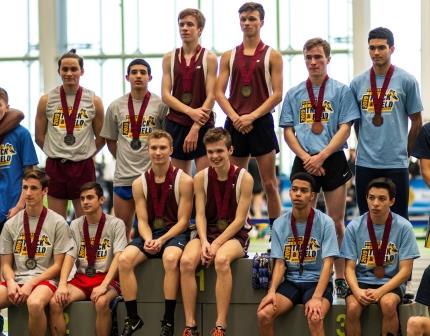 ---
Saturday 2/13/19 and 2/14/19: USATF Nationals
[Team Relay Results]
Girls 4x800 Runs 9:35.40 - Qualifies for High School Nationals
Runs 2nd fastest time in SJB History missing the record by .28 (9:35.12)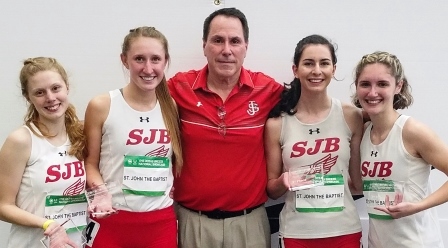 ---
Friday 2/15/19: North Shore Pre-Nationals
[Team Results]
Boys 4x800 runs seasons best and comes in 3rd place
anchored by Brian Healy in 1:59
Girls 4x800 runs fastest ever for Coach Wood - 9:41 - coming in 2nd place
Only 4 seconds from Nationals and only 7 seconds from school record
---
Saturday 2/9/19: CHSAA Catholic State Championships
[Boys + Girls Team Results]
GIRLS COME IN 3RD PLACE!!!!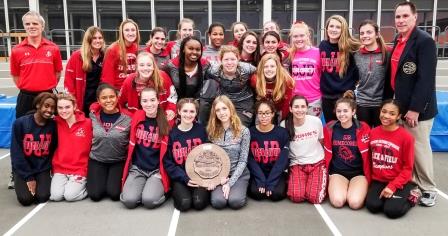 The following are headed to NYState Federation Champs (more might be added):
Brian Healy and Fernando Sanchez in the Intersectional Relay
Ann-Isabelle Eustache in the 55m High Hurdles
Hailey Marcello in the 1500
Zhanna Green in the 55m Dash and the Triple Jump
---
Saturday 2/2/19: CHSAA Frosh/Soph Champs
[Team Results]
Sophomore Boys finish in 6th Place out of the 36 Downstate NY Catholic School Teams
Fernando Sanchez WINS the 1000m Dash and sets the SJB Sophomore record
and the Sophomore 4x400 with Fernando and Emanuel Sanchez, Austin Epp, Jayden Louis also WINS
---
Sunday 1/27/2019: NSCHSAA League Championships:
[Boys Team Results] [Girls Team Results]
SJB GIRLS TRACK & FIELD WIN FOR THE FIRST TIME IN WINTER!!!


David Amelemah and Zhanna Green Voted Field MVPs by the League Coaches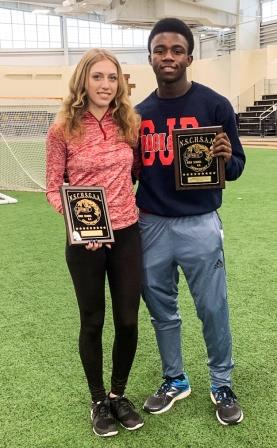 Individual League Champions:
Girls: Zhanna Green LJ+TJ + Kristin Rivenburg 55HH
Boys: Jack Standwill SP + David Amelemah TJ
All League:
14-Girls: Murry - Marcello - Haberfield - Green - McCormack - Rivenburg - Scott - Eustache - Spezia - Isnardi - McGrath - Mingot - Eye - Gedeon
9-Boys: F.Sanchez - B.Healy - Fiorillo - Glasgow - Standwill - Portera - Almberg - Amelemah - Buschle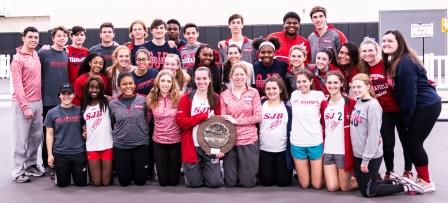 B+G Varsity Champs Team (Family) and our B+G SJB SENIORS
---
Monday 1/21/19: NSCHSAA Freshman and Sophomore Champs
[Boys Team Results] [Girls Team Results]
Boys Soph Team 3rd Place - Boys Frosh Team 4th Place - Girls Frosh/Soph Team 5th Place
OUR LEAGUE CHAMPIONS:
Morgan Magwood in the Triple Jump
Alex Eye in the Long Jump
Francisco Bejarano in the 300
Fernando Sanchez in the 1000
And the Sophomore 4x100m Relay team
of Jayden Louis, Francisco Bejarano, Austin Epp and Fernando Sanchez
---
Saturday 1/19/19: The New Balance Inv: [Team Results]
Girls SMR Qualifies for Nationals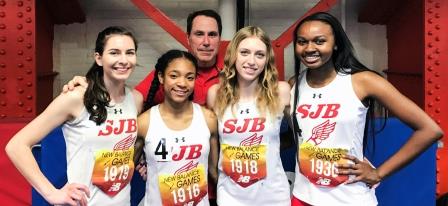 David Amelemah and Zhanna Green now lead the CHSAA in the Triple Jump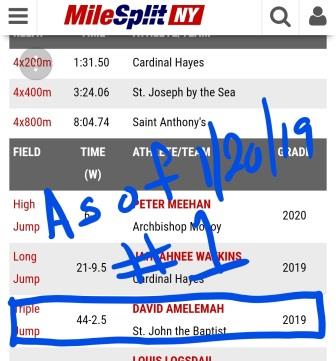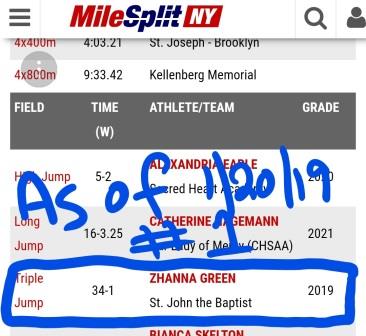 ---
Friday 1/11 and Saturday 1/12: The Yale Inv
[Team Results]
Girls Distance Medley Relay (DMR)
finishes in 5th Place in the Championship Race running 12:39!!
Fernando Sanchez leads the Championship 4x800 off in a time of 2:00.5 on Friday
Then FERNANDO SANCHEZ SETS THE SCHOOL SOPHOMORE RECORD
IN THE 600M DASH RUNNNG 1:25.59 on Saturday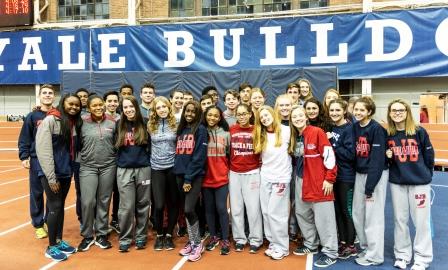 ---
Saturday 1/12/19: The Stanner Games
[Team Results]
Girls Sophomore Sprint Medley Relay (SMR)
finishes is 5th Place with Spezia anchoring in 2:31!!
---
Monday 1/7/19: USATF Nationals Qualifier
[Team Results]
3 teams Qualify!!!
Girls 4x800 - Girls 4x200 - Boys 4x800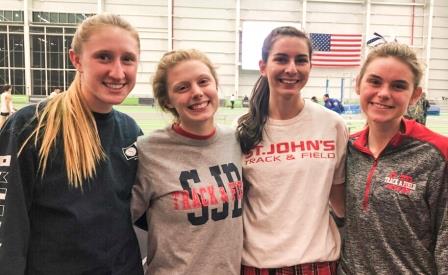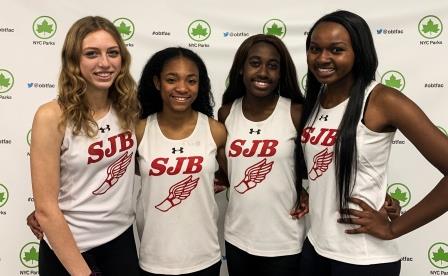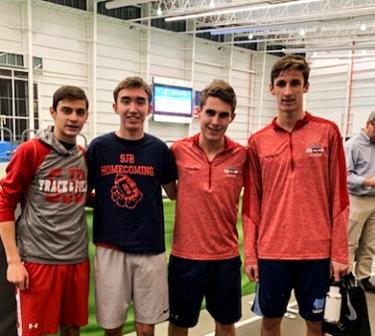 ---
Saturday 1/5: Developmental #3
[Boys Team Results] [Girls Team Results]
---
Saturday 12/29: CHSAA Novice Champs and Varsity Races
[Team Results] [Official Results]
Boys finish in 2nd Place at the CHSAA Novice Champs:
First Place: Bejarano in the 300m and the 4x400
Second Place: Senica in the 600m, E.Sanchez in the 1000m
4x200 and 4x800
Third Place: Ramos in the TJ
Highlights of the Varsity Races:
First Place: Ryder in the HJ, Green in the LJ and 4x800
Second Place: Glasgow in the SP, Girls 4x200, Girls 4x400, Girls 4x800 and Boys 4x800
---
Friday 12/28's practice is cancelled due to potential bad weather
---
Friday 12/21: NSCHSAA Christmas Classic:
[Boys Team Results] [Girls Team Results]
Another good day for SJB Track & Field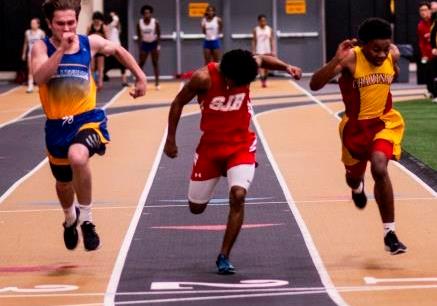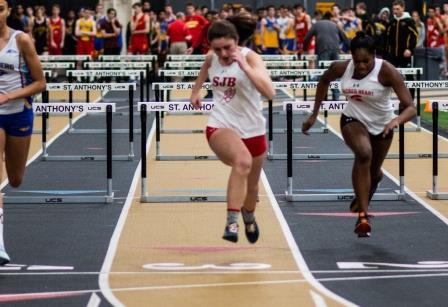 FIRST PLACE: Louis in 55m, Glasgow in SP, Portera in HJ, Amelemah in TJ, Rivenburgh in 55HH, Green in 300m, Mingot in SP, Green in TJ
SECOND PLACE: O'Connell in 3200, Harrigan in 3200, F.Sanchez in 1600, Standwill in SP, Almberg in HJ, Marcello in 3200, Spezia in 1000,Ryder in HJ
THIRD PLACE: B.Healy in 1000, Almberg in 300m, Haberfield in 600, Isnardi in 1000, Crawson in 1000
---
Friday 12/14: Tim St. Lawrence Inv:
[Team Results] [Official Results with splits]
GREAT NIGHT FOR THE VARSITY TO SHINE!!
Zhanna Green 2nd Place tying her PR at 7.55 early in the season
Girls 4x800 comes in 5th and is now #5 in NY and #11 USA - All on tired legs
7 of 8 Boys + Girls PR in the 1000m (the 8th missed by 1 second)
Boys 4x200 runs a 4 second Season Best
21 PR's so early in the season
---
Saturday 12/8/18: CHSAA Relays
[Team Results] [Official Results]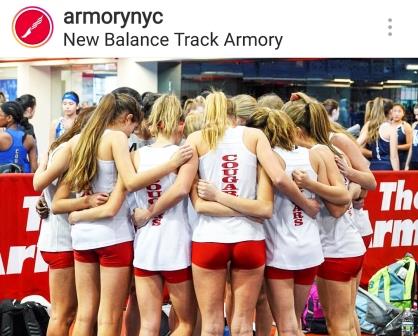 ---
Saturday 12/1/18: Developmental Meets
[Boys Team Results] [Girls Team Results]
Not a bad day...for the 1st meet of the season
10 more girls earn varsity letters
9 more boys earn varsity letters
44 PR's (Personal Records) - 22 boys and 22 girls
---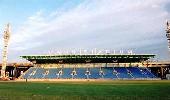 Icahn Stadium
---
[Spring Schedule]
Updated 4/4/19
---
Spring T&F 2019
[Workout Groups]
as of 4-14-19
---
Week 7: Sat 4/20:
Practice 10:30-12:30
---
Week 8: Mon 4/22:
10:00-11:45 Practice
Tues 4/23:
Easter Classic at SJB
[Team Line-Up]
Wed 4/24:
10:30-12:30 Practice
Thur 4/25:
10:30-12:30 Practice
Fri 4/26:
OFF
Sat 4/27:
Smithtown Inv
[Team Line-Up]
OR
Wed 4/24 - Sat 4/27:
The Penn Relays
[Team Line Up]

---
Week 9: Mon 4/27 - Thu 5/2:
3-5 Practice
Tues 4/30:
Boys Frosh/Soph League Champs
Fri 5/3 and Sat 5/4:
St. Anthony's Inv
[Team Line Up]
Varsity Races are after the SAT's starting at 2pm
---
Week 10: Mon 5/6 - Thur 5/9:
3-5 Practice
Wed 5/8:
Girls Frosh/Soph League Champs
Fri 5/10:
Massapequa Under the Lights
Sat 5/11:
Boys Frosh Soph CHSAA Champs

---
Week 11: Mon 5/13 - Fri 5/17:
3-5 Practice
Sat 5/18:
Varsity League Champs
---
Week 12: Mon 5/20 - Fri 5/24:
3-5 PRactice
Sat 5/25:
CHSAA Catholic State Champs
---